Right now, my colleague and fellow Milwaukeean in good standing, Paul Oren, has found a way to kill time during the coronavirus-inspired shelter-at-home times we live in.
The Valparaiso beat writer for the Times Of Northwest Indiana put together a tournament featuring every team in Division I and is playing it out on a computer simulation website called WhatIfSports.com. He's updating the progress on his Twitter feed. Last I saw, the Sycamores had played their way to near the field of 64.
God bless Paul. Being someone who enjoys a deep dive into sports nerddom myself (don't ask about the Strat-O-Matic football format I currently have going), I am envious of his ambition. I am also inspired.
I've dabbled in WhatIfSports before. They've been around for a while and they have a pretty good database of teams in all sports. Every college basketball team from 2006 onward is included as well as several NCAA Tournament teams going back into the 1990s. You can simulate individual games for free.
Last night I thought to myself, how would Indiana State's teams do against each other?
Well, let's find out.
Using the Missouri Valley Conference Tournament as a guide, let's match 10 interesting Sycamores teams from the 21st Century.
I seeded by NCAA Tournament qualification and success first, then chose teams based roughly on win-loss record and I tried to represent multiple eras. (That left out the 2012 Sycamores, who had a winning record, but we didn't need all four of the 2011-14 teams.)
Here's how the field shakes out:
• No. 1 2001 (22-12), No. 2 2000 (22-10) – The two turn of the century NCAA Tournament teams await their opponents.
• No. 3 2011 (20-14) vs. No. 6 2013 (18-15) – An Odum-on-Odum battle. The NCAA Tournament team from his freshman year against his junior year team that featured a different cast.
• No. 4 2014 (23-11) vs. No. 5 2020 (18-12) – A battle between Greg Lansing's best win-loss team and the current Sycamores.
• No. 7 2010 (17-15) vs. No. 10 2006 (13-16) – Kevin McKenna's last team, ISU's first winning record in nine years at the time, against the hard-luck Sycamores from David Moss's senior season.
• No. 8 2008 (15-16) vs. No. 9 2016 (15-17) – McKenna's first, Marico Stinson-oriented team against the best Brenton Scott era team.
One change I will make. What If Sports can produce wonky results on an individual game basis. So we're going to play these as best-of-3's.
And remember, it's a computer simulation. Take it with a grain of salt and have some fun with it.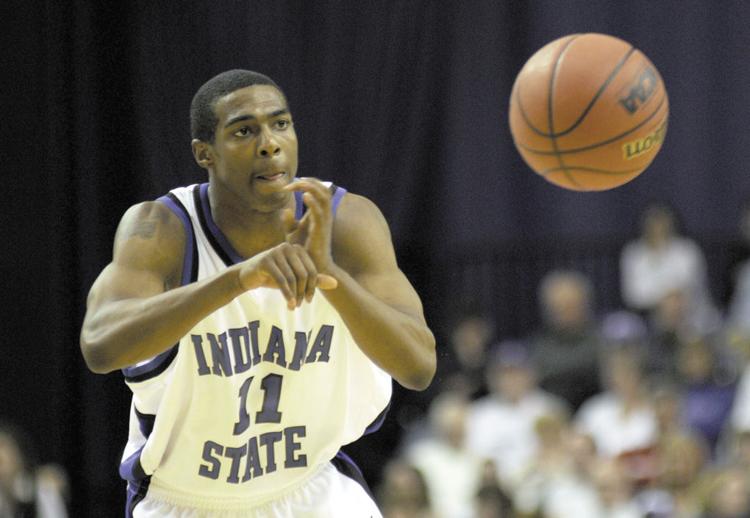 The play-in round
• No. 8 2008 vs. No. 9 2016 (2008 wins 2-0) – Game 1 was won 72-62 thanks to 18 points from Harry Marshall. Game 2 was edged 62-60 as Adam Arnold and Lamar Lee (!) hit free throws in the final seconds.
• No. 7 2010 vs. No. 10 2006 (2010 wins 2-0) – Game 1 was an 84-53 rout as the 2010 Sycamores were 11 of 17 from 3-point range. Game 2 was closer, but Marshall's 18 points led the 2010 team to a 63-52 victory. Moss was held to 11 points in both contests.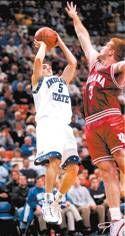 Quarterfinals
• No. 8 2008 vs. No. 1 2001 (2001 wins 2-0) – Easy peasy for the 2001 Sycamores. Game 1 was won 72-56 as Michael Menser scored 19. Game 2 was closer, but Matt Renn scored 18 and was one of four 2001 Sycamores in double figures in a 73-68 win.
• No. 4 2014 vs. No. 5 2020 (2020 wins 2-1) – Upset alert! The 2020 Sycamores move on. In Game 1, the 2020 team won 81-61 as Tyreke Key scored 27. The 2014 Sycamores answered back with a 78-67 win in Game 2 thanks to 18 points from Jake Odum and a double-double from Manny Arop. However, the 2020 dominated Game 3 as Key struck again with 20 points to go with 13 from Cooper Neese.
• No. 2 2000 vs. No. 7 2010 (2000 wins 2-0) – No problem for the 2000 Sycamores. In Game 1, Menser scored 17 points and Renn and Nate Green had 12 rebounds each in a 74-65 victory. Game 2 was a rout as Green scored 13 and had seven rebounds. Matt Broermann had 10 points in 10 minutes off the bench.
• No. 3 2011 vs. No. 6 2013 (2011 wins 2-0) – Odum scored 18 in Game 1 as his freshman team won 75-65. Game 2 was a nail-biter. The 2011 team led most of the second half, but 2013 Odum (confused yet?) hit a jumper with 14 seconds left. However, Dwayne Lathan saved the 2011 Sycamores with a banked make with 5 seconds left to clinch a 60-59 win.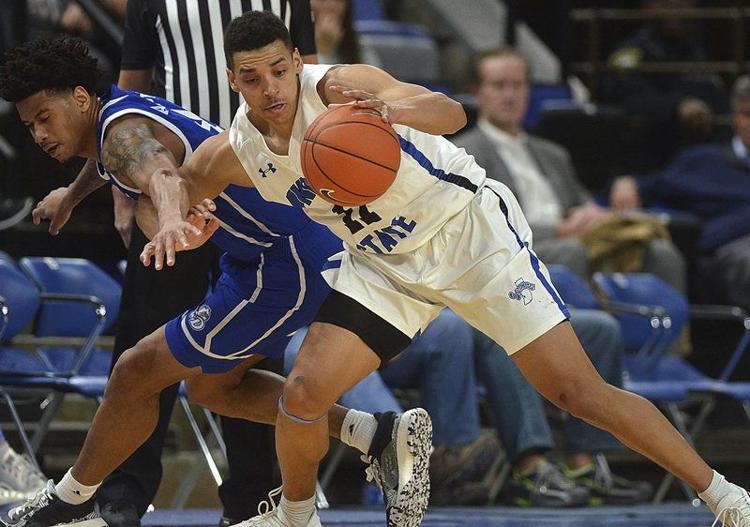 Semifinals
• No. 5 2020 vs. No. 1 2001 (2020 wins 2-1) – The Cinderella current Sycamores do it again. Game 1 was won by the 2001 team 75-74 as Marcus Howard put the 2001 team up for good with a 3-pointer in the waning seconds. However, Game 2 and Game 3 were both dominated by the 2020 Sycamores. Game 2 was won 79-63 as Key had 26 points and nine rebounds. Game 3 was won 87-67 as Jordan Barnes scored 19.
• No. 3 2011 vs. No. 2 2000 (2011 wins 2-0) – The most recent ISU NCAA Tournament team reaches the championship series. Game 1 was won 74-63 behind 15 points from Odum and 14 from Aaron Carter as the 2011 Sycamores won the second half 38-24. Game 2 was the opposite as the 2000 Sycamores rallied to tie the game, but a Carl Richard bank shot with 13 seconds left decided it.
Championship
• No. 5 2020 vs. No. 3 2011 (2011 wins 2-0) – The upset championship bid by the 2020 Sycamores comes to an end as Jake Odum and company win the 21st Century ISU championship!
Neither game was close. Game 1 was won 59-44 as Richard scored a game-high 12 points. Game 2 was won 81-59 as Carter scored 18 to lead four 2011 Sycamores in double-figures. The key thing the 2011 Sycamores did that the 2014 and 2001 Sycamores didn't? Key was held to 10 ppg in the series.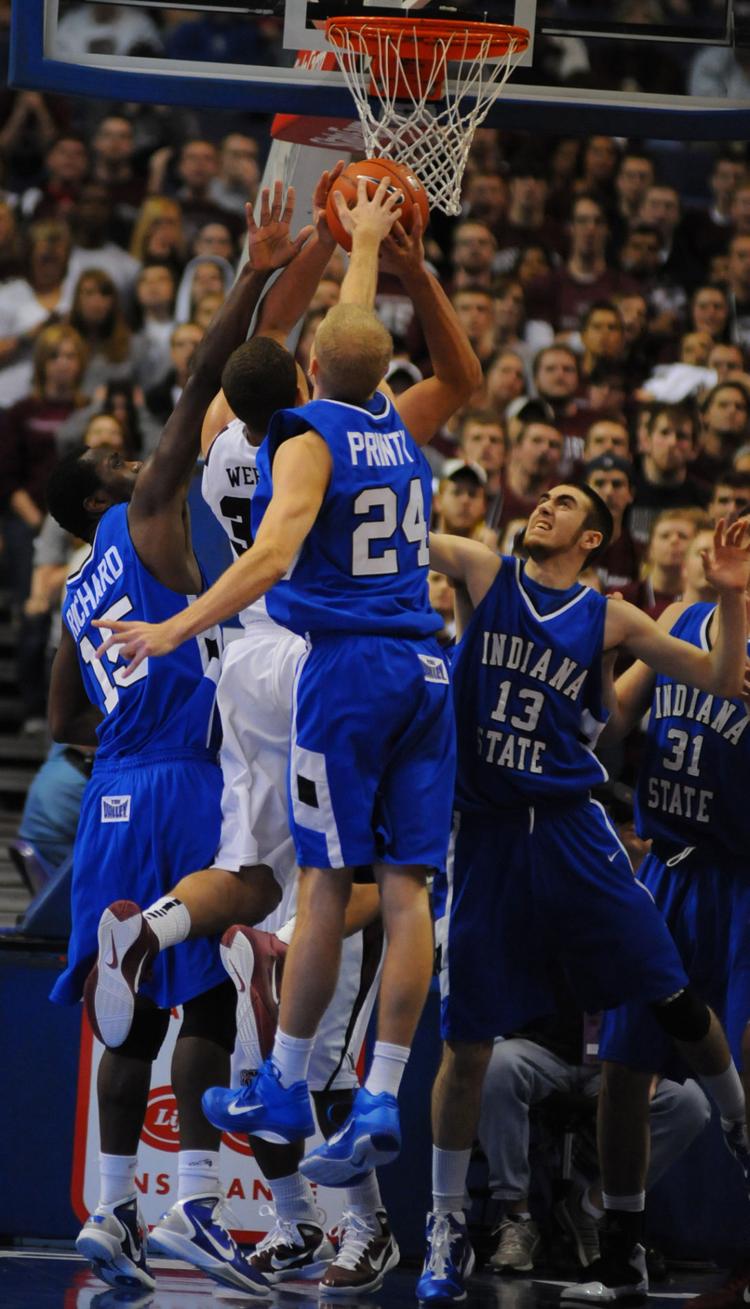 I'm sure all of the Sycamores basketball alums who came up short are handling this with calm and grace!
And I can just hear Royce Waltman telling me something like, "garbage in, garbage out", but it's all in fun. I'll admit, I thought either the 2000 or 2001 Sycamores would win it, but that's why they, um, simulate the games?
Go to WhatIfSports.com and see how your tournament goes. Good time killer when many of us have plenty of time to kill.
Maybe I'll piece together a best-of-the-MVC? Or best-of-state-of-Indiana? It's dangerous to let my sports nerd freak flag fly.
Todd Aaron Golden is sports editor of the Tribune-Star. He can be reached at (812) 231-4272 or todd.golden@tribstar.com. Follow Golden on Twitter @TribStarTodd.