On Wednesday night at Hulman Center, the Indiana State's men's basketball team did onto others as they've been done to them.
ISU's last two trips to Loyola were ugly. The Sycamores lost by 35 in 2019 and by 20 this season.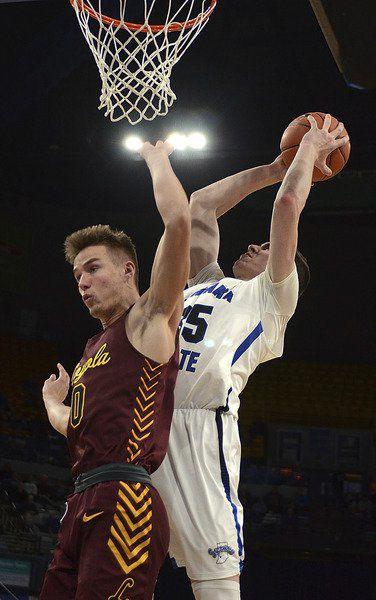 This time, with Loyola in Terre Haute, it was ISU's turn to administer some punishment.
The Sycamores never let their foot off the gas as they overwhelmed the Ramblers for all 40 minutes. ISU shot 54.7 percent, drilled 42.6 percent from 3-point range and out-rebounded Loyola by 15 as the Sycamores blitzed the Ramblers 68-39 in front of a happy crowd of 4,063.
ISU coach Greg Lansing challenged the Sycamores in the pregame locker room.
"We've been playing pretty good and competing at a high level, but I told the guys I think we have more," Lansing said. "Let's dig down, let's find more. These guys handled us pretty easily the last two times at their place. They hadn't seen the real us. I know we didn't get their best shot, but we were pretty darn good at both ends of the floor."
Clearly, the Sycamores took Lansing's words to heart.
"I definitely agreed with that statement when [Lansing] said that. Going back to the first game against Loyola, we didn't really give it any effort, especially on the defensive side. Collectively, we took that to heart and wanted to show everyone on the court we have a new team and this is how we actually play," ISU forward Jake LaRavia said.
Tyreke Key led the Sycamores with 18 points. LaRavia was bothered by a stomach bug, but his 15 points and 12 rebounds showed he was no worse for wear. Christian Williams and Cam Bacote had 10 points apiece.
"It felt good. We haven't beaten them since my freshman year. It was a big-time atmosphere tonight and we had one of our best defensive games of the year," Key said.
For Loyola? It was a nightmare. After it was 24-21 with 6:43 left in the first half, the Ramblers only scored 18 points for the rest of the game. Loyola only made six baskets in the second half. No one on the Ramblers reached double-figure scoring.
Loyola's 39 points was the lowest point total for an ISU opponent in its Missouri Valley Conference history.
"You could be a non-basketball fan and never watched a game before and totally understand we got dominated in every phase of the game," Loyola coach Porter Moser said. "Every phase: offense, defense, transition defense, toughness, 50/50 balls, coaching, every aspect we got dominated from the jump. Their toughness, their will, was so much more superior than us tonight."
What made ISU's defense work so well? The Sycamores trapped center Cameron Krutwig, and while he's an adept passer, they changed up their look just enough to cause disruption. Sometimes it was a hard trap, sometimes one of ISU's guards strafed Krutwig. After a solid early start, Kurtwig was never a factor.
"We did it collectively tonight. We did a good job of rotating once we trapped Krutwig. We didn't give him any easy baskets," Christian Williams said. "He was definitely getting bothered. Once he gets the ball in the post? He likes to take a couple dribbles one way and then spin. We mixed it up and frustrated him a little bit."
ISU also shut down Loyola's 3-point game. The Ramblers shot 8 of 12 from long range in Chicago on Jan. 22. On Wednesday? Loyola was 3 of 19.
"The first five minutes, we weren't great defensively, we were pretty good after that. We had pretty good juice on defense. We had 18 deflections at halftime, which is a really good number," Lansing said.
Offensively, ISU never let up. The Sycamores drive-and-dish game was excellent. Key, Jordan Barnes and Christian Williams got into the lane and kicked it outside for open 3-pointers or inside to LaRavia, Tre Williams or Bronson Kessinger for easy layups.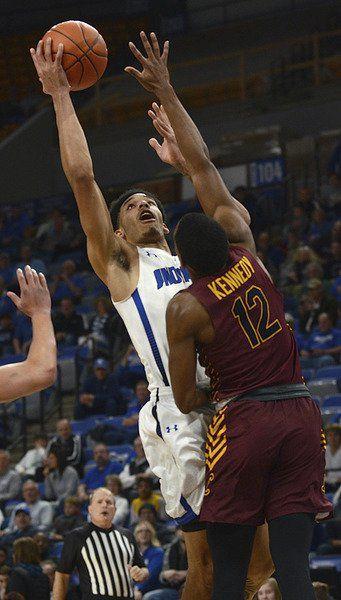 "Christian Williams, Tyreke Key and Jordan Barnes are hard to guard one-on-one. Loyola is a very help-oriented and congested. They switch a lot and their help is in one spot, so you have to move those guys. We talked about one less dribble, moving it, and that next guy has to be ready to catch-and-shoot," Lansing said.
The game started as a shootout. Loyola made six of its first eight shots, but the Sycamores matched their production. ISU took a 15-12 lead with 14:24 left via a Key 3-pointer, but it was still 24-21 with 6:43 left.
Then Loyola blinked and ISU surged.
The Sycamores went on a 19-2 run to end the half as the Ramblers were held without a field goal over the final 6:43 of the period. Conversely, ISU scored on eight of nine possessions as its lead ballooned to 22.
ISU has let double-digit leads slip before, but the Sycamores cruised in the second half as their defensive intensity emasculated the Ramblers. Already ahead by 23, ISU didn't allow Loyola (15-9, 7-4) to make a field goal from the 12:16 to 4:26 mark. ISU's peak lead was 34 points.
ISU (14-8, 7-4) has won four games in a row and matched its MVC win total from 2019. With two road games coming up, the first is at Illinois State on Saturday, the Sycamores know they can't let up.
"We just have to keep the same mindset that we have right now and that we showed on the court today," LaRavia said.