The Terre Haute Rex closed out a three-game homestand with a third straight walkoff win Sunday at Bob Warn Field, and this time the home team took the term literally.
After winning Friday on a ninth-inning homer by Reed Hjelle and Saturday on a 10th-inning homer by Jacob Mulcahy, the Rex — who early Sunday looked like they wouldn't need last-inning heroics at all — entered the bottom of the ninth against the West Virginia Miners trailing 11-8.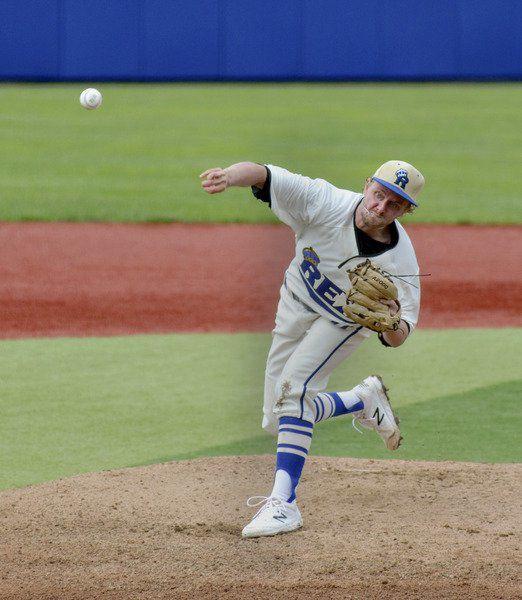 And walked. And walked. And walked. Relief pitcher Nick Turnbull gave up five walks, two of them with the bases loaded, and the Rex won 12-11 without getting a hit in the ninth.
The Miners had blown an early 6-0 lead on Saturday, but looked for a while on Sunday like they weren't going to put up much of a fight.
Although the visitors took a 1-0 lead on a two-out RBI single by Matt Rubayo in the top of the first, the Rex bounced back to take the lead in the bottom of the inning. Although Ethan Hunter and Justin Jenkins got to second and third with nobody out, they were still there with two down, but A.J. Fritz rescued the inning with a two-run single.
With two out in the second and Aaron Beck on base with a walk — the Rex took advantage of 14 of those on Sunday thanks in part to a plate umpire with a very tight strike zone — Hunter kept the inning going with a single and Jenkins drew his second walk of the game (he'd finish the contest with four free passes). Then Mulcahy struck again, a no-doubt grand slam that put the Rex up 6-1.
A leadoff double in the top of the third blossomed into another run for West Virginia, but in the bottom of the inning the home team added two more runs on a hit by Brett McCleary, another walk to Beck, an infield single by Drew Decker, a sacrifice fly by Hunter and a double steal — Decker swiping second, Beck coming home. Now it was 8-2 and Clayton Mayfield — keeping his pitch count low — looked to be in line for a long and successful outing on the mound.
It was 8-3 heading into the sixth and Mayfield was at 55 pitches. But he showed signs of tiring, giving up a hit and two walks to load the bases with no outs, and the visitors — who have some of the best batting averages in the Prospect League despite a poor won-loss record — pounced. A sacrifice fly and a two-run triple by Trent Shelby made it 8-6; Luke Lancaster got the second out of the inning with Shelby scoring on an infield out; and the Miners added three more hits and a walk, the third of those hits a tie-breaking three-run homer by Rubayo (batting .475 at the close of Sunday's game).
Jake Armentrout, who previous Rex experience this summer has been as an outfielder and designated hitter, relieved Lancaster in the seventh and held the Miners in check — helped in the seventh by a sensational double-play turn by Will Hayes. But the Rex left a runner in scoring position in the seventh and stranded two runners in the eighth.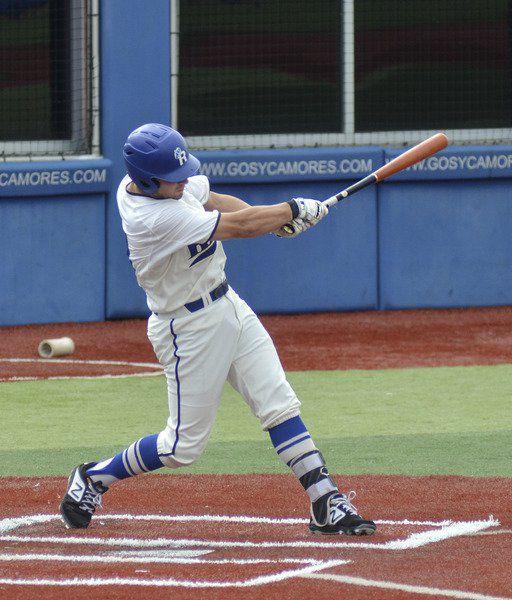 In the bottom of the ninth, Decker walked — and so did Hunter, and so did Jenkins. Hayes got an RBI when no outs were recorded on his fielder's choice, and Weiler walked to force in the run and make it 11-10. A foul popup was the first out, but then Brendan Sher tied the game with a walk and McCleary won it with a fly ball to center.
• Rex 9, Miners 8, 10 innings — In what was basically the opposite of the early part of Sunday's game, the visiting Miners were unable to hold an early lead Saturday night.
Trailing 6-0 going into the bottom of the third, the Rex got a run on an RBI double by Mulcahy; added two more in the fourth on an RBI single by Beck and a squeeze bunt by Mitchell Garrity; cut the lead to 6-4 in the fifth on Beck's RBI fielder's choice after Mulcahy was hit by a pitch and stole a base; and cut the lead to one run in the sixth when Armentrout reached on an error and scored on a hit by Hunter.
The Miners scored twice on passed balls in the seventh to build their lead back to 8-5, but Weiler's RBI double and a run-scoring error made it 8-7 in the eighth. Beck singled and scored on a hit by pinch-hitter Fritz in the ninth, and Mulcahy led off the 10th with his walkoff shot.
Sunday's game
WEST VIRGINIA (AB-R-H-RBI) — Bertolani c 4-1-1-0, D.Cornett rf 5-2-3-2, Pasillas 3b 3-1-0-0, Rubayo cf 4-2-3-4, Mulhall 1b 1-0-0-0, Harless 1b 3-2-0-0, Schaefer dh 3-1-1-0, Randels ss 3-0-2-2, Shelby 2b 5-1-2-2, Bondurant lf 4-1-1-1, Jones ph-lf 1-0-0-0. Totals 36-11-13-11.
TERRE HAUTE (AB-R-H-RBI) — Hunter 2b-3b 4-3-2-1, Jenkins cf 2-3-1-0, Mulcahy 3b 3-1-1-4, Hayes 2b 2-1-0-1, Weiler 1b 4-0-1-1, Fritz rf 5-0-2-2, Sher ss 3-0-1-1, McCleary c 5-1-1-1, Beck dh 3-2-1-0, Decker lf 4-1-1-0. Totals 35-12-11-11.
West Virginia=101=108=000=—=11
Terre Haute=242=000=004=—=12
Two outs when winning run scored.
E — Mulhall, Mulcahy, Harless. DP — TH 1. LOB — WV 7, TH 14. 2B — Bondurant, Fritz, D.Cornett. 3B — Shelby. HR — Mulcahy, Rubayo. SB — D.Cornett, Jenkins, Fritz 2, Beck, Decker 2, Rubayo 2, Harless, Schaefer, Randels. CS — Sher, Jenkins. SH — Bertolani. SF — Hunter, Randels, McCleary.
West Virginia=IP=H=R=ER=BB=SO
Hoffman=2 2/3=7=8=7=6=2
Baca=5=4=0=0=3=3
Rucker=1/3=0=0=0=0=0
Turnbull (L 0-1)=2/3=0=4=4=5=0
Terre Haute=IP=H=R=ER=BB=SO
Mayfield=5 1/3=8=7=7=2=2
Lancaster=2/3=4=4=4=1=0
Armentrout (W 1-0)=3=1=0=0=3=4
Lancaster pitched to 1 batter in 7th.
HBP — by Mayfield (Rubayo), by Baca (Fritz). WP — Mayfield. T — 3:24. Att — 628.
Next — The Terre Haute Rex (7-3) play Tuesday at Springfield. West Virginia (1-9) goes home to host Normal that day.