File under life's rich pageant. 
Indiana State's baseball team faced off against No. 2-ranked Vanderbilt in the Nashville Regional on Saturday night, and if you take the competitive part of it out? It was an experience to remember.
A sellout crowd packed Vanderbilt's atmospheric Hawkins Field, additional fans crowded the concrete atop a nearby parking garage, there was a jazzed up, peak Southeastern Conference din and even a whistle-off between the Vandy and ISU fans. If you're a player or fan? It's the kind of evening you hope to experience just once if you enjoy college baseball.
However, there were competitive stakes, with the winner advancing to Sunday's championship round. After No. 23-ranked ISU fell 8-5 to the Commodores, the pure baseball part of it didn't bring to mind life's rich pageant so much as life … sucks.
It was a frustrating evening as the Sycamores were ever-so-close to keeping Vanderbilt's potent offensive attack at-bay, The first four runs scored by the Commodores came with two outs. ISU's offense suffered some bad luck, with hard-hit balls not finding openings in Vanderbilt's excellent defense and with opportunities to score left wanting. Not until an inspired ninth inning comeback could the Sycamores get a multitude of runs on the board.
 "I was pleased with the way we played, our gameplan, and the way we battled. But to beat these guys in their place? You have to play better than good. You have to play extremely well and we didn't play extremely well. We left some things out there that we needed to take advantage of it if we were going to beat Vanderbilt," ISU coach Mitch Hannahs said.
With the loss, ISU (42-17) will face Ohio State in an elimination game at 3 p.m. Sunday. If the Sycamores eliminate the Buckeyes, they will turn around and face the Commodores again at 9 p.m. Sunday. The Sycamores will try to survive to force a winner-take-all game at 7 p.m. Monday.
Both starters were excellent. ISU's Collin Liberatore pitched 6 1/3 innings and struck out eight against one of the best offensive attacks in the nation. Vanderbilt starter Kumar Rocker was also stout. He lasted 6 2/3 innings, also struck out eight, and retired nine straight Sycamores at one point.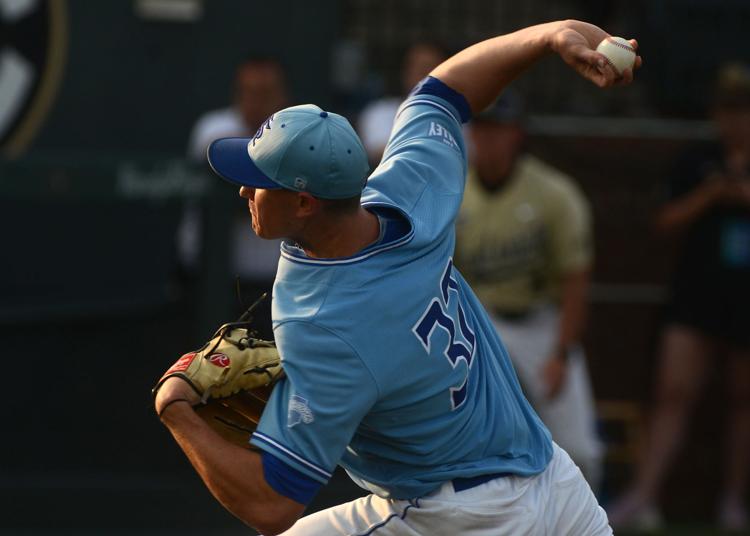 "Their offense just grinds on you. They made adjustments at key times. We tried to make some pitches we felt could freeze them, but we just didn't execute and it hurt in those innings," Hannahs said.
ISU started the game positively. Leadoff singles by Clay Dungan and Jake Means set the table for a RBI groundout by Roby Enriquez to put ISU up 1-0 in the first.
Unfortunately for the Sycamores, it was a short-lived rush. After Liberatore struck out the first two Commodores he faced in the second inning, he came to grief against the bottom of the Vandy order. Stephen Scott singled, Harrison Ray walked, and then Ty Duvall singled to tie the game. No. 9-hitter Julian Infante then doubled off the left field wall to knock in two and put Vanderbilt up 3-1.
"I missed some spots there and they're a great hitting team and took advantage of it," Liberatore said. "In the end? I have to get off the field with two outs and do a better job overall."
After Vanderbilt (51-10) took the lead, ISU had its chances for a response. In the Sycamores half of the second (ISU was the designated home team), C.J. Huntley led off with a double, but was stranded, due primarily to an excellent play at third by Vanderbilt third baseman Austin Martin on a well-placed bunt by Luke Fegen.
"Martin made a game-changing play on that bunt. It was really a great play," Hannahs said.
In the third, Jake Means got a one-out single, but was erased when Jarrod Watkins had a hard hit ball go right to first baseman Infante for a 3-6-3 double play.
After that, Rocker put ISU's bats to sleep until the sixth inning.
"[Rocker] got better in tougher situations. He located his slider better. He pitched us backwards and got us off-balance. Credit to him he did a great job when the situation got tough," said Huntley, who was 3-for-4 with a home run.
Meanwhile, the Commodores tacked on another two-out run.
Phillip Clarke was hit by a Liberatore pitch with two outs in the fifth. Given the inch, Vanderbilt took the mile as Pat DeMarco lined a double off the left field wall to score Clarke and make it 4-1.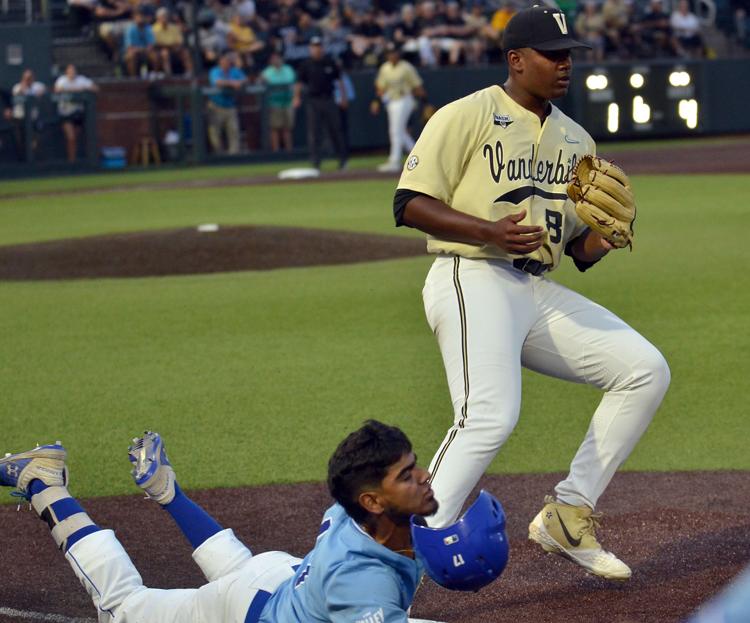 ISU's offensive frustration reared its head again in the late innings. ISU had a two-out double and single in the sixth, but couldn't score. ISU led off the seventh with a single and Vanderbilt error, but didn't cash in. Watkins was in scoring position in the eighth with one out, but Vanderbilt's bullpen combo of Hugh Fisher and Tyler Brown prevented any ISU damage.
"Even through the seventh and eighth, we were right there. We had some opportunity," Hannahs said.
In the ninth, the bottom fell out for the Sycamores. A leadoff double by Infante (3-for-4 with three doubles), a single by Martin, and an intentional walk issued to NCAA home run leader JJ Bleday set the table for a two-run double by Ethan Paul to make it 6-1. Vanderbilt tacked on two more to make it 8-1.
Those insurance runs loomed very large as ISU mounted an inspired comeback in the bottom of the ninth.
Huntley hit a solo home run in the ninth against Vanderbilt's best reliever, Brown, and ISU then loaded the bases afterwards with no outs. Dungan singled in a run to make it 8-3.
Means then had a hot grounder knocked down by Vanderbilt shortstop Paul, but he air-mailed his throw to second in right field. Sycamores scored two on the play to make it 8-5. There were still no outs and Vanderbilt's partisans were suddenly gripped with angst.
"Everybody's confidence started to build and then we got to the meat of our lineup. We thought we had a very good chance at the end of that game," Huntley said.
 However, Vanderbilt turned to its other ace reliever, Jake Eder, and he extinguished the ISU threat with a strikeout and a 6-4-3 double play.
Ohio State had to play 13 innings to eliminate McNeese State 9-8 earlier on Saturday, so the Buckeyes' bullpen won't be in great shape. ISU will start Tyler Whitbread against the Buckeyes. Hannahs said there was no temptation to save Whitbread for a potential rematch with Vanderbilt.
"We'll throw Whitbread. There's no saving now. We have to beat Ohio State first and they swing it well," said Hannahs, who commented on the similarity of the task ISU has now versus the one it had to win the MVC Tournament the hard way through the loser's bracket.
"You've got to get your mindset turned quickly to play Ohio State. That's first and foremost. That's what we did well last weekend. That's the big thing you go back to," Hannahs said.