Indiana State football fans don't get a chance to look forward to a season very often, but 2019 is certainly an exception to the rule.
Not since the latter part of the Trent Miles era in 2011-12 have ISU fans had a chance to harbor realistic FCS playoff hopes and Missouri Valley Football Conference contention entering a season. Remember, that the 2014 playoff team was coming off of a one-win season in 2013.
The five-game win streak to end the 2018 season and the close FCS playoff shave – ISU was the last team left out of the field – raised optimism. However, the real reason to feel good about the Sycamores is the returning experience – nearly every offensive starter is back – and a maturation of a roster that is starting to truly reflect coach Curt Mallory's vision.
With preseason practices slated to start on Friday, Tribune-Star beat writer Todd Golden sat down with Mallory to discuss the upcoming season.
TG: From spring to next Friday, this has been about the players preparing themselves since the coaches can't have direct contact. From afar, what has been your observation? Especially considering the approach is different from year one where you were new and year two where the team was trying to win?
CM: The approach we're taking is we get what we deserve. That's the mentality. We got what we deserved last year and we'll get what we deserve this year. We want to keep the pedal pressed and attack it that way. We're not taking anything for granted and we still haven't done anything yet. We still have a lot to prove to ourselves. That's the number one thing. We proved to ourselves we deserve to be a playoff contention team, but we still have a lot of work to do.
The team has approached it with a workman's attitude. We're not allowed to be around them. It's run by them and it's voluntary. The attitude has been great. We're going into the fall as healthy and as deep as we've ever been.
TG: How easy or hard, depending on what your answer is, to buy into 'you get what you deserve' when, clearly, you felt like you deserved to be in the playoffs last year? How do you manage that reality versus the disappointment? How do the players strike the right balance?
CM: I've seen their actions in how they've worked. Their attitude for one. When we didn't make it? We approached it that we're not going to feel sorry for ourselves and that we've got a lot of work to do. We didn't take care of business and we've hammered that and the kids have bought into that. They're not satisfied. There's disappointment, but there's still a lot more out there to accomplish. I think our seniors have really led that and bought in.
I know they have because of what they've been through and how they've attacked it and their attitude. You see the way they come to practice and the expectation isn't me or the coaches having to coach the little things. We're able to coach football because the expectation of how you finish, how you approach, how you conduct yourself off and on the field is being coached by our players. The demands are being demanded by those seniors.
We've got five seniors up front on the offensive line. They've been through a lot. A lot of these guys were already here when I got here. They won four games the year before I got here, won zero after, and they were all here for that. All of the sudden you flip it and win seven, but they remember what it was like when we weren't winning games. It's not talk, it's work and I see it, the coaches see it. We met [Tuesday] went over each individual and there were very, very [few] surprises.
TG: Where do you feel best about the depth on this team at this moment?
CM: We've got a lot of guys who have played a lot of football. We're a lot deeper in the secondary than we've been in the past. We get Mekhi Ware back, he's a young man who played as a true freshman. We have a transfer named Keawvis Cummings, who was a starter at Austin Peay. He's added some great competition there. Kaelub Newman, Anthony Tucker and Dwayne Thompson all played last year. Those are five experienced guys going in that we hadn't had. Ty Hambright played quite a bit, Denzel Bonner was a starter, Khalif Copeland played a lot as a true freshman, we now have him back. Michael Thomas made the move from offense to defense. I think we're a lot deeper there than we've ever been, I know we are.
On the defensive line? We're inexperienced in the interior, but more experienced at the defensive end. We'll get Inoke Moala, though he'll be limited in the beginning, will be right in there by day three. We didn't have Nokes and we lost him at the Northern Iowa game.
You look at a guy like Cade Peratt, 245 pounds, and he started last year. Kris Reid played a significant amount last year. Kaleb Brewer, who started last year, and we added a junior college transfer in Isaac Fotu, we're five-deep at defensive end. After that? You've got guys who have played, but in limited roles. We've got numbers. We've got 21 guys on the defensive line. I've never gone into a camp with 21 guys on the defensive line. We'll be inexperienced on the interior, but we've got numbers.
At the wide receiver spot? Dante Hendrix is back. Daijon Collins was hurt all last year, he's back. Joe Wildt started last year, Dante Jones started last year, Dakota Caton started last year, Rontrez Morgan started, but got hurt midway through the season.
We added Dominique Dafney and Keawvis Cummings? We have high expectations for those guys (both being the primary summer transfers). At the wide receiver position? We're experienced and deep. And the guys under them are still young, but we're seven-deep.
On the offensive line? We return five starters. Mason Flechler started as a tight end at times and then a lot of guys who are young. We're not as deep as we'd like to be on the o-line, I wish we were as deep as the d-line, but we've moved some guys over. We gave Keivon Walston a shot at defensive line to see what he can do.
I feel really good about our quarterback position, obviously led by Ryan Boyle, our starter, but we've got a darn good backup in Jalil [Kilpatrick], both of whom have played. Behind them. we have guys who are young, but I feel good about the quarterback position.
The running back that has carried some reps are Titus McCoy and Peterson Kerlegrand, but we still have five guys there. Nick Sims, our transfer [from Toledo], did some good things in the spring. Matt Sora, we redshirted last year, and Chris Childers played on special teams. We have five and that's where you see the depth.
[Tight end] Zach Larkin broke his hand at the beginning of the season last year and Henry Woodcock had a good season last year. We moved Matae Thomas from wideout to tight end, who is 230 pounds. We've got numbers there now.
We really like what we have [on special teams] with [kicker] Jerry Nunez, [punter] Travis Reiner and [long snapper] Wyatt Harwood. All three guys are experienced. We have some good depth there.
When you look at the guys out for the season. Tynan Williams had a labrum tear on both hips. Caleb Hamilton tore his knee and so did Jonathan McClain, so we're going into the season as healthy as we've ever been. Where a year ago? We had a lot of soft tissue going in and we were very limited on what we can do. This year we can go three or even four-deep at every position.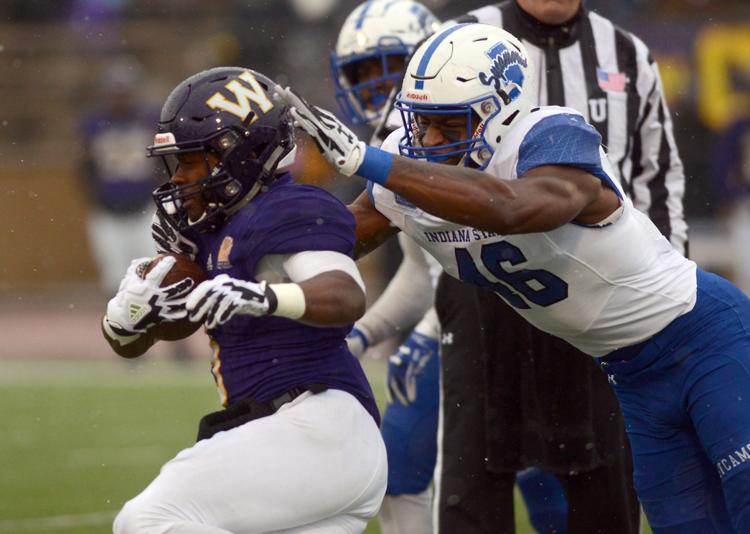 TG: When I look at the depth chart, the names that jump out are Ryan Boyle and Jonas Griffith. How valuable is it to have players who are your primary producers, but also, your best leaders?
CM: It's everything. They're the leaders and hardest workers and Ryan Boyle and Jonas Griffith are those two. They do a tremendous job with a great supporting cast, but it's instrumental in building your program to build around your quarterback and middle linebacker. Everywhere I've been part of great teams, we've had both of those in place.
Then you've got a great supporting cast. If you went through each room? We have great leadership in every room. I don't know if I could say that in the past. You've got Titus McCoy in the running back room. A contagious leader. In the wide receiver room? You've got Dante Hendrix, who does a tremendous job of leading. At tight end? You've got Zack Larkin. On the offensive line? You've got five across the board.
At linebacker? Jonas Griffith and Kelvin Broome have both done a tremendous job. We're going to need Kelvin Broome in a huge way this year. He's going to play a lot of football. As much as Jonas will play this year, we need a guy to spell him. Matt Thompson has been a great leader.
In the secondary, we get great leadership from Michael Thomas and older guys like Kaelub Newman and Mekhi Ware. In the d-line room, you've got Nokes, Michael Ghant, Cade Peratt and Kaleb Brewer, so we've got great leadership throughout. We've got two or three leaders in every room.
TG: The experienced offensive line dictates that they're part of the leadership. It might be the most experienced line I've seen at Indiana State. How do those guys dictate their leadership to the offense?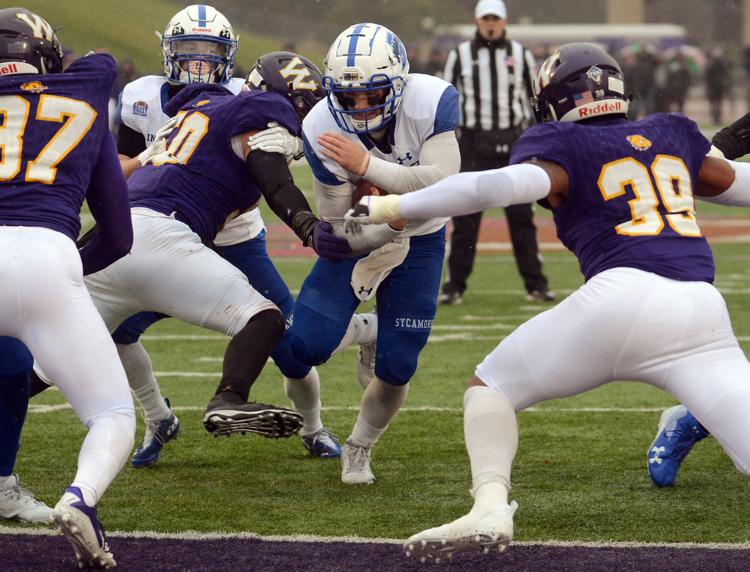 CM: They bought in to that it starts up front. They take it upon themselves running the football. We're always going to run the football and they've bought into that. It's an unselfish group, it's a close-knit group. What you see, too, is that they respond to Ryan Boyle. He commands it, but they command it up front. It's very positive to hear those guys lead up front and then from the quarterback position.
TG: The defense, in 2018, got better as the season went along. What's the key to bottling what they did and stretch it out over the season?
CM: The thing we were able to do, up front, is play a lot of guys. We had Pishon Powell and Rex Mosley (both 2018 seniors), but everyone else is back. We were able to rotate guys and the more numbers you have? The more it helps.
I think the thing we were able to do, as we got later in the season, was minimize big plays. We were a big play waiting to happen our first year. We couldn't knock anything down. A year ago? We were able to knock things down on the back end and keep things in front of us.
These guys did a good job of not giving up the big play. But the [offense] did a great job of not turning it over. That's something the guys on the offensive side bought into and the [defense] did a good job of giving [the ball] back.
TG: Tell me about Dominique Dafney and Keawvis Cummings, the two transfers?
CM: We haven't seen them yet, because we aren't allowed to be around them, but Keawvis was a starter at Austin Peay. Dominque Dafney and Ryan Boyle are both from Des Moines, Iowa. Both went to Iowa, so there is a connection there. They played against each other in high school and together in college. Having those guys? What they bring is experience. Dominque is a big body who can run. Keawvis had some good numbers. Until we get them in camp? We'll see, but we're encouraged to have them.
TG: I think it's safe to say expectations for this team are a lot different than your first two years. How do you feel like this team manages those winning expectations?
CM: A year ago, we were talking about getting the first win coming off a first season where the average score was 50-10. I'd much rather be talking about the expectation of being in top half [of the MVFC] than being picked dead last. Since the year 2000? Twelve times we've been ranked last.
[The expectations] are a huge compliment to these guys, but now we have to go prove it. They've earned the right. It's up to ourselves that we're worthy to be that. That's been the message to these guys to keep them grounded. We have never gone in with the expectation to be in the upper half. It's our job and the seniors' job to not think it's just going to happen. If they take the approach like they did in the spring? And I know they will? If we make the improvements we did from spring practice No. 1 to No. 15? We'll be on the right track.
TG: I've been positive about the team, but what concerns do you have? What do you want to see develop in August?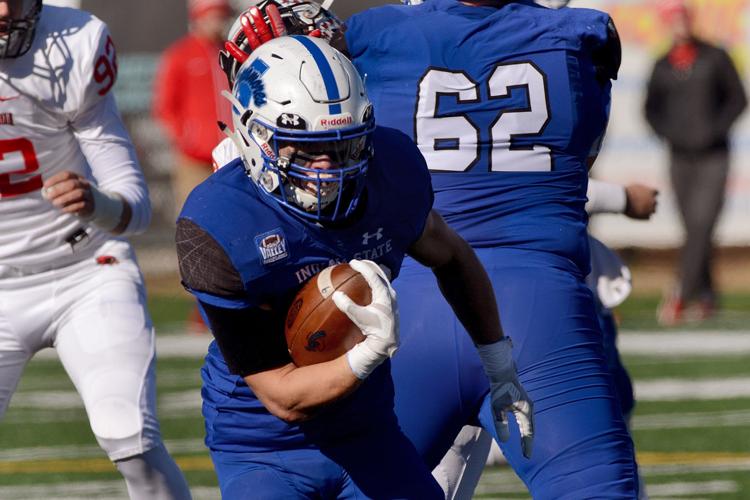 CM: I want to see a running back develop. I think we've got good running backs, but I want to see someone emerge. I want to see our tight ends be more productive and more consistent in play. I want to see who's able to step up in the interior of the defensive line.
I want to be able to throw the football better than we did a year ago. We're going to run the football, that's not a secret, but I want to be able to have the ability to throw as well as we can run it. We need to improve the pass game so we're not 80 percent run.
The thing I want to continue to see on the defense? The guys who were young last year to continue to develop. We want to continue the same trajectory of going upwards. The thing I like that we're doing is we've got a lot of guys who played and that they keep growing.
TG: You play seven home games, unprecedented for this program, and the first five of seven are at home. You still have to win them, but what does that mean as far as the tone of the season goes?
CM: With the redshirt rule where you can use [redshirts] in four games? It's huge when you have seven home games. You have seven games to dress your whole team and you can use guys in certain positions. If it was the other way? We'd have seven road games where you can only dress 65. You can utilize your roster more.
The other thing is to have five home games in September and October. We expect to have a great crowd and atmosphere. We expect them to help us get off to a great start. We have to take advantage of that.