When the opposition makes eight field goals before you make your first? Chances are, it's not going to be your day.
So it was for West Vigo's boys basketball team on its visit to Parke Heritage on Saturday.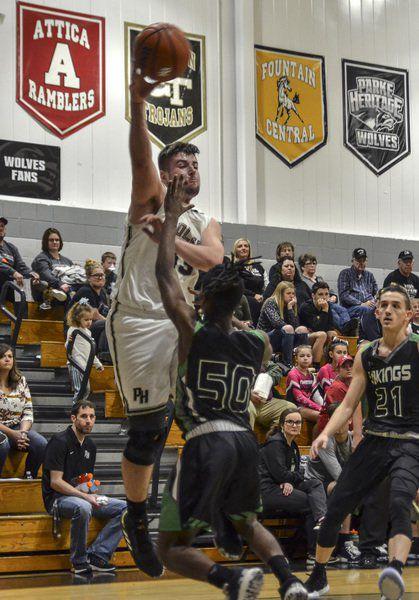 The Wolves are too good to give them the kind of cushion the Vikings provided them in the game played at Parke Heritage Middle School, the former Turkey Run High School. Parke Heritage took maximum advantage of its early spurt to defeat West Vigo 67-47 in the nonconference contest.
Parke Heritage is just outside the top 10 in the Class 2A poll and the Wolves looked every bit the part of a postseason contender. The Wolves played fast, they played smart and they shared the ball well.
"We ran the floor today the best we have all year. When we run the floor like that, it's going to be hard for us not to get in the 60s or 70s because we have guys who can score it," Parke Heritage coach Rich Schelsky said. "Our pace was the most consistent we've had. We've done it in spurts, but we constantly hammered it down the floor."
Parke Heritage (16-3) put its thumb on West Vigo from tipoff. The Wolves spread the ball around expertly as four different players scored in an 18-2 run to start the contest. Parke Heritage was 6 of 8 from the field during the surge, including a trio of 3-pointers by Riley Ferguson.
"West Vigo has zoned a lot of teams since Christmas, so we worked all week on making shots. If there's one inconsistency with us? Maybe it's 3-point shooting, but boy did we come out firing," Schelsky said.
Meanwhile, West Vigo (5-12) was having a nightmarish day from the field. Parke Heritage played good defense and forced the Vikings into some poor shots. But even the open ones West Vigo got didn't fall.
"With us? Everything starts defensively. That's why our record is what it is. I thought we did a great job getting into them and we them out of their ball-screen stuff. You have to give a lot of credit to our kids for being tough," Schelsky said.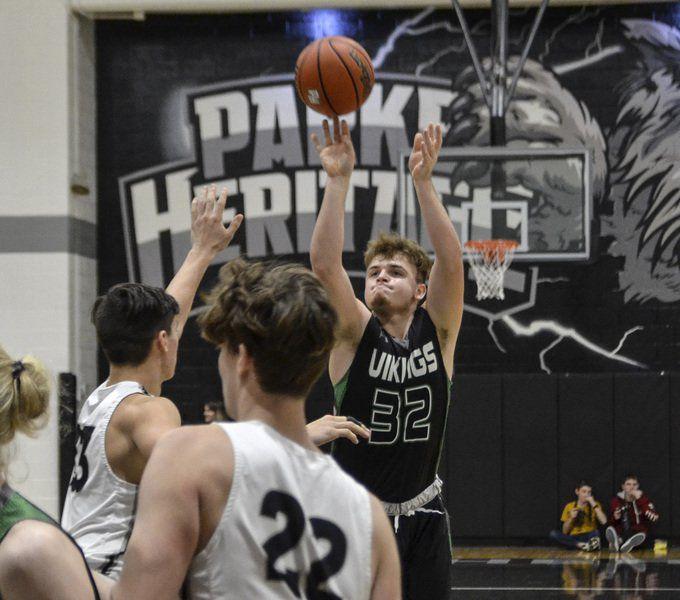 By quarters' end? The Vikings were 0-for-10 from the field and Parke Heritage had a 23-6 advantage.
West Vigo outscored Parke Heritage in the second quarter, using some steals to score in transition, but the hole the Vikings had to dig themselves out of was deep. Parke Heritage coasted into halftime with a 32-17 lead.
The Wolves held serve in the second half. West Vigo got no closer than 13 points. One bright spot for the Vikings was Dane Andrews. He came off the bench and led the Vikings with 18 points and six rebounds and he hustled down loose balls right to the final seconds.
"From the second quarter on, it was an even game, but we didn't get off the bus ready to play. I don't know what it was. Maybe playing in the afternoon was different than what we were used to. That first quarter just killed us," West Vigo coach Joe Boehler said. "They're a very good team and they have some very good players. I thought we could defend better, but we'll have to regroup next week."
Parke Heritage just had more scoring to offer than the Vikings did. Connor Davis was 7 of 8 from the field and led the Wolves with 18 points and 10 rebounds. Ferguson scored 14. Logan White has 12 points and 10 rebounds and Christian Johnson notched 11 points.
"You want to be playing your best basketball in mid-February and March," Schelsky said. "I don't look at West Vigo's record. They've played a brutal schedule and they're a step up in class for us. This was a game we had marked on our schedule as a great test for us. There's a lot of things like them in the 2A team. We're looking forward to the stretch run to see what we can do."
West Vigo next hosts Paris on Tuesday. Parke Heritage travels to Fountain Central for a Wabash River Conference game next Friday.
WEST VIGO (47) – Lautenschlager 4-6 5-6 13, Newhouse 1-2 2-2 4, Roberts 1-8 0-0 2, Hannahs 2-13 4-4 10, Stephens 0-0 0-0 0, Andrews 7-16 2-3 18, Page 0-3 0-0 0, Holman 0-0 0-0 0, Burgess 0-4 0-0 0, Kesler 0-2 0-0 0. 15-54 FG, 13-15 FT, 47 TP.
PARKE HERITAGE (67) – Ferguson 5-7 0-0 14, N. Johnson 1-3 2-2 4, C. Johnson 4-16 0-0 11, Davis 7-8 2-3 18, White 5-11 1-3 12, O'Brien 2-4 4-4 8, Cheatham 0-0 0-0 0, Crull 0-1 0-0 0, Petrillo 0-2 0-0 0, Ward 0-1 0-0 0. 24-53 FG, 9-12 FT, 67 TP.
West Vigo=6=11=19=11=-=47
Parke Heritage=23=9=21=14=-=67
3-point goals - WV 4-18 (Hannahs 2-5, Andrews 2-4, Burgess 0-3, Roberts 0-2, Lautenschlager 0-1, Newhouse 0-1, Page 0-1); PH 9-20 (Ferguson 4-6, C. Johnson 3-10, White 1-2, Davis 1-1, Ward 0-1). Rebounds - WV 31 (Andrews 6, Hannahs 5); PH 41 (C. Johnson 10, Davis 10, N. Johnson 6). Steals - WV 9 (Lautenschlager 2, Hannahs 2, Andrews 2); PH 7 (N. Johnson 4). Blocks - WV 1 (Andrews); PH 1 (Davis). Turnovers - WV 15, PH 17. Total fouls - WV 12, PH 13. Fouled out - Lautenschlager.
JV – Parke Heritage 38, West Vigo 36.
Next – West Vigo (5-12) hosts Paris on Tuesday. Parke Heritage (16-3) plays at Fountain Central next Friday.