When Terre Haute South held visiting Bloomington North to a field goal on the first possession of overtime in Conference Indiana high school football Friday, the Braves figured they were in pretty good shape.
They have, after all, a touchdown specialist.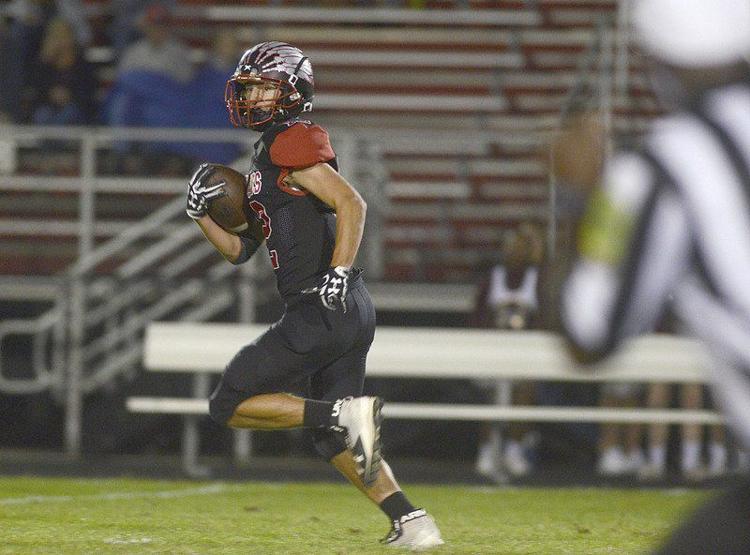 Jacob Rutledge, who has scored five times in the Braves' last two games while touching the ball just 12 times, burst into the end zone from 3 yards out in overtime, giving South a 19-16 win and a share of the conference lead.
The Cougars missed a 39-yard field goal attempt at the buzzer of regulation time, then were held to their successful field goal after the Braves knocked down two passes in the end zone in overtime.
Then the Braves, who had just 40 rushing yards for the game, ran the ball three times in a row for the win that left them undefeated for the season.
South got a pair of Ashton Hayne field goals in the first half, one of them after an Ayden Macke fumble recovery had set the Braves up for what probably should have been more than three points and the second at the halftime buzzer.
South had a good defensive first half with the exception of one play, a 50-yard touchdown pass in the second quarter during which the receiver was open by almost that many yards.
"We had one blown coverage," coach Tim Herrin agreed later, "but those same guys who blew that coverage were making plays in overtime to allow us to win the game."
When the Cougars scored less than two minutes into the third quarter for a 13-6 lead, things looked shaky for the Braves, who had just 163 total yards for the game and its extra three pays.
Even after a high snap on a punt attempt set up South at the Cougars' 18-yard line, the Braves couldn't take advantage. South actually went backwards, throwing a fourth-down pass into the end zone incomplete from the 28.
Then Rutledge, who may lead the state — the nation? — in the ratio of touchdowns per times touching the ball, read a sideline pass and returned an interception 75 yards for a score with 4:37 left in the third quarter.
"I jumped a screen route," Rutledge said, explaining it was almost an identical play to the pick-6 he'd recorded a week earlier at Evansville Harrison, when he also scored touchdowns on his only two carries.
A sense of urgency hadn't overwhelmed the South defense, Rutledge added.
"We were thinking, 'Just get another stop,' " he said. "We believe in [our offense]. We know they'll get it right . . . we have faith in everybody. We're all a family."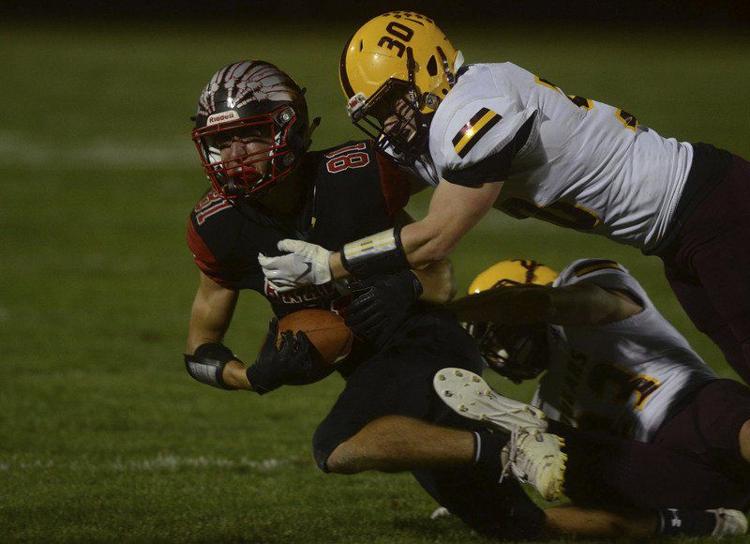 The two teams combined for 248 yards in penalties, which made the last 16 minutes frustrating for both offenses. Hayne tried a 51-yard field goal with 30 seconds left, but it was returned past midfield and the Cougars picked up two first downs before missing the potential game-winning kick.
Is this going to be another 2014, Herrin was asked. That was the season the Braves had heart-stopping finishes on almost a weekly basis — but also the season the Braves went 10-2, with Timmy Herrin at quarterback.
"I'll take it if that's the case," Tim Herrin said. "And maybe we have a chance, the way we play defense.
"Defensively, our kids laid it on the field and gave us a chance to win," the coach continued. "Offensively, we've got to shore up some things going into next week. We can't have that many penalties."
"This gives us more confidence," Rutledge said, "because we know we can build off it. We know we can get better too, because we did not play our best game."
"Obviously we've got to get better every week," Herrin said, "but I can't ask for anything else [right now]."
Both teams play their biggest rivals on the road next Friday, South at Terre Haute North and Bloomington North at Bloomington South.