Terre Haute South and Indianapolis North Central had advanced from boys state high school tennis quarterfinals matches on Friday afternoon in identical fashion.
Both teams had survived 3-2, winning three singles matches and losing two doubles matches, so Saturday morning's semifinal match between the two was a strength-vs.-strength pairing.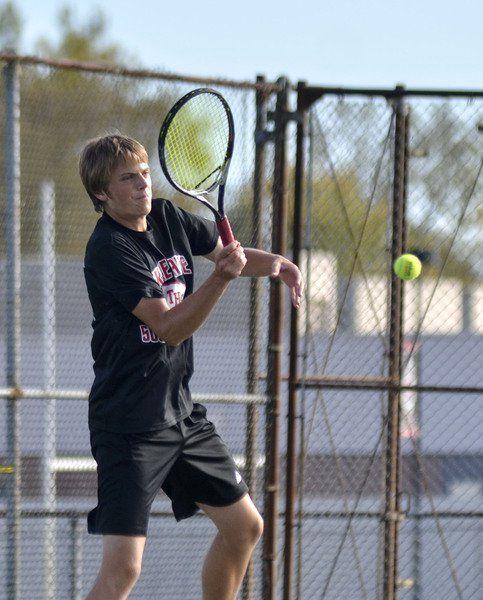 And while the sixth-ranked Braves kept the Panther doubles team winless for the weekend, South's two wins came after the North Central singles players had also done the same thing they'd done a day earlier, which added up to a 3-2 win for the fifth-ranked Panthers and a championship match against unbeaten Carmel later in the day.
"They don't call them a three-headed monster for nothing," South coach Jami Patterson said of the Panthers shortly before noon Saturday. [North Central's Ian Brady, Ajay Mahenthiran and Marquis Willingham] just all played fantastic."
Patterson had noted a day earlier that both Brady and Mahenthiran had beaten her team's No. 1 player Canaan Sellers in the past, so an upset would be needed to capture either of those points.
That didn't happen. Mahenthiran finished off Matthew Roberts, one of South's Friday heroes, in just over an hour, and Brady completed his win over Sellers about three minutes later.
Caleb Morris, South's other Friday hero, was again facing a freshman competitor and battled a little longer, but after approximately 70 minutes the match's outcome had been clinched.
"I liked the effort that our boys gave," Patterson emphasized, "and I was proud of that."
South's doubles teams were not discouraged, however. Seth Gage and Jacob Thacker at No. 1 had been the only spot in the South lineup to win a first set, and they wrapped up a straight-set win for the Braves' first point.
"Me and Jacob lost yesterday, so our goal today was come in and win," Gage said. "We're both seniors, and we knew it could be our last match, so we put our best effort into it."
"We went to bed last night [thinking] 'We're gonna win this morning,' " Thacker agreed. "We didn't want to end on a loss."
"Their best match of the season," Patterson said.
At No. 2 doubles, Aiden Fellows and Stephen Kallubhavi — who finished the season 25-2, best record among the Braves — found themselves in the same position they'd been in a day earlier, down a set and trailing 2-5.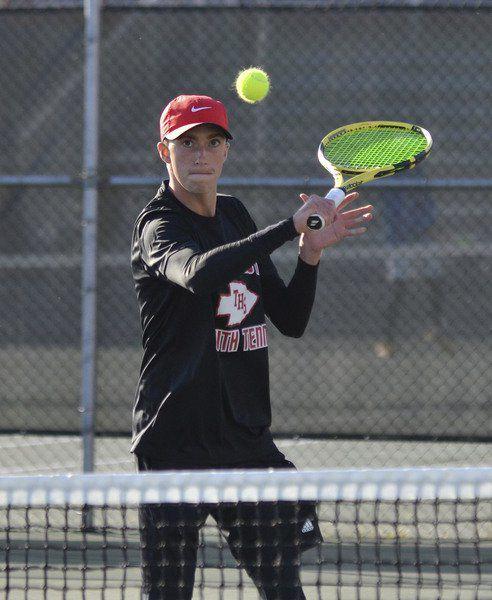 On Friday, those Braves have battled back to force a second-set tiebreaker, only to let that match get away. On Saturday, they stormed to a three-set finish, winning 11 of the final 13 games.
"We knew it could be our last match of the season, and Aiden's a senior," Kallubhavi said, "so I tried to hype him up. He picked it up in high gear, and we pulled one out."
"In the beginning we were missing our shots," Fellows said, "so we just decided to relax and reset. I told myself 'I'm going to start coming up to the net.' Once we figured out that that was working, we continued to use it."
"Stephen and Aiden had a great come-from-behind win," Patterson said. "They adjusted their game."
The three doubles players will be the only graduates from South's regular lineup, with Sellers, Roberts and Morris perhaps become a three-headed monster themselves for the 2020 season.
Fellows, Gage and Thacker will be fans by that time.
Fellows recalled that he'd been a No. 1 player at Sarah Scott Middle School, but didn't take the sport seriously until arriving at South.
"My junior year we got to the semistate and lost to Park Tudor," he said. "This year we got to state, and took it one match at a time after that . . . this was easily the best tennis of my career this year."
Thacker said he'll remember "a lot of sleepovers together, good times. I'm happy we made it this far."
"[Playing tennis at South was] a good experience, and I'm sad it's over," Gage concluded. "It was good to end on a win."