Since it was pointed out last week that all three Vigo County high school football teams hadn't started the season 2-0 in more than 25 years, it stands to reason that they haven't all been 3-0 at the same time either.
Terre Haute North was 3-0 as recently as 2017, while West Vigo got to that point in 2015 and Terre Haute South in 2014. With all three getting love from the Associated Press voters around the state, it's tempting — and not impossible — to think that a combined 9-0 by late tonight might be in the cards. But with all three teams beginning conference play, things will get a lot tougher.
Four games in the Wabash Valley tonight are involved in the Tackle Childhood Cancer campaign, in which Molly and Greg Barrett — parents of the late Patrick Barrett, who was a victim of the disease — have set a goal of raising $150,000 for the P.S. We Love You Fund which raises money for precision genomics testing at Riley Hospital for Children.
Fans can contribute tonight at Riverton Parke, which plays South Vermillion (coached by Greg Barrett); at North Putnam (formerly coached by Greg Barrett), which hosts South Putnam; at Terre Haute North (coached by Chris Barrett, Greg's brother), which hosts Bloomington South; and at Sullivan, where the Golden Arrows take on Northview.
Both college games in Terre Haute on Saturday — Dayton at ISU at 1 p.m. and Mt. Union at Rose-Hulman at 7 p.m. — will also be involved in the effort.
Here's what's going on on the fields tonight.
• West Vigo (2-0) at Greencastle (2-0), 7 p.m. — This game is the biggest test for either team so far, and should be a critical one in a Western Indiana Conference West race that looks completely up for grabs.
• Bloomington South (1-1) at Terre Haute North (2-0), 7:30 p.m. — Unscored on so far, the Patriots also face their biggest test of the season against what's been a mysterious Panther team: a one-sided win over Castle, but then a one-sided loss to Martinsville. Betting that Mo Moriarity's team will come out with a vengeance might be a popular proposition at casinos throughout the state if wagers were taken on high school events.
• Bloomington North (2-0) at Terre Haute South (2-0), 7:30 p.m. — The Braves have given up points this year (12 in their opener) but after holding Evansville Harrison to negative yardage for the game last Friday, they could mount a pretty good argument with the Patriots about whose defense is better (we'll find out a week from tonight). The problem for South tonight is that the Cougars appear to be vastly improved.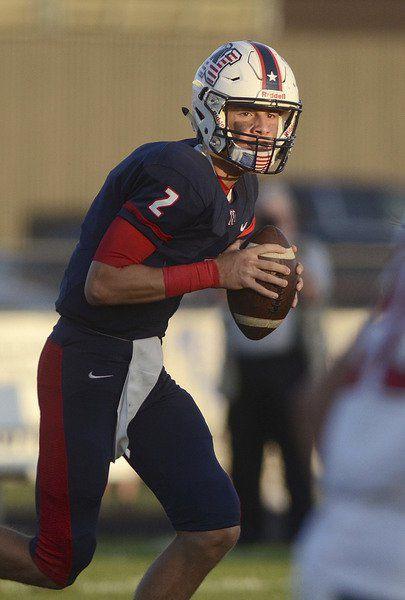 • Northview (0-2) at Sullivan (1-1), 7 p.m. — This could be the game of the night from the standpoint that neither team is too happy with how it's played so far. And remember, the winner has an early share of the conference lead.
• South Vermillion (1-1, 1-1) at Riverton Parke (1-1, 1-1), 7 p.m. — The Panthers' road win at Fountain Central last week makes the Milk Jug Game look more interesting that it might have a week ago. One of these teams will remain a Wabash River Conference contender.
• North Central (0-2) at Parke Heritage (2-0), 7 p.m. — For being almost a totally new team, the Thunderbirds have hung tough so far. They could be outmanned tonight against another team that knows about being totally new, however.
• Covington (0-2, 0-2) at North Vermillion (2-0, 1-0), 7 p.m. — The Trojans have had a killer schedule so far, while the Falcons appear to be picking up where they left off last season.
• Linton (1-1) at Monrovia (0-2), 7 p.m. — The Miners think they should be 2-0 right now but must avoid a post-Sullivan letdown against the Bulldogs. Monrovia has scored just one touchdown in each game, but they've only given up two apiece.
I I I
In Illinois:
• Flora (1-0, 1-0) at Marshall (1-0, 1-0), 7 p.m. CDT — The Wolves weren't very good last year, but a season-opening thumping of Red Hill might indicate that's no longer the case. The Lions can't afford to slip up in a Little Illini Conference race that looks very interesting.
• Casey (0-1, 0-1) at Paris (1-0, 1-0), 7 p.m. CDT — Another game that looks more interesting today than it did a week ago. Casey probably should have won at Olney, which means the Warriors are a contender themselves. The Tigers would like to put that fire out.
• Red Hill (0-1, 0-1) at Robinson (0-1, 0-0), 7 p.m. CDT — Like Casey, Robinson has spent the week thinking it should be 1-0. Have the Salukis run out of talent, or are they about to bounce back.
• Niantic (Sangamon Valley) (0-1) at Martinsville (0-1), 7 p.m. CDT — One of the biggest schools on the Bluestreaks' schedule has an obvious advantage in one area: available bodies. Martinsville's roster has 13 names.
• Farmer City (Blue Ridge) (1-0) vs. OPH (0-1) at Oblong, 7 p.m. CDT — Martinsville was fairly competitive against Blue Ridge last week, and Oblong-Palestine-Hutsonville has some bouncing back to do.