Sometimes in sports, the smallest change can make a huge impact in whether a team wins or loses.
For the Terre Haute North high school volleyball team, there's one word that's been repeated from its coaching staff to its players that's changed the complexion of its season – communication.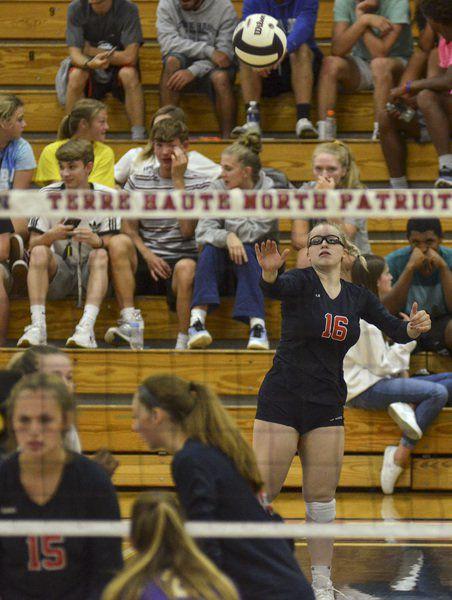 Coach Kelsey Patrick said it's what plagued them early on in the season and it's what they've emphasized the most in practice over the last few weeks, which has subsequently resulted in better play on the floor.
Monday, Patrick said the way her group interacted with one another was the difference in the Patriots' 3-0 sweep over visiting Sullivan.
"They've been working a lot in practice. They do a lot of communication drills, a lot of team bonding things and it's definitely started to show more on the court," Patrick said.
North opened the night going back-and-forth with its Wabash Valley counterpart, as the two continuously traded points.
With the Golden Arrows leading 11-9, North ripped off five straight to take a lead it would never relinquish thanks in part to the front row play of Erika Funkhouser and Abigail Wright, who each had five kills in the 25-20 first set win.
In the second set, Sullivan held an early 2-1 lead before things changed in a hurry, as North went on a 10-0 run with Morgan Adams, who had four aces during the span, serving.
The hot play of the Patriots gave them a comfortable 19-6 advantage and had them well on their way to a two-set lead, but the Arrows wouldn't go away quietly.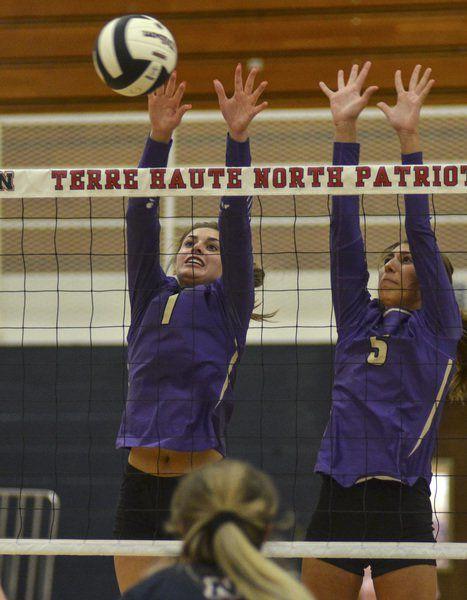 They went on a 7-0 run of their own to make things much more interesting, and even got to within four before North wrapped up the second game.
Sullivan coach Kim Rinck noticed a difference in her team's play when things weren't going their way compared to when things were in sync, with it all stimming from their defense.
"Getting our defense back where it needed to be," Rinck said of the change in runs. "We struggled tonight with where our defense needed to be. I felt like when we were on a run, we were where we needed to be."
Seeing a win not far out of its reach with a 2-0 lead, North got off to a quick start.
The Patriots held a multi-point lead until just over the midway point of the game when Sullivan made yet another run at the hosts and suddenly climbed back to within one.
It forced Patrick to call a timeout. She settled her group down with one simple message.
"Keep your confidence and stay with it," Patrick said. "I told them, 'you can't get up on a run that big and then let a team come back.'"
It worked, as North held off the Arrows one last time to complete the 3-0 sweep of the Golden Arrows.
With the win, the Patriots keep the momentum they've worked hard to build and hope to see it continue into conference play against Bloomington North today.
"I told them the key is energy and to keep the hustle [up]," said Patrick of the upcoming Conference Indiana match.
Sullivan 20 20 23
Terre Haute North 25 25 25
Highlights – Sullivan, Madalyn Rinck led the way with 15 assists, 5 digs, 3 aces and 3 kills. Asia Povlin added 11 kills, 4 digs and 2 aces, while Kendal Edmondson had 4 kills and 1 block.
For Terre Haute North, Abigail Wright led the way with 9 kills, 7 blocks, 1 ace, 1 assist and 1 dig. Madi Halls added 13 assists, 5 digs, 4 aces and 3 kills, while Erika Funkhouser had 10 kills and Keely Davis had 18 digs. 
JV – Terre Haute North won 17-25, 25-11, 15-11.
Next – Terre Haute North (8-5) visits Bloomington North today. Sullivan (6-5) visits Northview on Thursday.