Jordon Montgomery had just one problem with Lauren England's performance in shot put and discus Saturday at the Indiana state finals at Indiana University's Robert C. Haugh Complex.
It was her last one with him as her coach.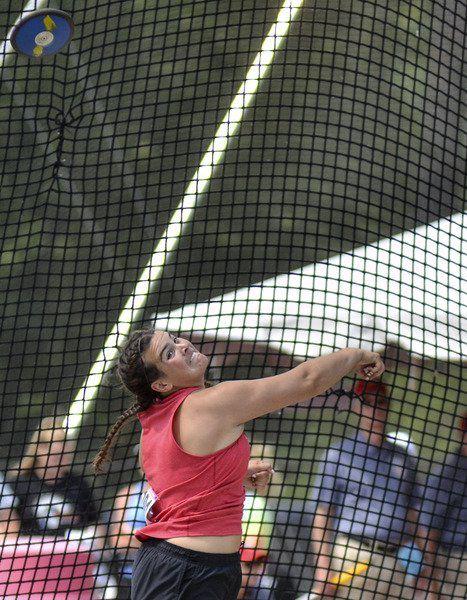 The Terre Haute South throwers coach found himself in the spotlight for two straight days at Bloomington as two of his all-time favorite athletes competed. But unlike Jason Swarens, a junior who won the shot put competition and placed sixth in discus on Friday, England — third in discus, eighth in shot put on Saturday — will be graduating from South today.
"I'm not happy about that," Montgomery said. "Knowing how she's served as a leader, how she's showed the young people what it takes to get here and have success here . . . [when you do that] you're going to be missed."
England earned a spot in the shot put finals with her first — and ultimately best — throw of 41 feet, 11/4 inches, but couldn't improve on it in a tightly packed field.
Although England placed eighth, she was only a fraction of an inch more than three feet behind eventual winner Erikka Hill of Shenandoah.
In discus, the South's seniors best throw was her last one and she finished with a mark of 136-8. She had been seeded first in the event because of regional performances, and her throw of 143-8 a week ago would have been enough to win.
"I didn't do bad," England said after shot put competition was over. "It was not what I wanted, but I'm still happy."
"Lauren didn't start great in the prelims, and the girl who won [discus] looked strong in warmups," coach Ed Jarvis of the Braves said. "Still finished third despite not having her best day, then she turned around and got all-state in shot too, so ended up having a successful day."
England placed 12th in discus and 14th in shot put at the state meet last year.
"After last year, my goal for this year would have been to just podium [place in the top nine]," England said, "so I did better than I would've thought last year."
"It was a good day," Montgomery said. "Last year she didn't make the finals in either event, so this was a successful day. You can't complain about podium finishes in both."
Watching England's shot put performance closely Saturday was Terre Haute North's Teddy Clark, who finished 23rd in the same event but who scratched on a throw in the preliminaries that would have put her in the finals too.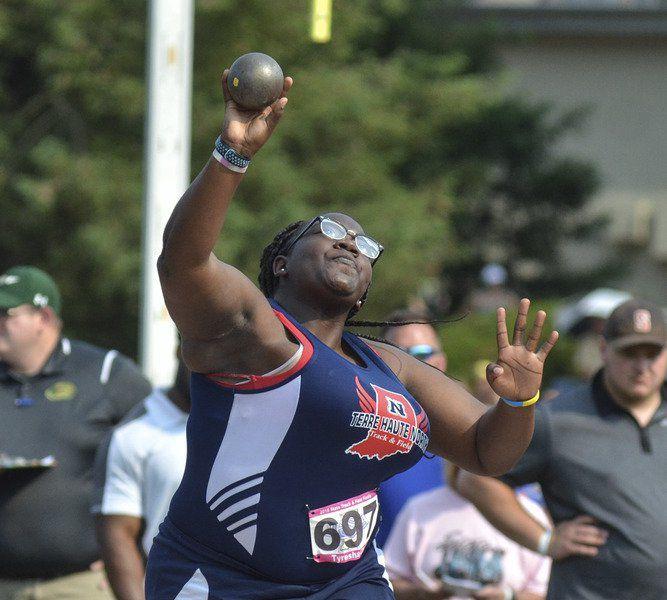 "That was about a 43[-foot throw]," Clark said, "but I just couldn't hold it in [and her feet went outside the ring]."
A sophomore, Clark improved by approximately seven feet in shot put from last season to this, and is planning on returning to Bloomington.
"Last year she was about 33 or 34 [feet]," recalled North's throwers coach John Barrett. "She's been 40 feet the last three weeks [including sectional and regional competition] and last week [40-101/2 at the regional] was her best. She's put in a lot of work: in the weight room and in the throwing ring.
"She's her own worst critic; she thinks too much," Barrett added, "but it's going to be fun to watch her the next two years."
"My form is terrible," said Clark, confirming what her coach had just said. "I'm just pretty stong. But my goal is beating the school record [41-6 by Alissa Turpin] next year, and by my senior year maybe the state record."
South also got nearly a two-second improvement from its 4x100 team and a 14th-place showing by Courtney Jones — also on the sprint relay — in the 300 hurdles.
"Third-best time in school history [for the 4x100 team]," Jarvis noted, "and Courtney was one of three freshmen to run the 300 hurdles. Five spots out of all-state, so it will be her goal next year."
Best finish among other Wabash Valley competitors was 17th place by Mackenzie Stoltz of Cloverdale in 100 hurdles. Eden Siples of Northview (400), Addison Readinger (800) and Zoe Trausch (3,200) of North and Vanessa Shafford of Linton (discus) also competed.
Two records were broken, including the 800-meter mark formerly held by Indiana State graduate Brittany Neeley of Eastern (Greentown).
• Silver anniversary — As part of the awards ceremony at the girls meet Saturday, Indiana High School Athletic Association officials invited the winners of events 25 years ago to come back and hand out medals. In high jump, that meant 1994 champion Carri Long of Northview — and since Long also won in 1995, and because she was having so much fun on Saturday, she might get to do the same thing next year.
Long is no longer a high jumper — although she has a 9-year-old son who looks like a potential one, she said — but she is still a cowgirl and competes in barrel racing. She and her husband have a ranch/farm in Texas, about an hour east of Dallas.
Girls results
Team scores — Indianapolis North Central 75, Warren Central 52, Hamilton Southeastern 48, West Lafayette 42, Zionsville 30, Fort Wayne Northrop 26, Brebeuf 23, Lake Central 22, Center Grove 21, Pike 20, Carroll (Fort Wayne) 16, Lawrence Central 14, Brownsburg 14, Noblesville 14, Huntington North 13, Indianapolis Chatard 13, Homestead 13, Merrillville 12, Franklin Central 12, Rock Creek Academy 11, Fishers 11, Perry Meridian 11, Rensselaer Central 10, Shenandoah 10, Lowell 9, Terre Haute South 9, Fort Wayne Dwenger 9, Ben Davis 9, Crown Point 8, Jennings County 8, Wheeler 7, Greenwood 7, Whiteland 7, Indianapolis Ritter 7, Penn 7, Andrean 7, South Bend Washington 6, Greensburg 6, Indianapolis Cathedral 6, Pendleton Heights 6, South Spencer 6, Lafayette Central Catholic 6, Carmel 5, Lawrence North 5, New Palestine 5, McCutcheon 4, Pioneer 4, Culver Academy 4, Edgewood 4, Evansville Memorial 4, Calumet 4, Bloomington North 4, Fort Wayne Snider 3, Jasper 3, New Castle 3, Hamilton Heights 3, Kankakee Valley 3, Crawford County 2, Western Boone 2, Elwood 2, Plainfield 2, Churubusco 1, Elkhart Memorial 1, Fort Wayne Wayne 1, Central Noble 1, LaPorte 1, Christian Academy 1.
Discus — Hannah Redlin (Rensselaer Central) 143-3, 3. Lauren England (Terre Haute South) 136-8, 22. Vanessa Shafford (Linton) 115-7.
Shot Put — Erikka Hill (Shenandoah) 44-2, 8. England (THS) 41-11/4 , 23. Teddy Clark (Terre Haute North) 37-1.
4x800 — West Lafayette 9:03.37.
100 — Semira Killebrew (Brebeuf) 11.63.
100 hurdles — Chanler Robinson (Indianapolis North Central) 14.25, 17. Mackenzie Stoltz (Cloverdale) 15.42.
200 — Ramiah Elliott (INC) 23.67, 21. Makinzi Meurer (North Knox) 25.50.
1,600 — Addison Wiley (Huntington North) 4:46.93.
4x100 — Indianapolis North Central 45.77, 22. Terre Haute South (Chaiela Edinburgh, Cami Loftus, Emily Kerr, Courtney Jones) 49.68.
400 — Elliott (INC) 43.30, 21. Eden Siples (Northview) 59.11.
300 hurdles — Ella Robinson (Zionsville) 42.05, 14. Jones (THS) 45.99.
800 — Elizabeth Stanhope (Pike) 2:06.62 (state record), 27. Addison Readinger (THN) 2:29.75.
3,200 — Meagan Hathaway (Carroll Fort Wayne) 10:30.84, 25. Zoe Trausch (THN) 11:42.08.
4x400 — Indianapolis North Central 3:43.99 (state record).
High Jump — Shelby Tyler (Noblesville) 5-9, 26. Ashley O'Neal (North Putnam) 5-0.
Long Jump — Prommyse Hoosier (Warren Central) 19-93/4 .
Pole Vault — Kennedy Drish (Hamilton Southeastern) 12-9, 17. Dazia Drake (Owen Valley) 10-6.