Some of the out-of-state competitors at Saturday night's Nike Valley Twilight cross country meet were seeing LaVern Gibson Championship Course.
Some were here last fall, when the under-the-lights competition was staged for the first time.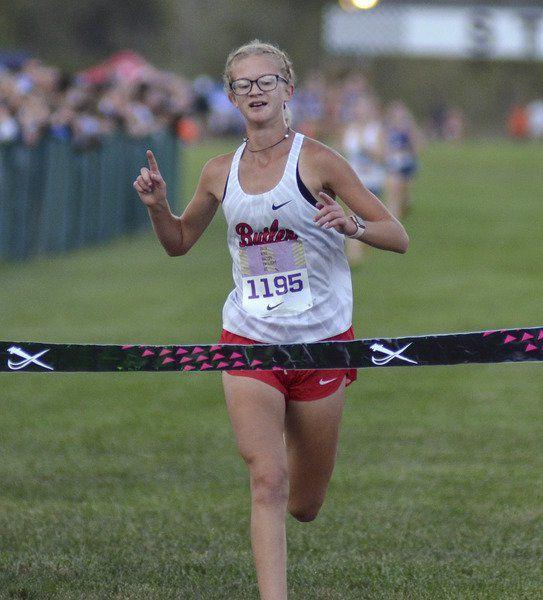 Pretty much all of them want to return.
Saturday's meet was, for most of them, a preparation for the Nike Regional meet at Gibson on Nov. 16. Just the top two teams from that regional are guaranteed spots in the Nike Nationals, so 12 ranked boys teams and nine ranked teams from Illinois, Ohio, Missouri and Kentucky made the trip to Terre Haute, along with nine ranked boys teams from Indiana and seven ranked girls teams that expect to race in the state finals.
"It continues to grow," said Dave Patterson, head of the Terre Haute Convention and Visitors Bureau as well as having considerable course responsibilities. "This is one of the biggest regions of participation in the country."
"It's all about the competition for us," said Austin Jackson, a junior on the boys team from Herculaneum, Mo. "Massive schools. We're a tiny 450-kid school."
Herculaneium made the 3 1/2-hour trip from south of St. Louis to give its team a boost against its neighbor and biggest rival, Festus. Festus — a name familiar to American Legion baseball fans in Vigo County — is ranked first in Missouri's Class 3A, with Herculaeium second.
"It's fun to run against these kids, just to see how good we can do" Jackson said.
Coming from 3 1/2 hours in the other direction were teams from Beavercreek, Ohio, including Ohio's top-ranked girls team.
"This is a Nike regional course, so we'll see it again later in the season," said senior Taylor Ewert.
"We did this [meet] last year," Ewert added. "It's a very fun course, and a historic course. Today is just about going out, running a race and getting some momentum going [for postseason meets]."
Ewert may see the Gibson course several more times. One of the nation's top distance runners, she committed to Arkansas about a week ago and figures to be a prominent figure in NCAA competition for the next few years.
She was after the high school course record on Saturday but came up about 11 seconds short — although still won the event by 38 seconds over teammate Savannah Roark.
Beavercreek, with four runners among the top six, was the girls team winner, with Collumbus North second. Terre Haute South, with good outings by both Lily Barton and Micah Peals, placed 16th and Terre Haute North 21st.
Indiana runners took the top three spots in the boys race, with Dalton Kane of Plainfield overcoming Lapel's Luke Combs — who led most of the race — and Zionsville's Jesus Garcia.
"I went all out in the fifth [kilometer]," Kane said afterward. "This really sets me up for this postseason."
The night race, Kane added, was "so much fun, especially with all this competition."
South's boys, with Matt Gambill breaking the 16-minute mark to lead the way, finished 23rd in the team competition and North was 26th.
Elmhurst (Ill.) York won the team title, ahead of Carmel and Bloomington South.