There have been better North-South high school football games, and there have been worse ones. But seldom has there been one easier to analyze than Friday night's, when visiting Terre Haute South dominated the second half for a 31-14 Conference Indiana win over Terre Haute North.
Locked in a 14-14 tie at halftime, the Braves took the second-half kickoff and marched 73 yards in 11 plays. Nine of them were on the ground, a harbinger of the rest of the second half, but the touchdown came on a 22-yard pass from Caleb Stultz to James Mallory.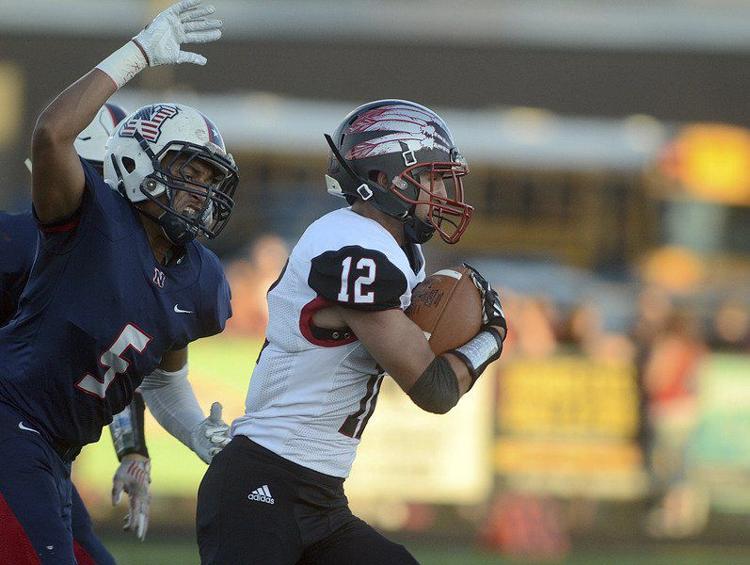 The Patriots didn't handle being behind very well, held to 43 yards and three first downs after intermission, and the Braves kept doing what they were doing.
"We knew we have a really good offensive line," coach Tim Herrin said afterward, "so we made the adjustment to pound the football and wear [the Patriots] down, and I thought we did that the second half."
"Just what I like," said Indiana State-bound offensive tackle Griffin Comer of the Braves. "Ground and pound. [The coaches] put it on us, five seniors [on the offensive line], and we showed up tonight."
"[The Braves have] got a huge line, and a big back [245-pound Allen Haire], and they were able to pound it on us a little bit," said coach Chris Barrett of the Patriots, "but I called a horrendous game offensively. I've got to make it easier for us to execute."
After a fourth-down sack and an exchange of punts, South got the ball on its 15-yard line late in the third quarter and methodically marched down the field. The Patriot defense forced a field goal, but that made it 24-14 with 10:11 left in the game.
North's best second-half drive got the Patriots into South territory, but four straight incomplete passes ended it. And after another exchange of punts, Haire broke loose for a clinching 27-yard run with 1:22 left in the game.
The Patriots had the better of it for a lot of the first half. They marched 79 yards in 11 plays after the opening kickoff, Josh Humphrey scoring on a short pass with the help of a big block by Mahki Johnson, and had the ball back again late in the first quarter on an interception by Jonathan Norris.
North fumbled the ball back to South two plays later, however, and Jacob Rutledge tied the score with an 18-yard run with 12 seconds left in the quarter.
Rutledge went 59 yards for another score on his next carry — giving him seven touchdowns in 15 touches in South's last three games at that point — but North tied the game with 1:40 left in the first half when Jace Russell took a screen pass 33 yards and Matt Gauer hit Deven Stillwell for a 21-yard score.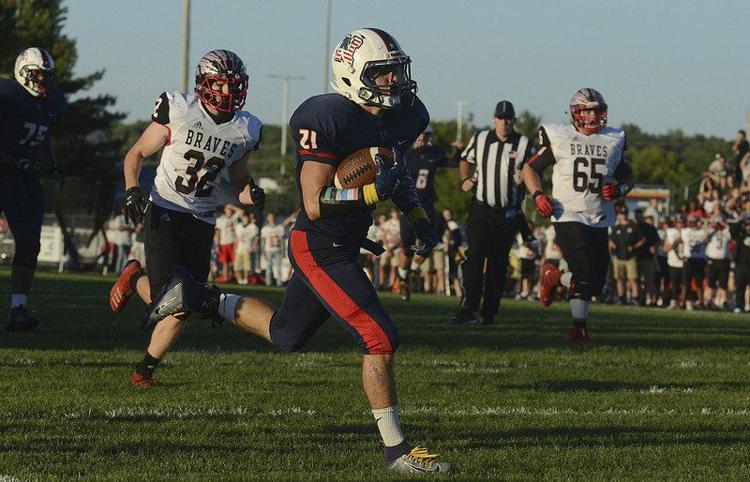 "They're a very good football team," Barrett said of the Braves. "We did some good things early, but we weren't able to handle pressure. And in the second half we never got in the flow."
The second half was how the South defense was expecting to play, senior linebacker Wyatt Maxwell said afterward.
"The first quarter, we made some mistakes," Maxwell said, "but we were able to fix a few of them."
"We have a saying: 'Nobody but us,'" Herrin said after the game. "It was us out there making those mistakes . . . but our coaches had a great game plan, both sides of the ball."
Now 4-0 and a top-10 team in Class 5A, the Braves face probably their biggest test next week against the Bloomington South team that beat the Patriots by a similar score a week ago.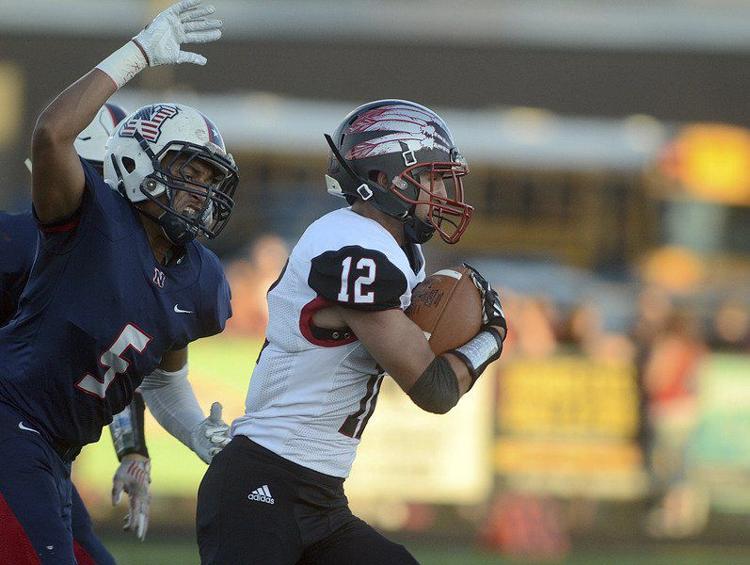 "It's a great feeling, but we have a lot of work to be done," Comer said when asked about his team's start.
"Four and oh? That's a number," Maxwell said. "All I'm looking for is the future. We've got more games, more games, and we've got to win them."
Terre Haute South 7 7 7 10 — 31
Terre Haute North 7 7 0 0 — 14
THN — Josh Humphrey 23 pass from Matt Gauer (Jackson Guptill kick), 6:37 1st
THS — Jacob Rutledge 18 run (Ashton Hayne kick), 0:12.2 1st
THS — Rutledge 59 run (Hayne kick), 10:30 2nd
THN — Deven Stillwell 21 pass from Gauer (Guptill kick), 1:40 2nd
THS — James Mallory 22 pass from Caleb Stultz (Hayne kick), 7:20 3rd
THS — Hayne 21 field goal, 10:11 4th
THS — Allen Haire 27 run (Hayne kick), 1:22 4th
THS THN
First downs 20 11
Rushes-yards 51-310 14-58
Passing yards 75 157
Comp-Att-Int 9-19-2 14-38-1
Return yards 16 20
Fumbles-lost 1-0 1-1
Punts-avg 4-37.8 4-38.3
Penalties-yards 9-80 5-55
INDIVIDUAL STATISTICS
Rushing — THS: Rutledge 18-135, Haire 21-118, Josh Cottee 7-60, Tyler Vaughn 1-4, Stultz 2-minus 3, Team 2-minus 4. THN: Jace Russell 12-52, Conner Lutz 1-7, Gauer 1-minus 1.
Passing — THS: Stultz 9-19-2, 75 yards. THN: Gauer 14-38-1, 157.
Receiving — THS: Owen Findley 3-20, Cameron Rivera 3-24, Mallory 2-25, Daonta Wade 1-6. THN: Stillwell 4-51, Eli Moody 4-20, Humphrey 2-33, Russell 2-32, Mahki Johnson 2-21.
Next — Terre Haute South (4-0, 2-0 Conference Indiana) hosts Bloomington South and Terre Haute North (2-2, 0-2) plays at Bloomington North next Friday.