Indiana State's football season started with optimism. Preseason expectations were higher than ever.
ISU had won its final five games of the 2018 season and just missed out on a FCS playoff bid. ISU had nearly everyone of consequence back on the offensive side of the ball and plenty of playmakers back on the defensive side. ISU had a record seven home games and no North Dakota State on the schedule. Everything added up to a breakthrough season.
Alas, the best laid plans often go awry.
ISU finished with a 5-7 record and a 3-5 Missouri Valley Football Conference record. ISU finished seventh in the conference and lost two more MVFC games than it did in 2018.
ISU coach Curt Mallory was pleased that in spite of the season not going as planned, the effort never wavered.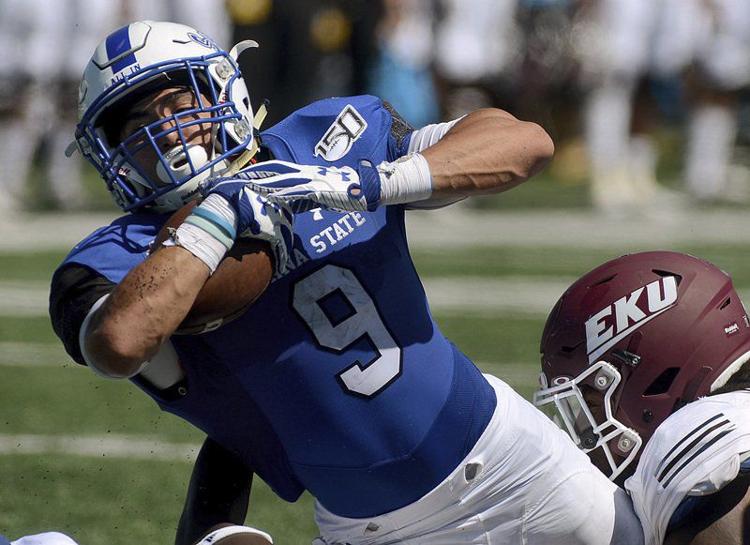 "You saw a group of young men stay together and not every team can do that. It shows the character of these young men. They kept fighting," he said.
Given everything ISU had going for it coming into the season? This would seem to be a massive failure to live up to billing.
However, the mitigating circumstances weigh heavy. Injuries were a problem. Quaterback Ryan Boyle was lost for the season at the start of the fourth game and didn't take a snap in a MVFC game. Guard Isaiah Edwards and defensive back Ty Hambright only played three games. Left tackle Mason Flechler was out for most of the second half of the season. Starting wide receiver Rontrez Morgan played in five games and running back Titus McCoy only saw action in four. Linebacker Clayton Glasco missed three games in the heart of the MVFC season. 
Only 24 Sycamores played in all 12 games.
All of the above were counted on to be big contributors this season. Few teams are going to survive the loss of so many key players unscathed, especially the loss of Boyle, as he was so instrumental to ISU's success in 2018.
So injuries certainly turned ISU's fortunes the wrong direction — but it wasn't just that.
ISU was mistake-prone. The Sycamores weren't heavily penalized, but their penalties were impactful. False starts on the offensive line reached chronic proportions at mid-season and ISU was too often guilty of avoidable personal fouls and unsportsmanlike conduct.
Turnovers played a big role in ISU's under .500 season. One year after having a plus-6 turnover margin in MVFC games, ISU's margin was a minus-7 in 2019, second-worst in the league.
ISU didn't have the firepower. The Sycamores finished eighth in MVFC scoring at 18.5 points, a number that jumped up after the Sycamores beat Missouri State 51-24 in the season finale last Saturday. ISU was eighth in first downs gained with a 16.8 per game average. 
ISU scored touchdowns just 12 times in 25 red zone visits in conference play, the second-worst TD conversion rate in the league and the Sycamores were one of just two teams to be under 50 percent in that statistic.
And there were missed opportunities. ISU's 42-25 loss to Dayton in the home opener cast a shadow over the season before the injuries took hold. ISU also led Kansas in the season opener late in the fourth quarter, but couldn't hold on.
Mallory noted ISU's shortcomings, but fell back positively on how the Sycamores responded to it.
"A lot of [problems] we did to ourselves. They responded by coming to work the next day. That's the only way this group knows how to do it. They kept battling," Mallory said.
So it was a season in which bad luck took hold and mistakes were made — though ISU's morale never really broke as a result of it.
"One thing about this team and group is we're going to be resilient and we're never going to just give in. We're going to fight to the end. The season didn't go how we wanted it to, but we fought and we didn't have much to play for at the end of the season, but we fought and we're fighters," said ISU linebacker Jonas Griffith, who became just the third ISU player to have three 100-tackle seasons and the first ISU player to lead the MVFC in tackles in consecutive seasons.
How did it break down by unit? Here's a look:
• Passing game — Kurtis Wilderman was extremely efficient as he completed 68.6 percent of his passes for 1,170 yards and six touchdowns. However, the passing game never felt like a threat throughout the season as ISU was conservative early in the season and Wilderman threw deep only sparingly.
Boyle and Gunnar See both saw limited action due to injuries. Both are considered downfield threats, but neither got much of a chance to show.
Wide receiver Dante Hendrix had 51 catches for 653 yards, while Dante Jones and Dakota Caton both had 20-plus-catch seasons. You feel like the receivers need to be more impactful in 2020.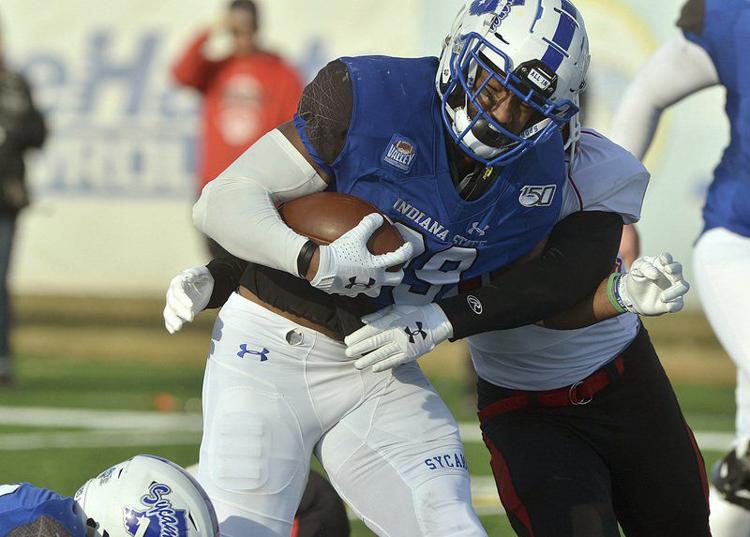 • Running game — ISU was never bad running the ball, averaging 4.3 yards per carry. Peterson Kerlegrand rushed for 746 yards and filled in nicely after Titus McCoy got hurt.
However, the running game really took off when ISU started using "wildcats" Dominique Dafney and Michael Haupert in November. The formation got better as it went along as both backs were productive, sometimes on the field together with the direct snap possibly going to both.
Dafney, of course, had one of the greatest games in ISU history with a 244-yard, five-touchdown performance in the finale against Missouri State.
Not to be forgotten is Nick Sims, who did a good job spelling Kerlegrand and company throughout the season.
• Blocking — The much-ballyhooed offensive line featuring five fifth-year seniors never really materialized due to injuries. Only center Wyatt Wozniak and right guard James Lang had uninterrupted runs as starters.
The run blocking was pretty good, as evidenced by ISU's average-per-carry, and the line took to the wildcats formation like fish to water. Pass blocking? It was OK. Wilderman was occasionally under pressure, but it's hard to know whether Wilderman was just inexperienced in the pocket or whether it was a blocking problem.
The undeniable problem? Far too many false start penalties for an experienced unit. It hurt ISU's offensive momentum too often.
• Pass rush — ISU was eighth in MVFC games, averaging just over 2.12 sacks per game. Unheralded Henrik Barndt led ISU with 4 1/2 sacks. Jonas Griffith and Klayton Glasco had four each. 
ISU's problem wasn't pass rush so much as versatile run-pass QBs who could burn them via ground or air. South Dakota's Austin Simmons, South Dakota State's J'Bore Gibbs and Southern Illinois' Javon Williams Jr. were all problematic.
• Run defense — Though it was markedly better when ISU was full-strength in the linebacking corps with Glasco, this was an undeniable weakness in 2019. ISU gave up a league-worst 5.1 yards per carry in conference games.
This despite the fact that Griffith (106 tackles) and Glasco (86 tackles, including 15 1/2 for a loss) were often outstanding, but they didn't get much help, and as good as the defensive line was pass-rush-wise? It was vulnerable against the run more often than it was on-point.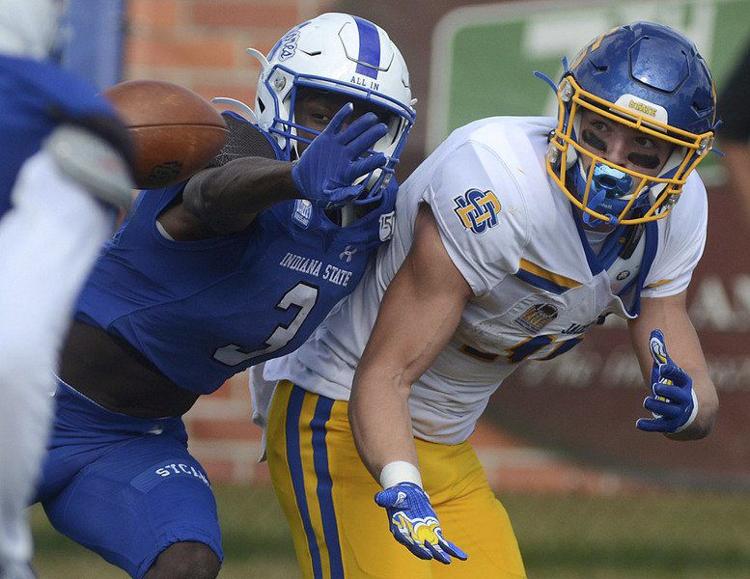 • Pass defense — If run defense was a disappointment, pass defense was a huge surprise in a good way. The biggest question mark the team had going into the season, ISU was second in MVFC games, allowing only 160.5 yards per game.
Cornerback Keawvis Cummings, an Austin Peay transfer, was outstanding. Though he only had two interceptions, he covered like a blanket, and was ISU's best cover corner in the last half-decade. Mekhi Ware was also good when healthy.
Michael Thomas shook off early wildness and settled into his safety role well. Denzel Bonner was an intimidating presence at the other safety spot.
The only complaint was the lack of opportunism as ISU only had nine interceptions in 12 games, but the secondary got better as the season went along.
• Special teams — Jerry Nunez was 14 of 20 on his field goal attempts, missing two attempts under 30 yards and one extra point. Fifteen of Nunez's kickoffs were touchbacks.
Punter Travis Reiner was averaged 37.3 yards per punt. Sometimes excellent at placing the ball — he had 19 punts downed inside the 20 — he was also prone to badly-timed mis-kicks that changed field position.
Hendrix averaged a healthy 10.3 yards per punt return, including his 70-yard touchdown against Missouri State. Caton averaged 25.5 yards per kick return, including a 67-yarder against Youngstown State. Both led the MVFC in their respective categories in average yards per return.
Todd Golden is sports editor of the Tribune-Star. He can be reached at (812) 231-4272 or todd.golden@tribstar.com. Follow Golden on Twitter at @TribStarTodd.