Indiana State football coach Curt Mallory spoke to the Tribune-Star on Tuesday about the decision to opt out of playing the Missouri Valley Football Conference's spring season. After eight days without comment since the decision was made public, Mallory wanted to make one thing clear.
The decision was his and was made without external pressure from ISU's athletic or higher administration.
"I wanted to gather the information that was out there and then I was going to make a decision," Mallory said. "This was my decision."
Mallory reiterated his reasons that were cited in the original press release from Jan. 11. Mallory is very concerned about the effect on his players of playing an eight-game season in the spring with only a short lag until a full fall schedule is played starting in early September.
These were the reasons cited in the original press release, but there had been no comment on them by any ISU parties since, and there was speculation that there was more to the decision to opt out than just player health. This in spite of the fact the ISU Director of Athletics Sherard Clinkscales told the Tribune-Star on Jan. 11 that said the decision was "not financial".
Mallory's rationale
Mallory expounded on his opt-out rationale in an exclusive interview. He said the plan was to play as recently as a few days before the announcement to opt out was made, though he was keeping an eye on how the FBS schools that played in the fall were able to get through it.
"You watched the fall from afar. I talked to coaches and everyone's feeling was that it was challenging, but we'd get through it," Mallory said. "It came to a few days [before organized activity was to begin] and I continued to have conversations with people who had been through it and asked again how it was in the fall? The answer was what I expected, but then I asked what would you think about following up with another season?"
As the MVFC schedule was when it was re-arranged to a spring slate in September 2020, ISU was to start on Feb. 27 and conclude its eight-game slate on April 17, not counting any playoff games if the Sycamores qualified for the 16-team field.
ISU's current opening game for the 2021 fall season is slated for Sept. 11, though there could be another game arranged prior to that. That's less than five months from the end of the last spring game to the beginning of the fall season, though preseason practices for the fall begin well before that, usually in early August.
It was that brief time period for the players to re-charge and recover from the spring that gave Mallory his greatest concern. It also meant the Sycamores would be playing 19 games in a calendar year and without the typical off-season conditioning and rest time that is usually a part of the normal football season cycle.
"My intention was to get to the starting line and go, but what I didn't want to do was start, stop, and if we were going to start this thing, I think we would have got through it, but I'm not sure how it would look afterwards," Mallory said. "Speaking to our athletic trainers, our strength coach [Dave McMannus], they all had concerns. No one could really say what it would like after the [spring] season," Mallory added.
Mallory wanted someone to tell him what he wanted to hear — that there was a path to play safely — but it didn't happen.
"I wanted someone to tell me they didn't have the same concerns as I did. I think everyone shared the same concerns that this [spring to fall college football] was something that hadn't been done," Mallory said.
Mallory cited former Indiana defensive back Eric Allen — who told Mallory of his own personal experience of playing in the spring and then the fall.
"I spoke to a player who played for my father [Bill Mallory, who coached Indiana from 1984-2006]. He said he went from playing in the World League [of American Football] in the spring to the NFL in the fall [Allen signed, but never played a regular season NFL game] and he said it took a toll on him. It wasn't why I made the decision, but those were people's thoughts I gathered," Mallory said.
Mallory emphasized that the university was prepared to play the schedule announced in September, but Mallory's concerns about recovering from the spring season were too much to overcome.
"I had all of the support, everything was ready to go, but it came down to what I think is going to best for the future of the Indiana State football program. It's no one's fault. It's the cards we were dealt," Mallory said.
The physical toll
Mallory was asked to explain to those who don't understand just how punishing a typical football season is and how long it takes to recover from it. Before he explained it, he said part of his modus operandi in molding players to reach professional goals is to have the proper development time. His belief in that is what went hand-in-hand with his concern over injuries and the lack of time to properly recover from them.
Mallory explained that it's a big difference between coming back from organized team activities versus the uncontrollable nature of real games. Because of the short turnaround time from spring to fall, it cuts down on the recovery and the development time.
"You're going to have bumps and bruises in the spring, but you can control those. We don't take shots at guys in a vulnerable position. We hit, we're physical, but we don't chop, and we control whom we hit. We manage the reps, you can control all of that, still be physical and get your tackling in. But if you have a season? You don't control that. You don't control who hits a quarterback or a wide receiver over the middle," Mallory noted.
Mallory said the normal recovery timeline after a season is much longer than four-plus months.
"We play in the best conference in the country. Every team is good. I think we're darn good. You go through eight games and then the playoffs. When you finish a season? You probably need three to four weeks to let your body heal," Mallory said.
"When you do want to start developing that offseason, you want to still be able to have eight weeks and have a great offseason of conditioning, but [if a player was hurt] they might still have modified lifts. You may not be able to do upper or lower body and that might take a couple of additional weeks. If you have any type of postseason surgery, then you may miss all of spring practice or summer conditioning.," Mallory added.
Mallory noted that playing in the spring — even though the spring season was to start six months after the intended fall start of the season — never allowed for the proper development time given the pandemic interruptions.
"What our development missed was the last two weeks of winter conditioning, all of spring practice, we were limited in summer conditioning, and then you miss all of camp, there's a lot of development that needs to get back on track," Mallory explained.
Telling the players
Mallory was far from blind to the fact that the players would want to forge ahead. He played himself and has been involved in football his entire life. He did not consult with players ahead of his decision.
"If I would have sat down with the players? I already know what their answer would have been — they would want to play. And they did. That's why it hurts," Mallory said.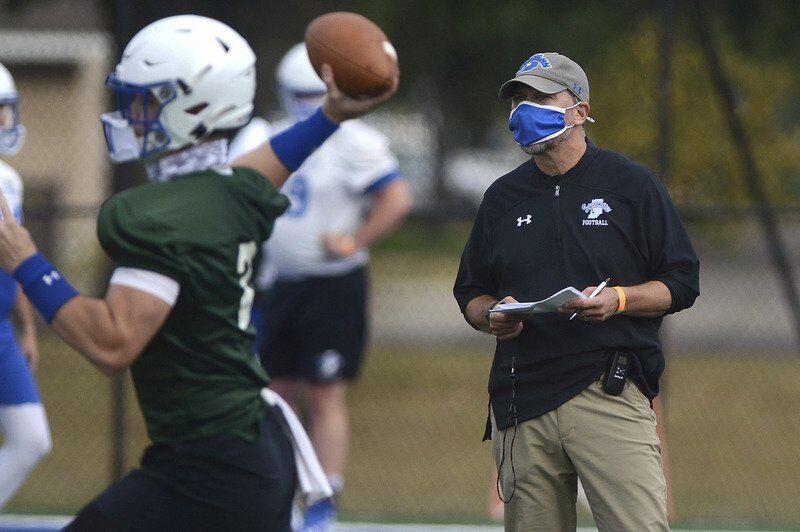 Social distancing made it difficult to meet with the whole team at once, but Mallory felt it was vital to do so when he broke the news. It was finally arranged that the team meeting took place at 6:15 p.m. on Jan. 11 at ISU Arena. Mallory said he thought some players suspected something was up given the unusual nature of the meeting.
"It was hard to get in front of them. I knew they'd be disappointed, but I knew I was doing the best thing. I knew it wouldn't be easy, but it's the right thing," Mallory said.
Since the news was broken to them, Mallory has said he's kept an open door and, based on a player suggestion, activities was made voluntary.
"I would say the majority of the team stayed and the majority continued to lift weights. Only a few went home. Does that mean that they weren't upset? No," Mallory said.
Mallory has also said he's met with the parents of some team members.
"I've talked to quite a few of their parents and I don't think this is easy for anyone. I told every one of them that I don't expect them to be like my answer, but that they understand it. Some have come around, some will take longer. I don't judge how they feel about it," Mallory said.
ISU's players were mostly silent on social media about the situation. On Monday, ISU tight end Zach Larkin, responded on his Twitter feed to an opinion piece written by this author on the situation, which at the that point, had gone largely unexplained and without questions being answered by anyone in a decision-making capacity.
"Players were not apart of the decision at all. Players had no idea until after they brought us back two weeks early to go through stay at home protocol in preparation for the season. The players want to play and compete," Larkin wrote.
Mallory isn't surprised at the reaction, but still, the risks are too great for the reward of playing.
"I knew mentally they all wanted to play and I think they would have been able to, but having been coaching for 30 years, having played myself and growing up around it, I kept trying to figure out how we'd come out of it," Mallory said. "I know how we come out of a normal season. Sometimes a young man gets hurt and you may not get them back in spring ball. You think how many guys you miss in spring practices, those are the guys you're going to miss in the fall. They're going to wash two seasons."
Moving on
So far, none of the other 10 teams in the MVFC have made the same decision ISU did. All intend to move on with the eight-game schedule at this point, though it will be re-arranged to take ISU's absence into account.
"I was on a Zoom call yesterday with our conference coaches and I thanked them. I had talked to them about how we did this or that. There was openness and great dialogue. I was very appreciative of the communication I had," Mallory said.
As for administrative support for football, Mallory was adamant he's received nothing but positive feedback from those above him in ISU administration.
"I've had support from Sherard and Dr. [Deborah] Curtis [ISU President] since day one. They did everything for us to play in the spring and they supported us to do it. There was a lot of planning and support put into it, whether it was planning, flying, re-arranging class schedules, all of which was leading to the starting point. Every time we had a bump in the road, the support was always there to get it done. And the plan all along was to go. We were all set to do that," said Mallory, who said that when he made his mind up to not play, that decision was given support.
By opting out of the spring season, ISU will now have a "normal" offseason, or as normal as it can be in the midst of a pandemic. 
"A lot of our kids are lifting voluntarily and we'll start winter training [next week]. March 30 is the first day of spring practice and our spring scrimmage on May 1," Mallory said.
ISU's current first game on its schedule for 2021 is a trip to Northwestern on Sept. 11. Since ISU will not play a season during the 2020-21 academic year, it will be the first year without ISU football since 1922.
Decisions on whether players will want to carry their eligibility into 2021 if it was set to expire — per the easing of NCAA eligibility rules due to COVID-19 —  is still something that has to be decided by the players involved and the coaching staff.