Poise and confidence are not words that have been used very often in association with the Indiana State women's basketball team this season.
Shaken and mistake-prone are not adjectives used to describe ISU opponents in too many games either.
However, on Thursday, all of the above accurately described how ISU was able to earn a 65-63 upset victory over Northern Iowa at Hulman Center.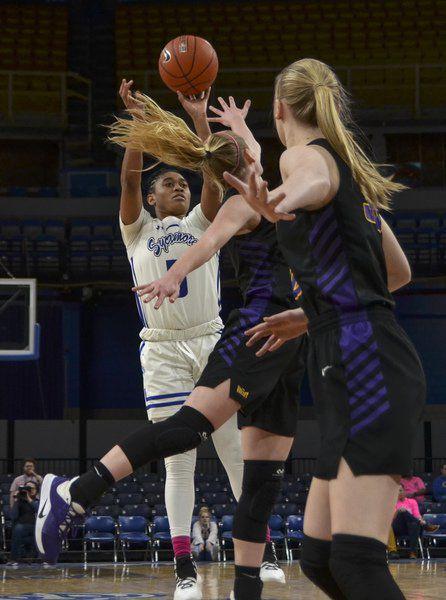 The Sycamores outscored UNI 23-15 in the fourth quarter to earn the victory. Those numbers tell the story, but so did the faces and play of the Panthers as the game rolled towards its conclusion.
Put simply? The Panthers, who beat the Sycamores by 30 in the game in Iowa, were rattled. And the Sycamores deserve all of the credit for making it so.
"That was the engine boost for us. It was like, now they're scared of us. Now, we're up," ISU center Jamrya McChristine said. "When we got back in the game? It was scary for them. They didn't think we were going to win in the end."
In the wake of the win, the Sycamores justifiably celebrated their first victory over a winning Missouri Valley Conference foe and first over UNI since 2014. ISU's CeCe Mayo, who scored 14 points, even took her postgame celebration into the Hulman Center seats, gleefully running up the stairs after ISU clinched the victory.
There was a good reason for that dash into the stands.
"My parents surprised me. They flew all the way from New York and I didn't know they were coming. Having them there for a win for us was awesome," Mayo said. "I found out they were here right before halftime. There was a free throw and someone screamed my name and I was like, 'Ooh, that sounds like my Dad.' It was him."
Mayo's moment was heart-warming and it was a just reward after a good night of work was put in at both ends of the floor. Though ISU (4-20, 2-10) was solid to excellent at both ends of the floor, it was ISU's defense that had the most bite.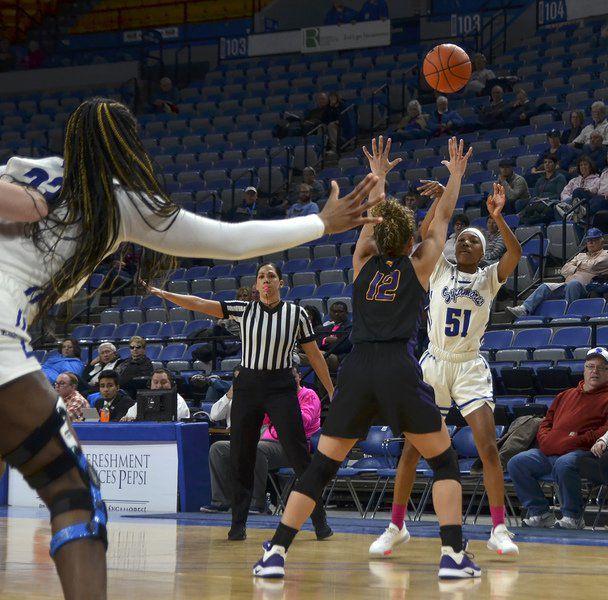 "We played team defense. We made sure we weren't fouling.
UNI (14-9, 6-6) shot 44 percent in the fourth quarter, but it was less percentage than opportunity that ISU took away from the Panthers. UNI had five turnovers in the final period and only took nine shots. The Panthers only made one field goal after the 5:48 mark.
"We feel like it was something we can take away from this. We can compete with teams if we put our minds to it. And our energy to it. This was a team energy thing for us," McChristine said.
The game-clinching play was also made on the defensive side of the ledger. ISU led by one and UNI had the ball in the hands of Karli Rucker, one of the MVC's better guards. ISU's Del'Janae Williams wasn't fazed. She came in from Rucker's side and swiped the ball away from her with 8 seconds left.
"I always look to play defense because that's the start to my offense," Williams said. "I just said to not let her take me. It's a clutch moment in the game. Play straight up D," said Williams, who also scored 14 points.
Before the defensive stand was made, there were other building blocks in the ISU win. Most notable was McChristine's continued progression as one of the MVC's better bigs.
McChristine led all scorers with 24 points and added nine rebounds. She had 12 points in the second quarter when ISU pulled themselves back into the contest after trailing 17-8 at the first quarter break.
McChristine's second quarter run was impressive. At one point, she scored on four straight trips down the floor. The last bucket gave ISU its first lead of the quarter.
"She answers the call. She answers the call offensively. She answers the call leadership-wise. She's tough. She doesn't take no for an answer and that's what this team needs," ISU coach Vicki Hall said.
ISU was down three at halftime. The Sycamores have suffered from peaks and valleys in most of its games this season and when UNI took a 43-31 lead early in the third quarter, it seemed that fate was due for ISU again.
However, ISU's defense once again gave the Sycamores a chance. UNI scored just two field goals in the final 6:15 of the quarter and ISU sliced its deficit in half by quarters' end.
ISU shot 58.3 percent in the final quarter and what hasn't been a strength during the season – perimeter scoring – became a trait the Sycamores could rely on in crunch time.
With UNI up 57-51, a 9-2 ISU run was partly built on a 3-pointer and a 17-footer by Sommer Pitzer. A Jasmine Elder layup with 3:01 left put ISU up for good.
However, the game wasn't clinched until the final buzzer. ISU led 64-63 with 1:08 left and ISU couldn't get the bucket it needed to stretch the lead. Pitzer had a shot blocked and the teams traded turnovers afterwards, including an over-and-back by Pitzer with 18 seconds left.
After Williams snared her pivotal steal, she made one at the line to put ISU up two. In a finish that was apropos of ISU's solid defense, UNI couldn't get a shot off before the buzzer and the celebration was on.
"I'm so proud of these young ladies. It's been an incredibly difficult season and it's not over yet. We've had some tough days where we wanted to lose the faith, but they still kept believing," Hall said. "This is the fruit of our labor. We planted a garden and we finally got our one piece of fruit. We're going to pick it, eat it, enjoy it tonight, and get ready for Drake."
The players hope this is a turning point for this season and beyond.
"It shows we're building. So don't sleep on us because we're coming," Williams said.
Drake visits Hulman Center at 2 p.m. Saturday.