If you've ever had a fly buzzing around your eyes, you know how Indiana State's baseball team felt in its Nashville Regional opener against McNeese State on Friday.
The Cowboys had runners on-base in all but two innings. McNeese State was a constant, pesky menace for the Sycamores as the Cowboys also used their speed well once they got runners on.
It was a dicey tightrope for the Sycamores to walk, but ISU never fell. Thanks to a two-run home run by Dane Tofteland and a four-inning relief effort by Tyler Grauer, the Sycamores kept the Cowboys and won 6-5 at Vanderbilt's Hawkins Field.
ISU will play again at 7 p.m. (EDT) Saturday against No. 1-seeded Vanderbilt. The Commodores defeated Ohio State 8-2 on Friday night. ISU is guaranteed to at least play through to Sunday.
ISU's victory was its first in a NCAA regional game since 1995, breaking a string of five-straight NCAA losses. It was also ISU coach Mitch Hannahs' 200th career victory.
The Sycamores (42-16) were backed into a corner almost from the start. Starting pitcher Triston Polley was not sharp as he allowed five runs in five innings, though he did strike out six.
The saving grace for ISU was its successful second time facing McNeese State starter Aidan Anderson, Tofteland's clutch home run after the Cowboys had tied the contest, and most of all, Grauer's yeoman's work on the mound.
Until Friday, Grauer's longest outing this season was 3 2/3 innings. Against the Cowboys, Grauer threw four innings, scattered four hits and struck out five.
"I just mixed up my pitches and messed with their timing on-base. I threw strikes and pounded the zone. I let my defense work behind me," Grauer said.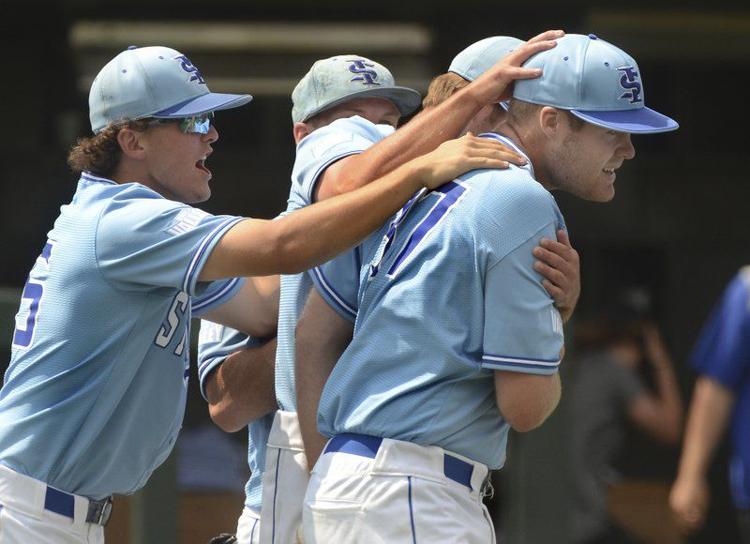 Grauer's four-inning effort also saved most of the bullpen for usage later in the regional. Hannahs was thrilled with the effort.
Grauer was very rarely in safe harbor. The Cowboys (35-25) had runners on and in scoring position against Grauer in the sixth, seventh and eighth innings. Grauer was comfortable pitching under pressure.
"We prepare. Coach [Jordan] Tiegs works with us in practice with mixing up our timing and he let's us know ahead of time who's in the lineup and who we need to pay attention," said Grauer, who noted the scouting report detail on the jumps the runners get off of first base on steal, bunt or hit-and-run attempts.
Hannahs said a big part of Grauer's success was the way he approached his pitches.
"When a guy has a good out pitch – it's a changeup for him – young players they fall in love with it and get away from the fastball. Then you lose your ability to keep a hitter honest. I thought the difference was the eighth inning. He threw a lot of fastballs and that was by design," Hannahs said.
ISU's offense gave first Polley and later Grauer something to work with starting in the third inning.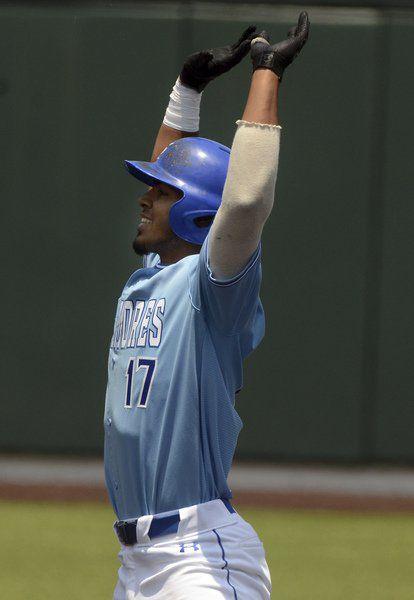 After McNeese State took a 1-0 lead in the first, Luke Fegen – who was 3-for-4 – led off with a single. Clay Dungan followed his own single and then Jake Means cashed in. He hit a double into the right field gap, easily scoring Fegen and Dungan to make it 2-0. Means, who had a 3-for-5 day, later scored via a Roby Enriquez double to make it 3-0.
It could have been a bigger inning, but out one was recorded when Jarrod Watkins was caught off of third base.
"[Anderson] was pitching backwards, throwing a lot of breaking balls in fastball counts and vice versa. We've seen so much of that in the last few weeks I think our guys are in-tune to it," Hannahs said. "I was disappointed. We had five straight hits and then had a baserunning error. I think we could have done more in that inning."
A Dungan RBI single in the fourth made it 4-1, but McNeese State roared back in the fifth. A two-run triple by Nate Fisbeck and a sacrifice fly tied the game.
In ISU's half of the fifth, a Max Wright single – he was also 3-for-4 – kept ISU alive with two outs with Tofteland up. McNeese State turned to reliever Peyton McLemore, a right-hander, to face the right-handed Tofteland.
The matchup didn't go as planned. Tofteland lined a 1-2 pitch to left-center field for a two-run home run. ISU was back in front 6-4.
"I figured I was going to get a lot of off-speed. I had been seeing it on my two previous at-bats as well. I fought off a couple of tough pitches, but then I finally got a fastball late in the count," Tofteland said. "You could it in some of the guys [the lift ISU got from the home run]."
McNeese never backed down. Polley hit the first batter he faced in the sixth and ISU turned to Grauer. A run-scoring fielder's choice cut the ISU lead to 6-5, but Grauer got ground ball outs to prevent further damage.
In the seventh, with two runners on and two out, Grauer induced a pop out to first base. In the eighth, with two outs and a runner on third, he took care of matters himself with a 1-3 tapper.
All of which was important as McNeese State closer Will Dion was excellent. He pitched the final 3 1/3 and only allowed one hit.
It was emblematic for McNeese for a game they were in, but could never get over the top. It was a very well-played game. No errors for either team. Only three walks were administered between the two clubs.
"I thought they made one more play than we did today," McNeese State coach Justin Hill said. "Indiana State's had a good approach against our starter … and they might have had a little bit better bullpen than we did."
ISU will start Collin Liberatore (10-1, 2.78) against either the host Commodores or Buckeyes on Saturday night.