Expectations are in place for Indiana State's 2019 football team that people aren't accustomed to in Terre Haute.
The Sycamores were picked to finish in the top half of the Missouri Valley Football Conference (fourth place) for the first time since 1996 and the reasons for these expectations have been documented.
Every returning offensive starter, save one, is back. And the one starting position that didn't return is running back — one of ISU's deepest positions. ISU has five fifth-year starters on its offensive line. ISU has perhaps the best middle linebacker in FCS in Jonas Griffith. ISU plays seven home games and avoids FCS alpha dog North Dakota State on the MVFC slate.
It's all set up for a magical Sycamore season, right? Well, on paper, yes, but we all know how much that means when the whistle blows on the real thing at Kansas on Aug. 31.
It's the players who have to deal with these expectations. Good teams always have confidence and these Sycamores have built their confidence on the back of a 7-5 season in which they won their last five games and barely missed the FCS playoffs.
As fall camp opened Friday at Memorial Stadium, two of the most important Sycamores — Griffith and quarterback Ryan Boyle — know they're tasked with the important duty of creating the right culture for ISU to succeed. Doing so means being confident, but not over-confident.
"Coming into camp last year? We had an 0-11 season, so coming into camp with expectations is pretty nice, but at the end of the day? We know we have to perform," Griffith said.
ISU's players are in that mode where they welcome the expectations they created for themselves, but they're trying to stay humble and not let it get to them.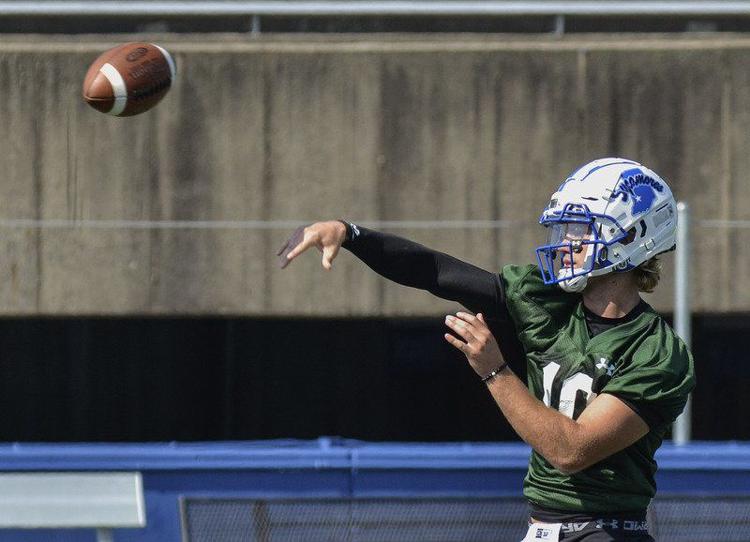 "It's a lot of hot air," said Boyle on outside expectations. "We're taking it with a grain of salt. We're focused on us and we're focused on each practice. Then we can come out game week against Kansas and be confident in our abilities."
Confidence is an important trait and successful teams can take that confidence in different directions. Some teams choose to be loose. Some are business-minded. Both traits can work with the right set of players. This ISU team probably falls somewhere in the middle of those two approaches.
"We have both personalities. On Friday, we might be loose, but come game day on Saturdays everybody is going to be quiet and focused on the battle at hand. We're going to do that for the next 20 weeks," Boyle said. "We have the necessary confidence in what we did last year and that's going to create a target on our back. We're welcoming it. It's going to be fun because the coaches and practices will help us prepare."
ISU coach Curt Mallory wants his team to strike the right balance between confidence and hunger. It's a tone he struck before Friday's practice.
"The main approach is that we haven't done anything yet. It's nice to be ranked where we are preseason. I certainly like being talked about in that light rather than trying to win our first game. But I made it very clear to the team that we have a long way to go and a lot of development to do, but we're in a better position than we were last year," Mallory said.
Mallory elaborated on the pre-practice meeting he had.
"I had the seniors who were here when we were 0-11 to stand up. They stood up and I made it very clear. I told the team, 'Those guys are all in. Watch what they do and follow those guys. They're a perfect example of how this was built.' It starts with our leadership and those [seniors] are going to set the tone," Mallory said.
Players almost always take on the personality of their coaches. Boyle explained how that works for the Sycamores.
"It's a blue collar mentality of coach Mallory, who is a hard-working, determined man himself. Everybody respects him. We have him on our shoulder every time we work and every time we're holding each other accountable," Boyle said.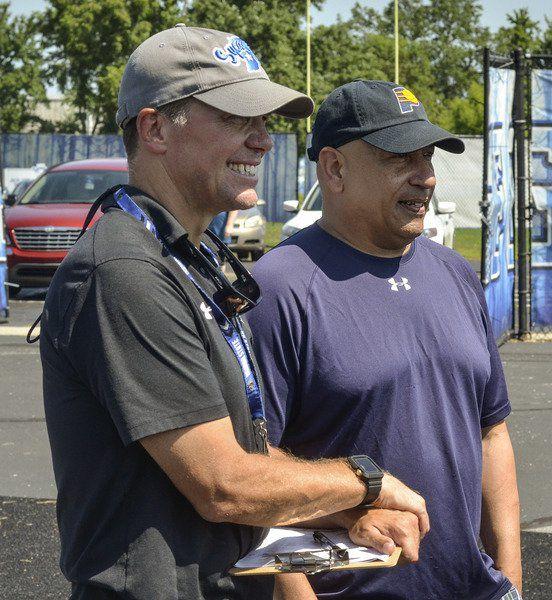 ISU enters camp in good shape health-wise. Defensive ends Inoke Moala and Cade Peratt were out, but Moala's absence was planned and Peratt had a class commitment. Moala is expected to return to practice on Sunday. The only player who spent time in the athletic trainer's tent was transfer running back Nick Sims, but his injury isn't believed to be serious.
• ISU to play Northwestern in 2021 — It hasn't been officially announced yet, but ISU will play a game at Northwestern in 2021. The game against the Wildcats will replace a previously scheduled game at West Virginia.
Since the Big Ten dropped its brief scheduling edict that prevented league schools from playing FCS programs, Big Ten programs have been rapidly adding FCS teams back to their schedules. ISU has taken advantage of that situation.
Starting with Northwestern, ISU will play a Big Ten school every season from 2021 to at least 2027. In 2022, Purdue is on the schedule and from 2022-27, Purdue and Indiana will alternate on the Sycamores' slate.
ISU has never played Northwestern in football.