Today's Daily Top 5 takes us back to Indiana State and the best women's athletes I've covered since 2004.
First, there are far more than five athletes who could be on a "memorable" list. There's a lot of names I left off who are deserving of recognition for what they did as Sycamores.
The way I approached was two-pronged. One, how accomplished was the athlete during their ISU career and afterwards? Second, what impact, even an out-sized impact, did they have on their team when they were here?
The tough part? Trying to parse athletes in team sports versus athletes in individual competition. This is especially tough in the context of ISU because track and field is the most consistent sport over the years for both genders. (Yes, track and field and cross country are both team sports, but with few exceptions, they are predicated on individual brilliance.) There's also far more events to excel at in track and field versus, say, softball.
So I was a bit stricter when it came to that sport. I chose the track and field athletes here based on the highest of high accomplishments.
Again, I'm only going back to 2004 when I began covering ISU. This list would have a much different look if I went before my time. There's way too many pre-2004 standouts to name here, but a toast to all of them who excelled as Sycamores.
So here we go.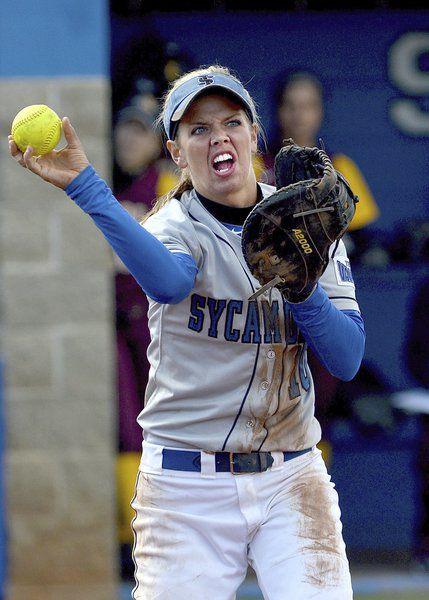 5. Megan Stone, softball, 2012-15 – ISU softball only had one winning season during Stone's career … and it wasn't the season the Sycamores advanced to the NCAA Tournament.
However, the year that ISU did advance, in 2015 when it came out of nowhere as the No. 8 seed in the Missouri Valley Conference Tournament to win it all, there was no doubt who the meal ticket was.
Stone, the personable native of Sullivan who also starred locally at North Central High School, was phenomenal in 2015. The ISU record books are a testament to that.
Stone set the ISU single-season record for total bases at 125, 29 ahead of second-place. Single-season records were also set in doubles (18), home runs (12), RBI (49, 10 ahead of second-place), walks (29) and slugging percentage (.718).
Stone became ISU's first-ever MVC Player of the Year in 2015. The Sycamores beat Louisville in its NCAA Tournament appearance at Missouri, one of just three NCAA postseason team wins by ISU in the 21st Century.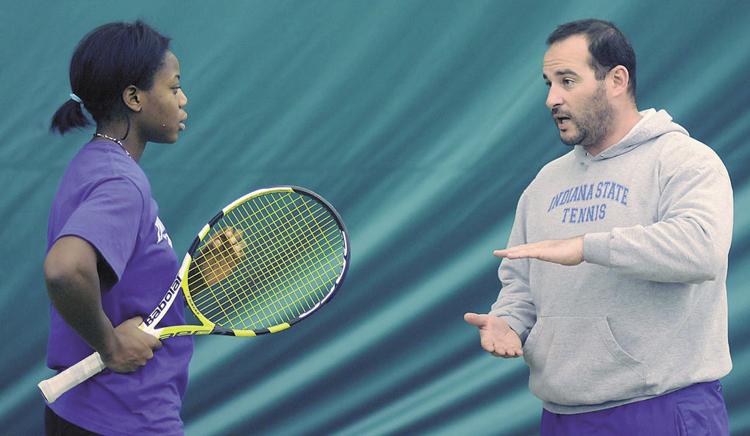 4. Jennifer Migan, tennis, 2004-08 – You might be asking yourself … who? Well, that's the real shame when a sport is eliminated as tennis was at ISU in 2009 – its legacy is largely eliminated with it. There's no way to go on gosycamores.com, for example, to read about Migan's accomplishments. They're somewhat lost to history as it is for other ISU sports that have been eliminated over the years.
So I wouldn't blame you for forgetting about Migan, who played for the Sycamores in the late 2000s, but it's up to folks like me to help you remember.
Migan was one of the two best players on ISU's 2008 NCAA qualifiers. And while I could have just as easily picked doubles partner Joanne Schickerling (the MVP in 2008 and current men's squash coach at Columbia) – Migan was the most accomplished player afterwards.
As a Sycamore, Migan was 29-4 in singles play and won 15 in a row in doubles play with Schickerling in 2008 and helped ISU qualify for its first team NCAA bid in any sport since 2002.
Migan (and Schickerling) were leading their NCAA Tournament matches against host Vanderbilt in 2008 before they were abandoned before conclusion due to the Commodores earning the required points to advance gained in other matches.
Migan went on to play professional tennis after ISU eliminated its program. She reached a high rank of 697 in doubles and 841 in singles. Today, she is a speechwriter in her native France.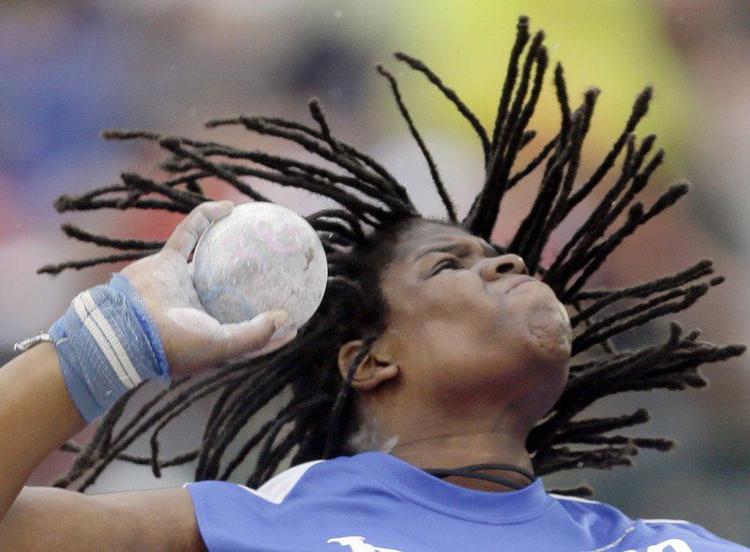 3. Felisha Johnson, track and field, 2010-13 – ISU has had some great track and field throwers in the 2010s — five Sycamores have placed nationally since 2010 — but Johnson rises above them all.
In terms of NCAA top 10 finishes? The Indianapolis native is second only to Holli Hyche in school history. Johnson had seven national top 10 finishes in the shot put (outdoor) and weight throw (indoor). Hyche has 10 all-time top 10 finishes, including seven national championships.
Johnson owns national championships in the 2011 and 2013 indoor weight throw. Her top outdoor performance was a third place in the shot put in 2013.
Johnson kept cranking after she left ISU as she qualified for the 2016 Olympics and fell just short of the shot put finals. Her throwing career continues to the present as she finished in the top five (along with recent former Sycamore Erin Reese) in the USA Indoor Championships in February.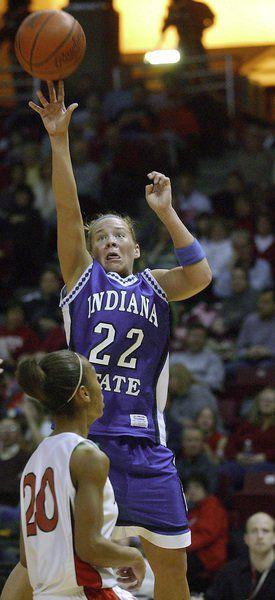 2. Melanie Boeglin, basketball, 2002-06 – If you arrived on the scene in the mid-2000s, as I did, the biggest thing going on the local sports scene was the ISU women's basketball team. Boeglin was the catalyst for those excellent Sycamores teams.
The numbers tell part of the story. ISU was 88-36 in Boeglin's career, including a MVC regular season championship, and she has school records in steals (436), assists (685), games played (124), free throws made (576), points scored in a season (600 in 2005-06), free throws made in a season (166 in 2005-2006), assists in a season (237 in 2005-2006), steals in a season (123 in 2004-2005), points scored in a game (46 against Drake on Jan. 26, 2006) and field goals made in a game (19 against Drake on Jan. 26, 2006).
But they don't tell the whole story. ISU women's basketball was a phenomenon in the mid-2000s, occasionally selling out Hulman Center, and largely out-drawing the men's team at the time. Boeglin, a Terre Haute native, was a major part of the reason both city and university galvanized behind the team.
In the highest profile women's sport, Boeglin brought more positive attention and enthusiasm for a women's athletics program at ISU than any athlete likely ever has — even if the Sycamores had heartbreaking conference tournament defeats that kept them from achieving NCAA postseason glory.

1. Kylie Hutson, track and field, 2007-10 – As massive as Boeglin's impact on the local sports scene was? No one can touch the sheer level of achievement that Hutson accomplished as a Sycamore.
Also a Terre Haute native, Hutson won four NCAA titles in the pole vault, indoor and outdoor, in a period from 2009-10.
Hutson was an accomplished athlete at Terre Haute North — she won the McMillan Award in 2005 and 2006 as a three-sport athlete in volleyball, diving and track and field. However, it was thought that her overall athletic talent — she was a state finalist in the long jump as well as pole vault at North — would make her a perfect heptathlete coming from North.
Hutson would focus solely on the pole vault at ISU and made an immediate splash as she won the indoor and outdoor pole vault titles as a freshman. She qualified for her first NCAA nationals in 2008 and finished 11th in the indoor nationals.
Hutson became the nation's best collegiate pole vaulter for a two-year period the following season, sweeping the national championships in 2009 and 2010. Hutson's repeat championship in 2010 was especially noteworthy since she overcame a hand laceration from her pole breaking in a competition one month before the nationals.
Hutson turned pro and won the 2011 USA Track and Field Championships, clearing 15 feet, 3 inches. Hutson finished 15th in the world championships. Hutson finished runner-up in the 2013 USA Indoor Track and Field Championships.
One of the most accomplished athletes in ISU history, Hutson was inducted into the MVC Hall Of Fame in March.