It's not too often a coaching legend just wants to pop by and watch basketball practice.
When Bob Knight expressed a desire to take a practice in, Indiana State's men's basketball team had the welcome mat put out for the Hall Of Famer.
Knight attended ISU's practice Tuesday afternoon at Hulman Center. According to ISU coach Greg Lansing, it was a spur of the moment occurrence.
"Pat [Knight, Bob's son] texted me today and asked what time practice was. His dad had wanted to come out and see a practice. Pat was in town. I told them what time it was. I wasn't sure they were coming, but I was hopeful," Lansing said.
The elder Knight, Pat Knight and long-time Knight friend and former Bloomington Herald-Times sports editor Bob Hammel watched ISU practice on the eve of ISU's showdown against Loyola at 6 p.m. Wednesday.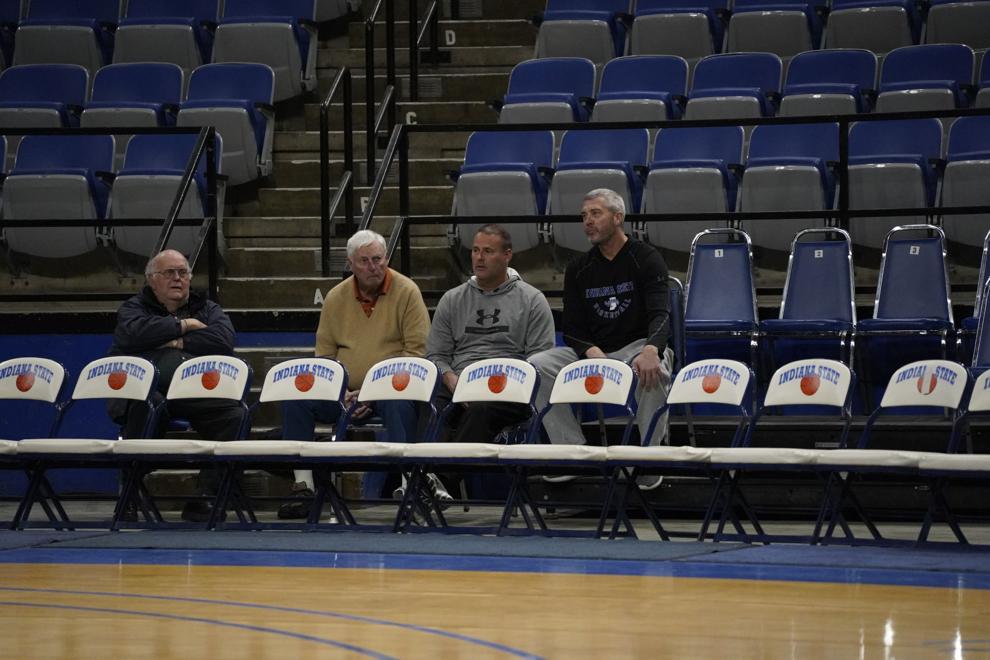 After the practice concluded, ISU's players went over to Knight and shook his hand and received well-wishes.
"They watched about an hour of practice. I visited him and Pat and I got to talk a bit, which was great. The [players] thanked him after practice. It was a special thing," Lansing said. "He wanted to hang out with his son and Bob Hammel and it was fun."
Knight has been making the rounds at various Indiana basketball venues in recent months. He recently spoke to Bloomington South's No. 1-ranked boys basketball team. In January, he attended a game at Marian University in Indianapolis.
One connection Knight has to Lansing is former ISU head coach Royce Waltman. Lansing was on Waltman's staff twice, from 1997-99 and again from 2006-07. Waltman was on Indiana's coaching staff from 1982-87 and was part of the Hoosiers' 1987 NCAA championship-winning team.
Knight coached Indiana from 1971-2000 and the Hoosiers won three national championships during a memorable era of Indiana basketball. Knight finished his coaching career with a record of 902-371.
Knight never coached the Hoosiers in a game against the Sycamores at Hulman Center – when ISU defeated Indiana at Hulman Center in 2001, Mike Davis coached the Hoosiers. Knight was 2-1 in three meetings against the Sycamores. ISU beat Indiana at Assembly Hall in 2000 during Knight's final season with the Hoosiers.
None of that was on the minds of anyone present on Tuesday, however. For Lansing, it was just an honor to be visited by a college basketball legend.
"It's a huge honor. I'm a coaches' kid and I was always a fan of Coach Knight when I was in Iowa. I got to be around him a little bit being around Coach Alford [when Lansing was an assistant under Alford at Iowa] and Pat is a friend of mine. To get to see them at a practice and for them to even think about coming over was an honor," Lansing said.