The last time the job status of Indiana State men's basketball coach was in doubt at the Missouri Valley Conference Tournament was in 2007 when Royce Waltman confirmed published reports that he was gone and launched into memorable press conference comments about the state of college basketball.
Current ISU coach Greg Lansing, who was on Waltman's staff at the time as an assistant coach, didn't make similar fireworks in what could be his last Arch Madness press conference.
Lansing did not confirm his exit from ISU's program when asked about it after ISU's 65-49 defeat to No. 20 Loyola on Saturday.
"They [ISU's administration] said they're not going to talk about that during the year. I haven't had any communication about that since before the season. That stuff is out of my control," said Lansing, who added that there's no meeting about his job status currently scheduled.
Lansing's contract runs out on March 31. A Tweet by Stadium.com's Jeff Goodman on Feb. 28 said that Lansing – who has a 181-164 career record at ISU and is two wins shy of breaking Duane Klueh's school record for wins – is unlikely to be back as the ISU coach, despite the first two consecutive .600 or better seasons since the 2000 and 2001 campaigns.
Goodman's tweet put out in the open what many in Lansing's orbit already expected.
Lansing pointed out what he was proud of during his time and expressed his love of ISU – where he's spent two different periods of time totaling 20 seasons counting his two stints under three different coaches as an assistant and 11 seasons as head coach.
"I did everything I could to have a successful season. This group accomplished some special things. I'll be fine and I've appreciated the support I've got. I feel humbled and appreciative of that. I love Indiana State. What a wonderful community," Lansing said.
The stumping for Lansing was done by others, including one of the best players of the Lansing era – Jake LaRavia.
The sophomore was a big reason why Lansing's career at ISU turned around after five straight losing seasons. LaRavia has averaged 10.7 and six rebounds as an underclassman and was Second Team All-MVC this season.
LaRavia was asked about his future with the ISU program and what he has to consider going forward.
"I'm all for G. Lansing. That's the way it is with him [for LaRavia]. That's pretty much my mindset," LaRavia said.
ISU guard Tyreke Key, who can turn pro after the season, but who can also return to the team due to COVID-19 eligibility relaxation, was proud of the culture establish over the last two seasons. ISU was a combined 33-22.
"It's so obvious the culture has changed. It started with Jordan Barnes, who is one of the greatest to ever play here. I did everything I could to help change the culture. I think, for the most part, I did that and the coaching staff got us prepared every single game," Key said.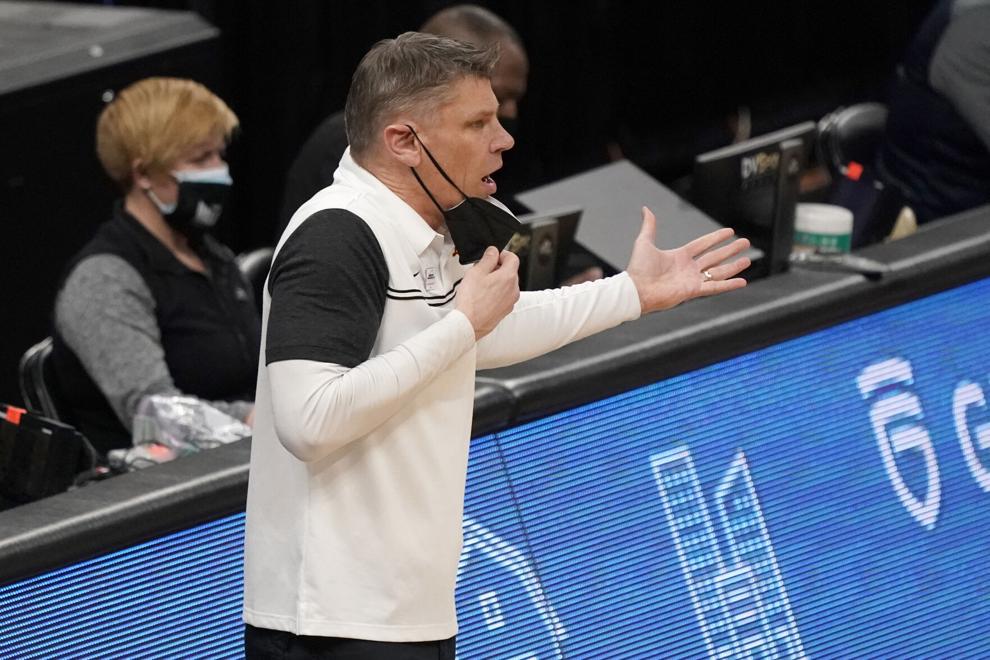 Lansing's biggest supporter on Saturday was Loyola coach Porter Moser. The two have coached against one another since Loyola entered the MVC in 2013-14 and have known each other longer. The men embraced at mid-court at the final buzzer and Moser knows what Lansing is going through. Moser was let go by Illinois State in 2007.
"Last night I heard the chants and I heard today, 'Keep Greg Lansing'. I just have a hard time swallowing that. Why is it even an issue? The guy is almost the all-time leading winner in the history of their school, he's battling for a championship," Moser said.
"He does it the right way, he's an unbelievable coach in how hard they play, the young players they have, they're fighting for league championships. I had a hard time hearing that chant, because it shouldn't even be a question," Moser added.
Lansing was self-effacing when told about Moser's comments.
"He just wants me around so he can beat me," Lansing said.
Lansing could become just the third Division I coach since 1971 with two consecutive seasons at .600 or better to not have his contract renewed.
Stan Heath at Arkansas in 2007 and Jim Harding at Detroit in 1973 were the other two.
Neither situation is a fit for the decision ISU has to make. The high-major Razorbacks had a losing Southeastern Conference record in 2007 and Harding had personality conflicts with Detroit administrators in the early 1970s.
Seven other coaches at the Division I level since 1971 departed after consecutive .600 seasons after they were fired or they resigned under pressure for not winning enough or making the NCAA Tournament. All but two were at Power Five schools.
Every other coach with two straight .600 or better seasons at the Division I level since 1971 that left their schools – 323 in all – either departed to advance in the collegiate coaching ranks, retired, moved on to administration or went to the pros, left the coaching business on their own, were fired or forced to resign due to NCAA or legal problems, had their program eliminated, and in the tragic case of former Southern Illinois coach Paul Lambert, died.
Lansing didn't want to focus on any of that. He talked about what he told the Sycamores after their season ended.
"I told me them I loved them and appreciated them. This is as much fun as I ever had in my career. I love 'em to death. They're great guys. I'm sorry we couldn't make it happen for them. There's some program-makers on Indiana State's team," Lansing said.
He singled out ISU's lone four-year senior, Key, for special mention.
"Tyreke Key? What can you say? One of the best to ever wear the jersey at Indiana State," Lansing said. "He's played with injuries throughout his career. He's a special guy. I thanked him and told him I loved him."