After a 0-2 start, Indiana State's football hadn't lost faith in itself, but faith or not, the stakes were high as Eastern Kentucky visited on Saturday. 
Left unsaid by the team in the run-up to the game, but a reality nonetheless, was that the Sycamores needed a victory to prevent a winless start to the season that would likely have doomed ISU's FCS playoff hopes before conference play even started.
To that end? ISU defense brought its best effort first and ISU's offense saved its best for last.
The Sycamores blanked EKU in the first half and ISU's offense hit paydirt on a key fourth quarter series to help ISU earn its first win of the season – a 19-7 triumph in front of 4,416 at Memorial Stadium.
The Sycamores cut a confident tone after the victory – though linebacker Jonas Griffith didn't hide his emotions about having a reward to justify the Sycamores' self-belief.
"I'm not going to lie – this win felt fantastic," said ISU linebacker Jonas Griffith, who had 16 tackles. "It's a long season, but we expect to win now. That's our mentality every game and it will be our mentality. We want to leave no doubt … and we will."
ISU coach Curt Mallory kept his faith in the Sycamores despite the near-miss loss at Kansas and a deflating home loss to non-scholarship Dayton last week. He knew the game against EKU – itself a FCS playoff contender – was important, but didn't over-emphasize that importance in game-week preparation.
"I never really made a big emphasis on the game, it was about us and what we needed to do. That was the focus. I talked to our offense about their identity and that it's running the football. Defensively, we're known for getting to the ball. Special teams is about field position. That was really our focus. If we did those things, we win the game," Mallory said.
ISU's defense – which gave up 427 yards of total offense, 35 points and 26 first downs to Dayton a week ago – set the tone. The Colonels managed just 248 yards of total offense, 13 first downs and seven points overall. ISU was at its best on third down as the Colonels failed to convert their first five attempts and didn't get their first conversion until just before halftime.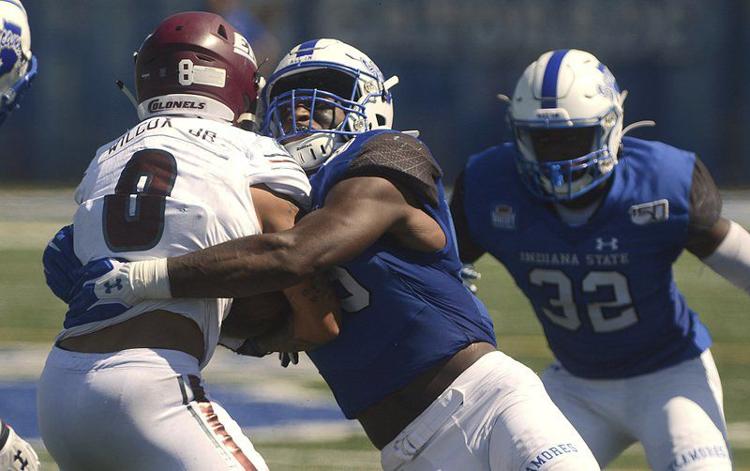 "We didn't want to think the game was over on every stop on every series. We basically treated it like it was 0-0 on every series," said ISU linebacker Clayton Glasco, who had 12 tackles.
Offensively, ISU (1-2) rushed for 215 yards. Running back Peterson Kerlegrand rushed for 132 yards, his second consecutive 100-yard day. Quarterback Ryan Boyle added 46 yards, Nick Sims had 33 yards and Chris Childers scored his third touchdown of the season.
"We had to run the football and that's what we saw. We played the type of Sycamore football these young men have built their identity with. We didn't turn over the football and we only had four penalties," ISU coach Curt Mallory said.
Though the defense locked EKU down, ISU was slow to capitalize on the scoreboard. The Sycamores settled for a Jerry Nunez first quarter field goal and came up empty on three of their first four drives. The Sycamores did mount one long drive, a 75-yarder capped by Childers' 2-yard with 6:37 left in the half to take a 10-0 halftime lead.
Still, there were anxious moments for the Sycamores as the offense was stuck in neutral – a 25-yard field goal was missed and ISU settled for a field goal on another red zone series – and EKU finally started to move the ball. The Colonels cut their deficit to 10-7 late in the third quarter via an Alonzo Booth 1-yard touchdown run and EKU began to throw the ball effectively too.
The Colonels (1-2) actually appeared to take a lead early in the fourth quarter when Keyion Dixon caught a 13-yard pass that was ruled a touchdown on the field. Replay showed, however, that Dixon had re-entered the field of play after going out of bounds, which is illegal, and which resulted in an incomplete pass.
Given a reprieve, ISU didn't look back. Griffith and Matt Thompson stuffed EKU quarterback Conor Blount on 4th-and-2 from the ISU 9-yard line with 10:18 left. It was the biggest of the three fourth downs stops ISU made in the second half.
EKU had used the QB sneak on previous fourth down plays, converting one of them, but ISU was prepared for it with the chips down.
"We expected what was coming. They kept clearing the back out of the backfield so we knew it was the QB draw. Fool me once? Shame on you, but we're not going to be fooled twice," Griffith said.
ISU's offense, inconsistent in moving the chains to that point, went to work, and they did so with a diversified attack. Boyle, who was at a 50 percent completion rate entering the series, converted all four of his pass attempts on what became a 92-yard series. ISU also rushed for 47 yards in a Homeric drive that took 7 minutes, 49 seconds off the clock.
Three of Boyle's completions came on third down, the last a 19-yard toss to Dante Jones II. Boyle was hit as he threw the ball, but he also had plenty of time before that to survey his options.
"Those were critical times that we needed plays like that to be completed," said Boyle on the third down throws. "[On the Jones completion] I got hit and it was really cool to convert that third down, but the offensive line gave me the time I needed. I felt like I was back there for an eternity."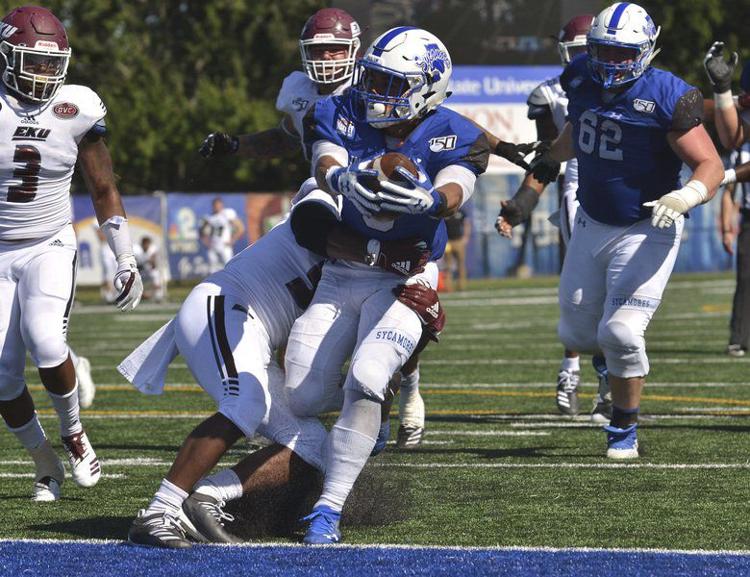 Three plays after the Jones catch, Kerlegrand provided the dagger with a 9-yard touchdown run.
"What gives other teams trouble is that all of us run hard. People might think I'm shifty, but it's really just running hard. It helps a lot knowing the pass game has our back. We got the pass game back today," Kerlegrand said.
EKU went backwards 24 yards on its final series and ISU was in the win column.
ISU hosts Eastern Illinois next Saturday to wrap up a three-game homestand. The Panthers lost to Illinois State 21-3 on Saturday.