It's in this space that I wanted to look back on Indiana State's 2-2 nonconference slate, but before I look back, one must look forward.
ISU coach Curt Mallory never talks about the big picture in his dealings with the media. It's just not in his nature. And he instills it in his players too. One game at a time is one of the most pervasive cliches of all, but Mallory believes in it.
So you're not going to hear him talk about how ISU's 2-2 record plays into the season at-large, so I will. So let's define the parameters first. ISU expected, fans expected, media expected that the Sycamores would be a FCS playoff team in 2019. That's the standard. Anything less falls short.
So let's look at the math. We're one-third of the way through the season. With a 12-game schedule, eight wins are definitely the threshold to get into the FCS playoffs. Sure, it can be done with seven, but is it possible for ISU?
We'll get to that in a moment, but back to the math. For ISU to get to eight wins, it will need to go 6-2 in MVC play, something the program has never done before.
While ISU doesn't play all-conquering North Dakota State, it still has to find a way through Illinois State, South Dakota State and Northern Iowa — two of the three on the road — and beat South Dakota on the road against a team that doesn't offer a very favorable matchup on paper. And, of course, avoid any trap losses against the perceived weaker sisters of the MVFC.
That's the bare minimum of what needs to be done to get to 6-2, but let's say ISU goes 5-3 as it did last year.
That's seven overall wins for the Sycamores. Right now, the MVFC is the strongest league in FCS. So what? Aren't they always?
What's different is that the MVFC hasn't been anywhere near as dominant as it has been in recent years. Though the MVFC bossed the Big Sky Conference in all of its five head-to-head matchups on Saturday, the league had a lot of catching up to do. It was .500 overall entering the day, well below recent standard.
Given that, the FCS selection committee might not be very generous to MVFC at-large candidates. And if it comes to a resume? ISU's isn't going to blow anyone away. ISU's opponents are a combined 6-10.
So in looking forward to try to define what ISU has been looking back, you discover that the Sycamores really don't have any margin for error in conference play. The Week 2 loss to Dayton effectively wiped that out.
So ISU has to go 6-2 in the MVFC to feel safe or 5-3 to be on the bubble. Anything less and the Sycamores are out of the hunt.
Then you ask yourself is this team capable of that? I thought they were before the season, but the games have been uneven thus far. Injuries have contributed, especially on Saturday with the loss of quarterback Ryan Boyle, after ISU scraped by with a 16-6 win over an Eastern Illinois team that wasn't very impressive.
But ISU is leaving things on the field regardless of injuries. So far, though, ISU is making its negative plays trump its positive ones.
You look at the raw numbers and they're not bad, ISU is averaging almost 400 yards per game. Opponents have only gained 304 yards per game. Perhaps ISU is due for a correction in its favor?
But then you look deeper into the numbers and you see the problems. Whether you believe in the concept of "clutch" or not, ISU hasn't been it.
The Sycamores are just 7 of 17 scoring touchdowns in the red zone, including an 0-for-5 on Saturday. ISU has converted only 44 percent of its third downs. ISU has also missed four field goals. Taken a play at a time, a team can overcome a missed opportunity, but not when they pile up multiple times in games ... and that's been the Sycamores' pattern so far.
ISU's running game has been stout (4.8 yards per carry), but the Sycamores are arguably too reliant on it. Of the 86 first downs ISU has so far, 53 were gained on the ground. 
And given ISU's desire to run? It's easier for opponents to play the odds (ISU has a 63-37 percent balance in favor of the run), stack the box, and wait for the run play to come. 
The defense, excellent though it's been in the last two weeks with a combined 13 points scored against, isn't innocent either. If an opponent can get to the red zone, they usually find paydirt. ISU foes are 9 of 11 scoring touchdowns inside the 20. ISU's defense is also guilty of drive-sustaining (for the opponent) penalties.
ISU's up-front pressure was so good on Saturday that the Panthers rarely tested the Sycamores downfield, but when they did? You saw some penalties.
I'm still waiting to see how good ISU's defense is against a truly powerful offense. The one time they played a competent offense — Dayton — it wasn't pretty. No one is going to confuse either EKU or EIU with the Peyton Manning era Colts.
I point all of this out to demonstrate that to go 6-2 or even 5-3, the barest minimum threshold to reach the playoff standard for the season, ISU can't just shore one or two of these things up, they have to shore all of it up. And that's never easy.
Last year, in the second half of the season, the Sycamores did eliminate most of what ailed them. They're going to need a repeat performance because their margin for error died with the Dayton loss.
While ISU hasn't been bad, 2-2 suggests they've been average. We all know average won't cut it in the MVFC. ISU has to raise its game to reach its season goals.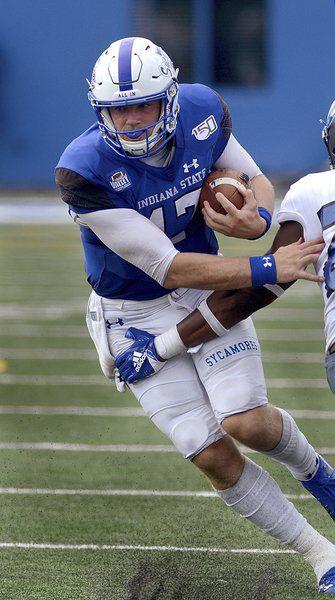 A look at the game
Passing game – Ryan Boyle's early knee injury gave us the longest look we've ever had of Kurtis Wilderman. If you look purely at the statistics? Wilderman did fine. He was 14 of 22 for 186 yards and a touchdown.
But those of us who watched knew opportunities to do even better were missed. Zach Larkin was wide-open for a touchdown and the pass was overthrown inside the 10. Another pass on another series inside the 10 was tipped. Wilderman's one interception came on a play in which he hesitated for a split-second, showing his hand, and allowing EIU's corner to pounce.
I chalk most of this up to game rustiness. If Wilderman has to play again, he'll likely be better because of the experience gained Saturday. 
One more thing about the pass game? I wish I had a play chart, because it seems to me ISU has really avoided throwing medium-to-deep in the middle of the field. A majority of passes are to the sideline, almost all to receivers and running backs. ISU's tight ends haven't been involved in the pass game so far.
Running game – ISU wasn't quite as productive on the ground as it has been. The Sycamores only averaged three yards per carry. Losing Peterson Kerlegrand certainly didn't help, but the Sycamores also regained Titus McCoy.
As mentioned above, I think ISU run dependence makes it easy to defend sometimes. Then again? If McCoy doesn't have a 40-yard touchdown run wiped off the board? I'm probably singing a different tune.
Blocking – The third down conversion rate was 7 of 14, which is good, although ISU was just 3 of 8 in the second half when trying to kill the game off. One of the first-half third down conversions was Rontrez Morgan's 69-yard touchdown.
Wilderman was only sacked once and hurried once. ISU's run game wasn't as good as it has been, but part of that is losing Kerlegrand and part of it is penalties negating runs. On the McCoy touchdown, it was receiver Joe Wildt who held, not any of the linemen.
ISU hopes it will get guard Isaiah Edwards (ankle) back for conference play.
Pass rush – It was nasty. ISU's front seven pestered both EIU QB Johnathan Brantley and Harry Woodberry throughout. Three sacks and four quarterback hurries constitute a nice day. Once again, linebacker Clayton Glasco was in on the action with a sack (two half-sacks, actually) and 2 1/2 tackles for loss. 
Let's give it up for defensive tackle Henrik Barndt too. He combined with Glasco on both of the shared sacks and hassled EIU in its run and pass games all day long. Barndt has been very good in the middle.
Run defense – I really have no idea how the Panthers managed to average more per carry than the Sycamores did. EIU managed 3.7 yards per carry, but it sure didn't seem like it. None of the Panthers rushed for more than 50 yards, however, and it never felt like the Panthers ever got much offensive traction.
Pass coverage – As mentioned, the pass rush was so dominant that EIU rarely got a chance to throw downfield. The Panthers only had 79 passing yards.
ISU's secondary's presence was most felt in its opportunism. Ware recovered a fumble. Hameed Oyedele had an interception. Denzel Bonner had the biggest interception of all during the brief period where EIU had some offensive mojo.
Special teams – Kind of meh. Nothing to report on returns, other than Dakota Caton missed his second straight week with a concussion.
Jerry Nunez was 3-for-4 on field goals, but the one he missed was a 36-yarder, well within his range. It did seem like a couple of snaps were high. Reiner did have to haul in a high snap on Nunez's miss.
Reiner only punted twice and was consistent with a 43- and 41-yarder.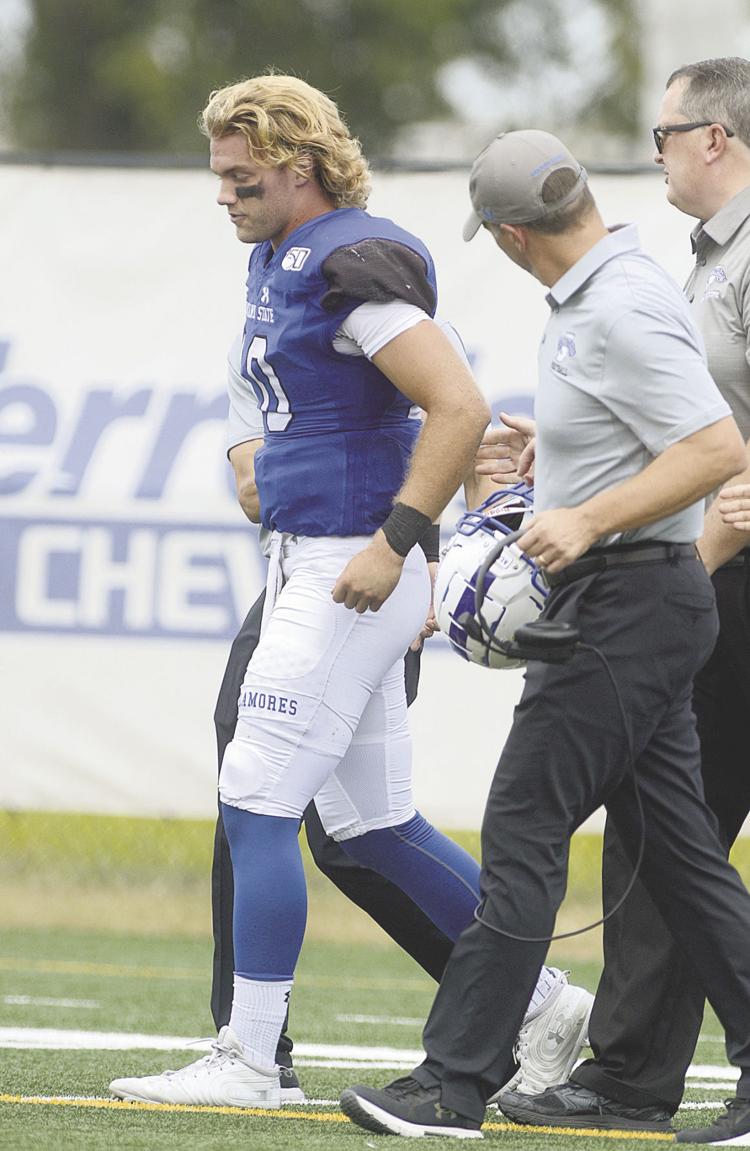 Observations
— If you didn't read about it in the game story, Boyle's injury is a left knee and Kerlegrand's is an ankle, I believe his right ankle.
Boyle's injury was odd. He was taken down back-first on his run. Watching live, it looked like it could have been a collarbone or separated shoulder, but obviously that wasn't the case. 
Boyle was in the athletic trainer's room for about 10 minutes before re-emerging with ice on his knee. He was walking with a bit of a limp, but what otherwise fine. Before halftime, the ice was gone.
While it all looked as encouraging as any of these situations can be, I don't want to read too much into appearances. Remember, McCoy's season looked done when he was carted off the field at Kansas, with his leg completely immobilized. Three weeks later, McCoy was back.
We'll see what the report is. With ISU having a bye week? Boyle's condition could remain a mystery for a bit longer than usual.
As for Kerlegrand? He was running on the sideline shortly after his ankle injury. He must not have felt comfortable, or, ISU felt comfortable with McCoy, Nick Sims and Chris Childers. Kerlegrand never took his pads off, so his injury didn't appear too serious.
Other Sycamores out on Saturday that I haven't yet mentioned included DB Ty Hambright (concussion) and return specialist Michael Haupert (concussion).
— Hey! Remember when I came away from Memorial Stadium thinking, "that's the lowest-scoring game I've seen at Memorial Stadium in a while?"
Today set the new personal record for lowest points scored with 22 combined points.
In other words? Bet the under.
— Attendance was 6,126 on Saturday. I'll admit that I don't case the crowd like I used to, but when I walked down at halftime, it did seem a bit larger than EKU. 
ISU has been very lucky with the weather so far. Saturday was warm, but breezy. There hasn't been any unpleasantly warm days or any precipitation at all.
— Elsewhere in the MVFC, No. 1 NDSU actually got pushed at home by No. 4 Cal-Davis. NDSU used an interception and a quick touchdown late to break out of a close one to win 26-16 at the Fargodome.
In other MVFC-Big Sky matchups, No. 3 South Dakota State wiped out Southern Utah 43-7 in Brookings. No. 15 Illinois State dropped Northern Arizona 40-27 in Normal. South Dakota, ISU's next foe, beat Northern Colorado 14-6 in Greeley, Colo. for its first win of the season. No. 9 Northern Iowa struggled at home against Idaho State, but ultimately prevailed 13-6.
The bottom third of the league did nothing to escape the bottom third. Missouri State blew an 11-point halftime lead to lose 35-24 to Kennesaw State in Springfield. Western Illinois remains winless at 0-4 after a 38-24 home loss to Tennessee Tech. Southern Illinois fell to 2-2 with a 41-28 loss at FBS Arkansas State.
No. 23 Youngstown State was idle.
Among ISU opponents? EKU bounced back from its loss to ISU a week ago with a 35-10 win at Presbyterian. Kansas was competitive, but fell 29-24 at home to West Virginia. Dayton, however, lost at home to Duquesne 35-31. That won't help ISU's resume. 
— ISU coach Curt Mallory said the Sycamores wouldn't be taking a week off with the bye week upon the program.
That may be true for the players and coaches, but I am taking the week off. I'll be on vacation, but back in-time to make the trip to South Dakota.