When Abe Tizaf, who is now the men's soccer coach at St. Mary-of-the-Woods, was the boys soccer coach at Terre Haute South in the early 2010s, he started a tradition that the Braves would sing "Glory, Glory, South United" after matches.
It's a tradition taken from English soccer, and at least three clubs there (Tottenham Hotspur, Leeds United and Manchester United, if you're curious) claim it as their own, but Terre Haute South had been pining to sing their song on the pitch after a sectional championship victory.
The problem was that powerhouse Bloomington South, winners of eight straight sectional titles, always stood in the Braves' way. The Panthers especially broke South's hearts one year ago when Bloomington South advanced on penalty kicks.
On Saturday at the Class 3A Bedford North Lawrence Sectional, Terre Haute South finally got to sing their song in the context they've dreamt of. Terre Haute South defeated Bloomington South 2-1 to claim the Braves' first boys soccer sectional title since 2015.
"It feels so good. We've been working hard at it. We knew we were good enough. To do it, though, is so exciting," said South winger Brock Barger, who would add a spectacular contribution to the Braves' winning effort.
Significantly, it's the first sectional title a Terre Haute school has won with a Bloomington school in the field. The Bloomington and Terre Haute schools were placed in the same sectional when boys soccer went to three classes in 2017.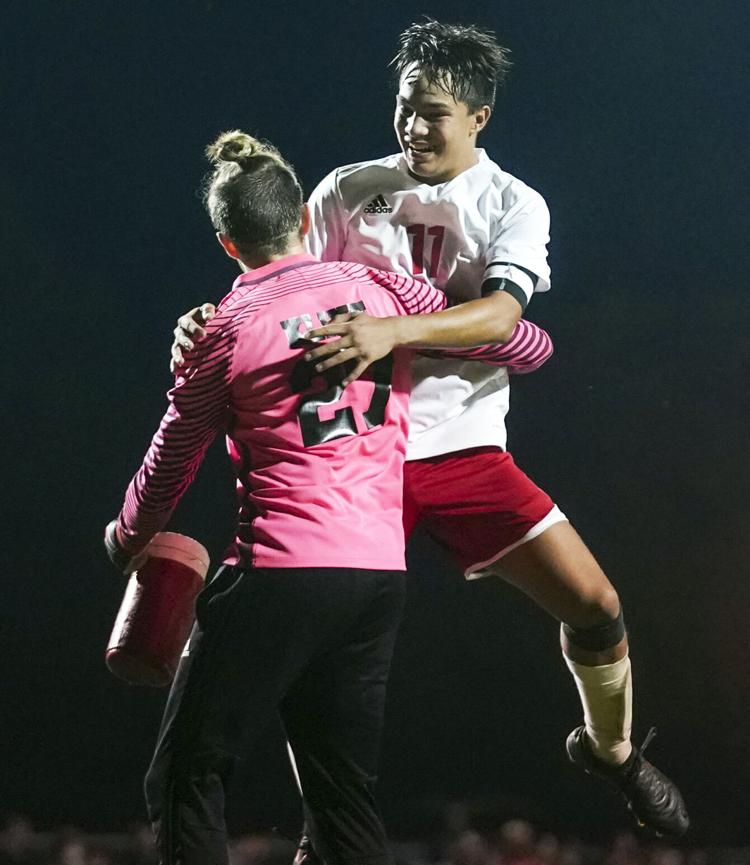 "This is the fourth time we faced them in the last two years. We had a dragout fight that came down to PKs last year. I'm glad we didn't have those again," South coach John Stephens said.
Terre Haute South (11-5-2) had won the regular season meeting against Bloomington South, but that was not necessarily going to be predictive for this match, given how even they were.
And the match itself played like two solid teams slugging at each other for all 15 rounds. This wasn't a match decided by flair. This was a battle for 50-50 balls, physical challenges in the middle of the field, and trying to solve the Rubik's Cube that was both team's back lines.
Both teams also struggled with their pace with the ball as the drought-dried pitch allowed through balls to skip downfield and often out of range of forwards.
Bloomington South (9-6-2) had more possession of the ball and took more shots – the Panthers had a19-7 edge in attempts on goal – but few of the Panthers' chances were high percentage ones. That's a tribute to South's back line of Eli Storey, Will Talens, Scottie Thurston and Isaac Hale. Credit also goes to Barger, Landry Kimery, Grant Esper, Mason Ham and Gavin Henning who tracked back from midfield and the wing to make it difficult for the Panthers to have any space to exploit.
"The back line is the heart and soul of this team. I've got four seniors, plus Kade [Kline, South's keeper] is a senior. That defense is what keeps us in the game," Stephens said.
For Terre Haute South's forwards, it wasn't quantity, but quality that saw them through. South didn't take its first shot until 13 minutes into the game, but it's second shot broke the ice.
Braves winger Adam Andres won a one-on-one battle on the right wing with his Bloomington South defender. With a couple of seconds to get his cross in, he fired perfectly to a waiting Tyler Peterson, who came into the 6-yard box on a lateral run and he one-timed it into the net to put South on top at the 20:56 mark of the first half.
From that point, it was a battle of wills as neither team created many opportunities. Up to the 10:16 mark of the second half, Bloomington South had only attempted three second-half shots. Terre Haute South had not attempted any.
That would change in dramatic fashion.
Right winger Barger got the ball in space in a one-on-one opportunity. He beat his defender, and then, from about 20 yards to the right of the box, he lobbed it goalward. The curve on the ball was true as Bloomington South keeper Piper Bennett watched in vain as it kissed the left side-netting on descent. The Braves led 2-0 in spectacular fashion.
Barger strutted in celebration with both arms raised. As his teammates mobbed him, he tapped the inner part of his arm. What was that about?
"Ice in my veins. Ice in my veins, baby!" Barger said.
Stephens has his own thoughts on it.
"We're going to pretend that was a shot, not a cross," South's coach said.
The Braves weren't in the clear yet. Bloomington South gave itself a bit of hope when a penalty was called on the Braves for a push in the back on a Panthers free kick. Landon Ryner powered the penalty kick home with 2:31 left to make it 2-1.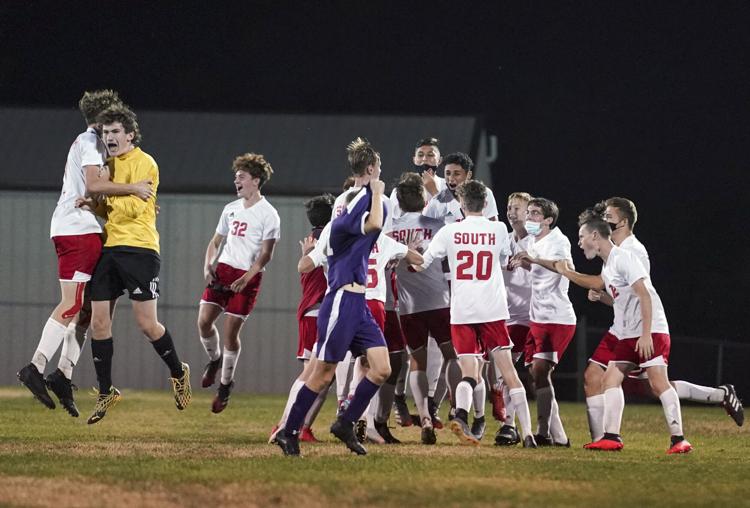 However, the Panthers would not get a clean look at another goal and the Braves celebrated a hard-fought sectional championship.
The Braves will play Columbus East in the Class 3A Seymour Regional at 10 a.m. next Saturday. The Olympians rallied to beat Jeffersonville 2-1 in the Seymour Sectional. Castle and Center Grove will hook up in the other semifinal.
There will be time to assess that matchup, but first things first. Terre Haute South's players gathered on the pitch after they were presented the sectional trophy and sang their song. It was a long time in coming.
"We've been waiting a long time, but it's our time now," Andres said.