Just for perspective, I went back and looked at last year's Down In The Valley from this same weekend. On Week 16 in 2018, ISU lost a 76-72 overtime decision at home to Southern Illinois.
I looked back because I wanted to recollect how impossible it seemed at that time that ISU would escape playing on Thursday. The Sycamores had lost seven of eight with the loss to the Salukis and were in eighth place. I wrote at the time that ISU needed a "miracle" that was "unlikely" as the Sycamores had to win out against Evansville and a game at Bradley and Missouri State - the preseason favorite - had to lose its final two games.
That's precisely what happened. I had a lot of fun with it, calling it "The Great Escape" after the movie. And it was a nice coda to a regular season that was as scattershot as the current one has been.
This season, we're back in the same impossible boat. Only more so.
For ISU to escape Thursday in St. Louis, the Sycamores have to win out - with a road game at MVC co-leader Drake and a home game against improving Northern Iowa. Valparaiso has to lose one of its final two games. Southern Illinois has to lose out completely. Illinois State has to lose today at home to Drake, at home against Missouri State, but then beat SIU in Carbondale on Saturday, the final day of the regular season.
If that happened, and if Bradley didn't also drop down to 8-10, there would be a three-way tie for sixth with Illinois State and Valparaiso. ISU would win the tiebreaker by virtue of a 3-1 mark against the Crusaders and Redbirds.
There may be another scenario for ISU to avoid Thursday that my tiny brain can't compute, but that's the one that made sense to me.
Here's who the teams have left:
ISU: at Drake, Northern Iowa
Valparaiso: at Bradley, Evansville
SIU: Loyola (today), at Evansville, Illinois State
Illinois State: Drake (today), Missouri State, at SIU
So does ISU's scenario look plausible? Of course it doesn't! SIU losing at Evansville isn't likely given that the Purple Aces have won just once since Jan. 16. You'd think Illinois State would at least split with Drake and Missouri State at home, and if they don't? It's highly unlikely they roll into Carbondale and bump off the Salukis. Valparaiso could very well go 1-1, but that's not enough for the Sycamores.
But you know what's depressing? One of the least likely scenarios involves the Sycamores winning two in a row.
And it has nothing to do with playing at Drake, which will obviously be a formidable task given that the Bulldogs have won 9 of their last 11. It has everything to do with ISU's own inconsistency.
I was asked by a person with ISU ties before the Missouri State loss whether I had much faith that the Sycamores could escape Thursday. My answer was no. Until I actually witness ISU putting together two wins in a row in conference play? On what basis would I have any faith?
What a shame that is, because entering MVC play, I was not alone in believing this team could contend for a championship. As I wrote in my Sunday column, I still see the upside all of the Sycamores have, but they haven't put it together for any sustained period.
And the talent is not being reinforced by avoidance of mistakes (way too many ISU turnovers on Saturday were unforced), good basketball IQ (too many lazy and/or hopeful passes, too many fouls) or, and this one is understandable as losses have piled up, self-confidence. (I saw a lot of great shots turned into good shots that became OK shots with hesitation that became missed or block shots because the Sycamores were collectively too tentative.)
In athletics, when you don't maximize your talent, you pay the price every time. Now ISU is looking down the barrel of Thursday in St. Louis. It's possible they could escape again, but the odds are much longer than they were in 2018. If that was "The Great Escape"? ISU avoiding Thursday this time would be more like Luke Skywalker's odds in hitting the mark to blow up the Death Star in "Star Wars". (I will never, ever call that movie "A New Hope". Get that out of my face!)
So if Thursday is ISU's fate, I just hope this team builds its sense of urgency to get it together. If there was going to be a year a team could make a run out of Thursday? This is it. Time to galvanize, Sycamores, because time is running out.
Players
Note: In this space, we'll discuss some, but not all, players who played.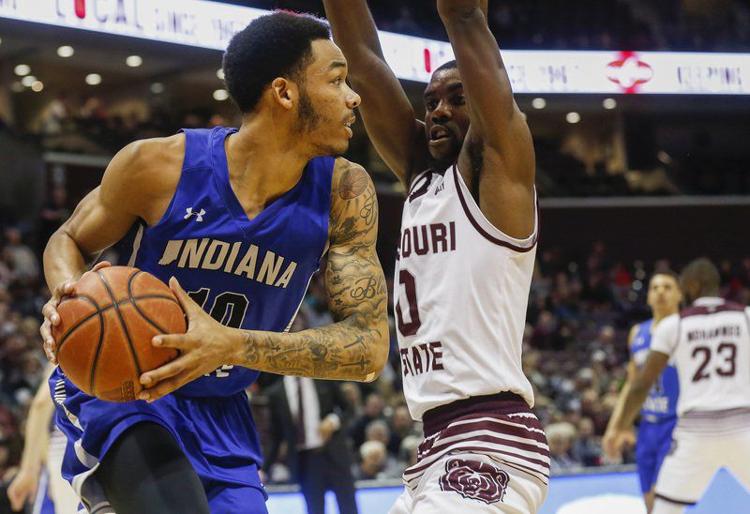 • Christian Williams (8 points, 6 rebounds) — The numbers don't stand out, but I thought Williams was called upon to go above and beyond in guarding Tulio Da Silva for long stretches. He didn't back down, making Da Silva at least have to work for his shots.
Williams also had three assists and two steals. He was noticeable in good ways which was a good thing.
• Allante Holston (6 points, 5 rebounds) — Holston re-entered the rotation after playing sparingly against Illinois State on Wednesday. Holston played 22 minutes and was a better match against Missouri State's guards than Clayton Hughes.
Holston also had to guard Da Silva at times and hung in there. 
Holston is a worker bee who can help in certain games. I think what ISU worries about is when he's in the game, it's essentially 4-on-5 on the offensive end as Holston doesn't look to score. When he does? It's usually from an offensive board or when help is drawn to one of ISU's scorers.
It's a legitimate concern, but Holston is generally a good defender who knows what his game is and plays it.
• Emondre Rickman (8 points) — Rickman has entered that zone that so many ISU bigs before him have entered - he is called for an inordinate amount of fouls because officials give him very little benefit of the doubt.
I've seen it before with nearly every big man I've seen come through. I remember asking Royce Waltman about it back when Jerod Adler was the center. I thought Adler was good for a call or two a game just because the officials didn't respect his game, or more accurately, respected the game of more "name" center more. It sounds conspiratorial, but I think it's a real thing and basic human nature.
Sure enough, Rickman had two bad ones called on him. One was a charge call where Kabir Mohammed (who played a very good blue collar game playing off of the help drawn by Da Silva) wasn't set. Another was a bizarre offensive foul, his fourth, with 12 minutes to go.
Rickman was productive when he played. He had those eight points in just 12 minutes, but if you can't stay on the floor? You can't take advantage. Sometimes it's the player's fault, but sometimes? The player is hard done by as Rickman was on Saturday.
Observations
— ISU went with its 1-2-2 press again on Saturday. Missouri State wasn't very good offensively against it, but ISU's offense was come-and-go, so it didn't feel like it had the bite it did against Illinois State last Wednesday.
— Attendance at JQH Arena was 5,798. The atmosphere was better than it was in recent years when the place was funereal, but it wasn't a pit of horrors either.
Attendance is down in college basketball. There's a lot of reasons, but I throw it out there to you ... would you rather watch a game in-person or watch it on ESPN3/ESPN+/Fox Sports Midwest, etc.?
Obviously, this isn't a question I have to ask myself in my line of work, but I'll put myself in the shoes of the fans. Factoring ticket, parking and food prices to see a game in-person versus paying much less to sit at home? Unless I'm a diehard, it's a relatively easy choice to watch the game on TV or stream it.
Is that good for the schools? I'm sure they love the exposure, but hate the drop in ticket sales. The league loves the exposure and the fact that they can taut "national" broadcasts. (While technically true, they're really nothing of the sort. You can't channel surf with your cable, satellite or streaming service and find ESPN3, you have to seek it out. That's why, in the paper, we differentiate between TV broadcasts like ESPN2 or ESPNU versus webstreams like ESPN3 and ESPN+.)
This is where the goals of the leagues and the schools can begin to conflict. The schools are no doubt painfully aware of how modern technology adversely affects attendance. They're also quite aware that the exposure they get via national broadcasts is invaluable. Which would also be the view from the conference office.
Still, I wonder whether a blackout rule needs to be applied? Nothing as restrictive as MLB's ridiculous blackout rules, but maybe home games are blacked out in the television market of the home city if they don't sell 50 percent of available seating? Would it harm ISU to have ESPN3 and ESPN+ blacked out in that circumstance? I'm sure there are pros and cons I'm not thinking of.
Honestly? I don't even know if it's possible to do a blackout given the varying amount of devices you can watch on. I have a Fire Stick and I don't know if there's even an apparatus to black out the ESPN app on it. I'm sure it could be tied to an ISP address or something similar, but that's a question for the big broadcasting and webstreaming brains.
I don't know if blacking out is a healthy way to go or not, but it has crossed my mind as I've seen half-empty arenas most of the season.
— Elsewhere in the MVC, we're finally starting to see a little bit of separation between the have's and the have not's.
Missouri State's win put it a half-game behind Drake and Loyola - both of whom play today at Illinois State and at Southern Illinois, respectively.
Northern Iowa very likely took itself out of Thursday consideration with a 64-53 victory over Valparaiso in Cedar Falls, Iowa. The scary thing for the MVC is that A.J. Green, the highly-touted hometown recruit for UNI, is really starting to play well. He had 22 points and has reached double-digit scoring in his last six games, topping 20 in half of them. ISU held him to a quiet seven points back in January, but when Green visits on Saturday, he'll be playing far more confidently.
The Panthers hold down fourth place at 9-7. UNI has a better shot at grabbing a share of the MVC title than it does falling down to Thursday, but in this crazy season, both scenarios are still possible, though both are also extremely unlikely.
Valparaiso is going to be hard-pressed to avoid Thursday at 7-9 in the MVC. They probably have to win out and that would mean winning at Bradley on Wednesday, a tough ask.
The Braves survived Evansville 63-61 at Carver Arena. The Braves are 8-8 and likely Thursday-safe at this point, although that's contingent on how they do against Valparaiso, whom Bradley lost to early in MVC play. Evansville has clinched the 10-spot in the MVC tournament. They could catch ISU if the Aces win out and the Sycamores lose out, but ISU wins the tiebreaker in that case.
If you want to get depressed, check out the NET's of the MVC schools. Loyola is "best" at 125. Six of the league members, including ISU, are wedged between 160 and 191.
Yuck.