Indiana State's football team did something in its 51-24 romp against Missouri State on Saturday that it hasn't been able to do very much over the course of the season.
The Sycamores had fun. A lot of fun. 
There were so many big moments in ISU's win that it's hard to recollect all of them. Dominique Dafney piled up 244 rushing yards and scored five touchdowns - four rushing and one receiving.
Dante Hendrix had a long gain that was nearly a touchdown and a 70-yard punt return that was.
Michael Haupert had a 49-yard touchdown run. Peterson Kerlegrand had a long run.
And those were merely the plays that counted. Matt Thompson had a 51-yard fumble return touchdown called back too.
It's been a tough year for the Sycamores. The preseason optimism faded in the reality of a 5-7 season. There were mitigating circumstances for ISU's worse-than-expected season, injuries primarily, for quarterback Ryan Boyle particularly.
The mitigating circumstances out-weighed the failures of execution or units that performed below expectation, so I tend to have a forgiving vibe about ISU's campaign, even as I also know not every unit or player matched their production from 2018.
One thing was evident in good times and bad - ISU stayed together.
At no point in the season, even when ISU was in the throes of a four-game losing streak, did I sense any dissension among the players. They stayed on-task, even in the face of performances that suggested the panic button was called for.
I even criticized that vibe a bit mid-season. I thought maybe the Sycamores were so blinded by their faith that things would turn around that maybe they weren't adjusting attitudes enough to have a sense of urgency?
Unless you wore an ISU uniform or put on a headset? We'll never know if there was anything to that.
But it doesn't really matter now. When ISU was 3-7 and only had a win over struggling Western Illinois in the MVFC? It would have been easy to mail it in.
The Sycamores didn't ... and that's a credit to them. In fact, Saturday's game was likely the most memorable of the season.
Dafney is emblematic of the team-first vibe the Sycamores maintained. A wide receiver transfer from Iowa, Dafney was more like an offset tight end when he played his intended position. He had some solid games, but nothing that suggests D-I transfer production.
Given that, it would have been easy for Dafney to play out the string and call it a day, much less learn a different position mid-season.
It says a lot that Dafney not only bought in, but choose it as his means to demonstrate his worth to the team. Dafney got better as he went along playing the "wildcats" with Michael Haupert. Missouri State simply couldn't bring him down.
His performance was a great moment for ISU football, and of course, for Dafney, but a big one for the team too. Dafney's selfless example of doing whatever the team needed will have a positive influence down the line.
So it was cool that Dafney got to bask in the glow of one of the best single-game performances in ISU history. And the rest of the Sycamores earned those smiles and the school song they sang to ISU's fans after the game.
The season didn't go the way they wanted to, but they never gave up on themselves. They deserved a good day out for the hard work they put in.
A look at the game
Passing game – It was good to see Kurtis Wilderman nail a deep ball. His throw on a 70-yard pass to Hendrix was perfect ... and not easy.
He threw the ball into the wind, a steady breeze that wreaked havoc on both teams' kickers who kicked into it. The wind helped the ball drop right into Hendrix's bread basket.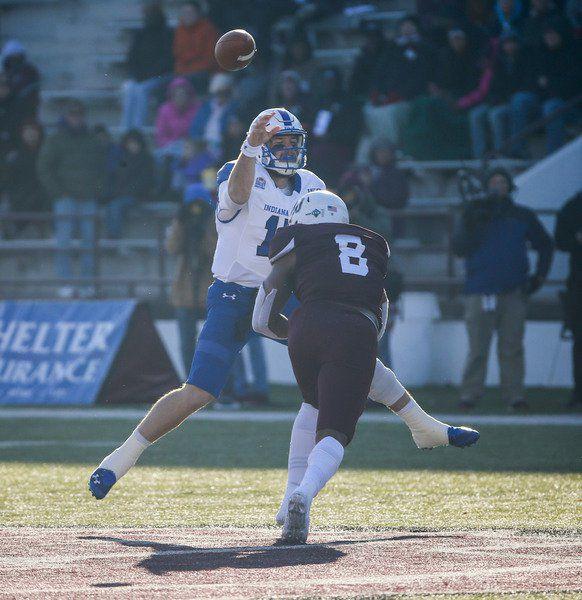 Apart from that? Wilderman was 10 of 14 for 148 yards. Haupert was true on his TD throw to Dafney as well.
Running game – ISU rushed for 325 yards and averaged 7.6 yards per carry. Missouri State's defense may be poor, but 7.6 yards per carry is good against any set of 11 warm bodies.
Blocking – The wildcats formation allowed the offensive line to come into its own. They created big seams for Dafney and Haupert to exploit.
ISU didn't pass much, it didn't need to, but Wilderman had time to throw.
Pass rush – Inoke Moala and Filip Zacok both had sacks. Peyton Huslig was pressed at times, and of course, it became easier for ISU when the Bears were forced to pass down big late in the game. Huslig threw for 249 yards.
Run defense – The Bears averaged four yards per carry, which isn't bad from the defensive perspective, but the designed runners did better. RB Myron Mason averaged 4.7 yards, Huslig was at 4.1 and receiver Kendall Stewart used a reverse pitch to go 23.
ISU was better against the run later in the MVFC season than it was in the first half, but it wasn't shut down defense.
Pass coverage – Huslig was pretty good, and the Bears nearly scored after Hendrix's punt return TD on a quick drive, but the Bears' defense and special teams let down so dramatically that MSU's solid attack never really had a chance to have a game-changing impact.
Special teams – Hard to argue with a punt return. Michael Thomas also had a 44-yard kick return on a (pointless) onside kick by the Bears in the fourth quarter.
Punter Travis Reiner wasn't needed much, but he did have a punt downed at the 1.
Kicker Jerry Nunez had a difficult day. He was 1-for-2 on field goals, making a 33-yarder, missing a 41-yarder. He also missed an extra point.
Both misses were into the wind. The field goal was bizarre. It looked like Nunez's kick may have been tipped at the line, but it flew far enough to have a chance.
Until the wind took it. Nunez kick almost came to a dead stop near the end zone and dropped almost straight down. I've seen very few kicks do that.
Observations
— Could ISU have flipped any of its losses had it not had debilitating injuries? It was a question I was asked in the press box.
The candidates for a flip are Illinois State, Southern Illinois and Northern Iowa. ISU was thoroughly beaten by both South Dakota schools. I think those stay losses, just as I predicted before the season.
Remember, the Illinois State game was close until a meltdown right at the start of the fourth quarter turned the tide. With a healthy Boyle? ISU moves the ball better and gives itself a better chance.
SIU was a 23-14 loss, but ISU had five false starts and was at their mistake-prone worst in that game. I think a healthier Sycamores team does better.
ISU had a chance to tie UNI late in the UNI-Dome, so obviously, that game was there for the taking.
If ISU even wins two of the above three? The Sycamores are 7-5 and in the playoff conversation, if not in as a lock, after quality wins over Illinois State and UNI.
Then again? That Dayton loss at the start of the season haunts my perception. ISU was mostly healthy and with Boyle in that game and lost anyway. It's the one piece of evidence that suggests ISU might have still struggled this year. Who knows?
— In the media world, we kick around the phrase "no cheering the press box". It's unprofessional to show passion one way or another.
I think all press boxes need to add a no yammering in the press box rule too.
For most of the second half, a couple of MSU support staff engaged in quite a long, and often, unintentionally funny, conversation. It was disruptive, and finally, one of Missouri State's media members told them to cut it out.
(It's something I had to do my first year on the beat in the Memorial Stadium press box. You don't ever want to be "that guy" who plays bad cop, but sometimes rudeness by others leaves you no choice.)
I think it's hard for people to understand the press box is a working area. Writers (and staff) are concentrating and trying to do a job. Is there witty repartee sometimes? Sure, but not when it's time to get down to work. Not when we're trying to hear the results of the (many) reviews by officials.
That said? I learned that some auto or body shop in Springfield gives you a free turkey if they fix your car after it was hit by a deer. I'll file that knowledge away in case I ever need it.
— Elsewhere in the MVFC, the final day almost always has surprise outcomes and Saturday was no exception.
Youngstown State defeated playoff-bound Illinois State 21-3 in Youngstown. There's a caveat. The Redbirds don't have QB Brady Davis for the rest of the season with a knee injury. An already Redbirds pedestrian offense is compromised that much more. Redbirds are going to have problems in the playoffs, though their defense is pretty stout.
A bigger surprise was South Dakota's 24-21 win over No. 5 South Dakota State in Vermillion. It's the first time the Coyotes have beaten the Jackrabbits since both went Division I.
Worse for SDSU? The Jacks likely fell out of contention for a playoff seed. That means they're playing next week.
With Illinois State and SDSU both going down? UNI might get a week off instead. The Panthers beat Western Illinois 38-7. Panthers played a good schedule, beat Illinois State on the road, and nearly beat Iowa State. I think UNI deserves a bye.
As expected, Southern Illinois lost to MVFC champ North Dakota State, but it was a respectable 21-7 defeat in Carbondale. SIU is 7-5 and on the bubble for the FCS playoffs, but I think the Salukis make it given that they have a FBS win, albeit against a horrific UMass team.
That would put five MVFC teams in the playoffs.
The final MVFC standings? NDSU 8-0, UNI 6-2, SDSU, ILS & SIU 5-3, USD 4-4, ISU 3-5, YSU 2-6, MSU & WIU 1-7.