I wrote about Indiana State's struggles in its 75-55 loss at Loyola in a follow-up story to the game story. It's on Tribstar.com if you want to read it.
I don't want to rehash ISU's problems. The refrain is familiar: a shocking lack of defense, an offense that could do little, poor free throw shooting, etc.
And, let's be fair for a moment too. Loyola is good. Damn good. Last night's win put the Ramblers in first place in the Missouri Valley Conference by themselves. Few, if any, MVC teams are going to emerge unscathed from Gentile Arena.
No, rather than say the same things about the Sycamores, I'd rather write about Loyola center Cameron Krutwig. What a show he put on Wednesday night.
He did everything ISU feared he could do ... and he did it with punishing efficiency.
ISU feared his passing. He had nine assists. Krutwig loves posting up on the right side of the basket and zinging passes out to the perimeter or to an open teammate in the corner. He was completely confident giving the ball up.
Krutwig also scored 13 points and had 12 rebounds. You have to help on him because he's so good at positioning himself under the basket. He can't be physically pushed around, but he's also athletic enough to clean the glass off of misses.
I know there's some excellent talent in the league. Northern Iowa guard A.J. Green has deservedly been getting attention as a MVC Player of the Year candidate. So has Javon Freeman-Liberty of Valparaiso, Darrell Brown of Bradley, and when he's on, even our own Tyreke Key.
But let's be clear. Krutwig is the best player in the league ... hands down. I don't mean that as a knock on Green or anyone else. He's just that good.
I listed some of the reasons he's so good above, but add to that his leadership, how well he communicates defensively, and how he energizes his teammates with his unselfishness. He is the unquestioned cog on what is now the MVC's first-place team.
I talked to Loyola coach Porter Moser about Krutwig after the game, mainly about Krutwig's passing ability.
Krutwig could always pass the ball, but the Ramblers haven't run their offense through Krutwig in his first two seasons to the degree they're doing it now.
When did this happen? When did Krutwig suddenly morph into Denver Nuggets passing center Nikola Jokic?
"When Keith Clemons got hurt, we had a freshman point guard in the first six to eight games. We went through Krut early on instead of having it in the freshman's hands. We were trying to take pressure off of our freshman, but Krut is so good at it, we continued to do it a lot," Moser explained.
Moser said Loyola has always made the effort to run things through Krutwig. It's just that there were others who could do the job just as well during Krutwig's underclassman seasons.
"We've been playing through him a lot since the Final Four year, but it's just that we had others guys, like Marques [Townes] and Clay [Custer] to handle it a lot," Moser said.
And Moser pointed out the obvious benefits Krutwig brings to the table.
"He creates offense for us. If you double him? He's going to spray it. He's an old school guy with a smart IQ. He can pass and score. You make to make a decision against it and that makes it tough," Moser said.
Krutwig's nine assists he had against the Sycamores wasn't a season-high, though it was his best total in a MVC game. Krutwig had 11 in Loyola's season opener against UC Davis. He had 10 assists in a triple-double performance against Vanderbilt in which he also had 22 points and 10 rebounds.
Krutwig actually had almost four minutes to get another triple-double against the Sycamores. Krutwig had six turnovers, but part of the reason was his zeal to get that 10th assist as he kept trying to lob outlet passes to breaking Ramblers.
It annoyed Moser, who said he didn't realize Krutwig was so close to the triple-double.
"I was getting mad at him, and I guess the crowd was yelling 'triple double' at him, I don't pay attention to that. I had no idea [he was an assist away from a triple-double]," Moser said.
The lack of a triple-double did not diminish the pure dominance that Krutwig displayed inside Gentile Arena. Yes, ISU's defense was shoddy, but in Krutwig's case? It was more him than ISU.
I voted for him as Player of the Year last year and I saw nothing on Wednesday to change my vote for this year. We're not to the halfway point of the MVC season, but I've seen the best player in the league.
Good luck to the rest of the Valley in trying to stop one of the most versatile big men to grace the league in the last 15 years.
Players
Note: In this space, we'll discuss some, but not all, players whob played.
• Jordan Barnes (18 points, 5 turnovers) — ISU point guard Jordan Barnes isn't going to give up the ghost. He was playing hard right up the final seconds.
He had a season-high five turnovers. Was it Barnes? Loyola's defense? Teammates not freeing themselves up enough?
A bit of all three. Barnes lost the ball a couple of times. He lost the ball a couple of times because Loyola was putting good pressure on every Sycamore. Barnes was trying hard to facilitate the ISU offense, but Loyola's defense was so good, that no one could get open.
Eventually, Barnes took matters into his own hands to beat his defender off the dribble for some scores.
• Bronson Kessinger (7 points) — Kessinger returned after missing one game due to the flu. He was the only ISU player in the first half who generated any scoring. All of his points were scored before halftime.
Kessinger's game seemed more suited to attacking Krutwig. Tre Williams attacks the rim laterally and a big body like Krutwig can cut him off. LaRavia, at least on Wednesday, was driving with his face to the basket and the Ramblers brought help on him to prevent LaRavia from any easy penetration.
Kessinger sort of went about it old school with his back to the basket, using his post moves to get space to turn and get a clean shot. 
Oh ... and he got a kind bounce on a 3-point shot. Kessinger was a bright spot in an ugly first half.
• Cobie Barnes (6 points, 3 rebounds) — If Kessinger was a first-half bright spot, then Cobie Barnes was a second-half one.
The freshman hustled and never let his intensity drop, despite the ugly score. Of his three rebounds, two were offensive boards, including a putback.
It's not easy, but ISU needs to find minutes for Barnes to help build his confidence. Every little bit helps.
Observations
— ISU made 7 of 11 at the free throw line, but started 1 of 5. When the opponent misses a free throw, Loyola's student section chants, "You let the whole team down!"
For a while there? I thought I was going to hear that all night.
All 11 of ISU free throws came in the first half. ISU never really allowed itself to drive and create fouls in the second half
— Speaking of Loyola's student section — which I might add, is front-and-center and at mid-court as college student sections should be (Lord knows they pay enough tuition at Loyola. I know ... my daughter was interested) — one of the students piped up to official Gerry Pollard when Keith Clemons was called for a blocking foul on an ISU lateral drive through the paint.
Pollard is not shy about interacting with anyone. He immediately retorted.
"He wasn't in guarding position. Learn the rules," Pollard clapped back.
All right then.
— Shameless plug! I talked (very gravelly by my standards as I was fighting off a cold) about the importance of the current five-game stretch the Sycamores are in during my Down In The Valley podcast.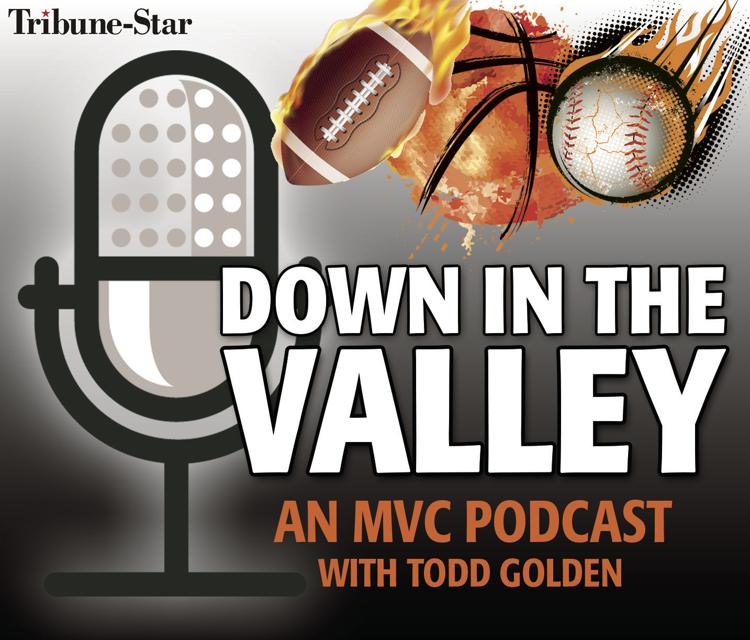 But let's switch gears a bit. ISU has road games left at Missouri State, Illinois State, Bradley, Evansville and Southern Illinois. How many do you think are winnable?
Probably Evansville. Maybe Illinois State. Past that? It's going to be tough.
ISU almost never wins in Springfield - the last victory there came in 2012. Bradley is going to be tough to beat anywhere, much less Carver Arena. And though SIU is young, they've protected the Banterra Center (nee SIU Arena) with ferocity in MVC games so far.
Though ISU has looked bad in its last two games, one thing it hasn't done yet is lose at home. Right now, ISU is even-steven as far as home wins and road losses. Road wins are always tough, but it's vital for ISU to stay unblemished at Hulman Center.
— Around the MVC, those Salukis mentioned above upset the MVC apple cart.
SIU defeated Northern Iowa 68-66 in Carbondale. The Salukis led by six with 2:21 left, allowed UNI to pull within one, but held on for a very good win. Lance Jones scored 20 to lead the Salukis, who are now 4-3 in the MVC.
Bradley pulled a small surprise too. Playing without svengali point guard Darrell Brown, who had a thigh contusion (be interesting if he's available on Saturday), the Braves rode Nate Kennell and Ville Tahvanainen, who both scored 18, to a 75-63 victory. Bradley is scary if they can roll on without their unquestioned leader.
In the only other game, Drake feasted on Evansville with a 73-50 win at Ford Center.
I watched part of this game since it was in the early TV window before ISU's tipoff. Without De'Andre Williams? Evansville just can't score. One day after Walter McCarty was fired and Todd Lickliter was hired, you can't fix UE's shooting problems in one day.
Valparaiso and Missouri State play Thursday night, but the bad news for the Sycamores is that they've slipped below the big blob in the middle of the league. ISU is 3-4 in the MVC. Either the Crusaders or Bears will join them at 3-4 and in a tie for seventh place in the league.