So how good is the Indiana State's men's basketball team? Are they top-half of the Missouri Valley Conference good? Are they championship-level good? Are they better than four other MVC teams, enough to avoid Thursday, good? Are they good at all?
To answer that question, you can't just look at the Sycamores, you have to look at ISU's opposition for the rest of the season in the MVC. ISU may look better (I think they are better) in a vacuum, but they don't play against Hoover and Dyson. (I know it's not that kind of vacuum. Forget it ... I was rolling.)
Which begs another question.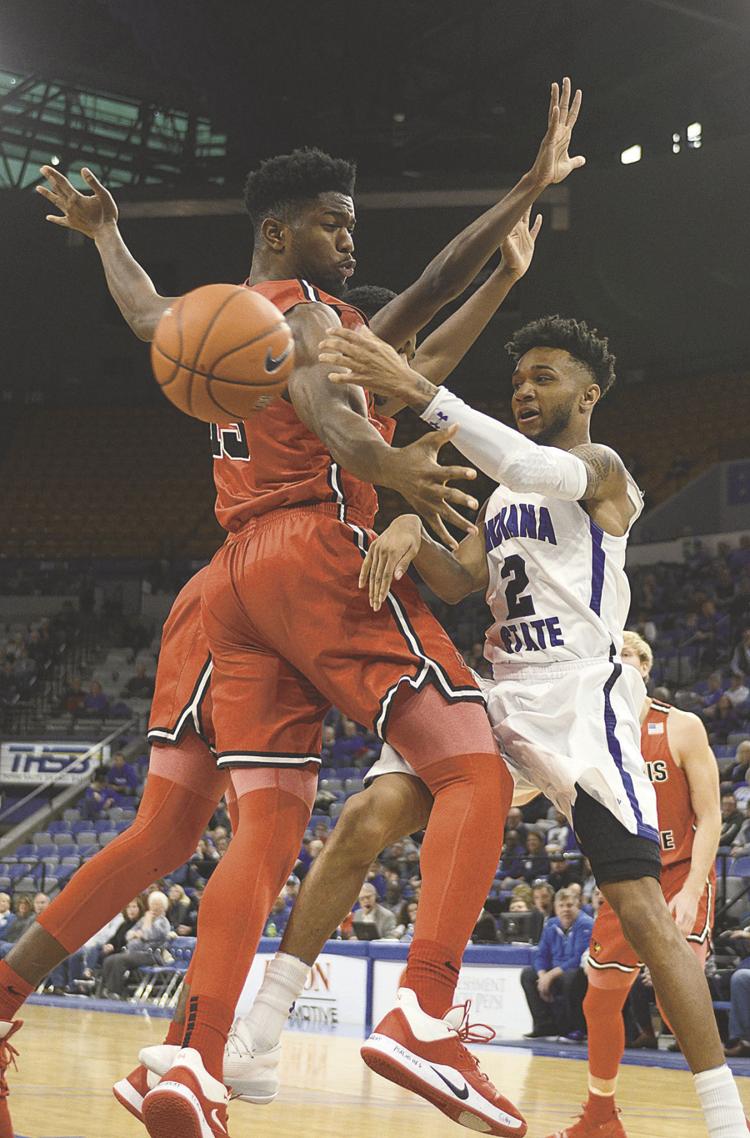 Who in the heck is good in this league? No one? Almost everyone? Is there a lot of good that cancels itself out? Is there a lot of meh that can't break from the pack?
We're only four games into the MVC schedule, so there's no definitive answer to these questions yet. Remember, Bradley started 0-5 in the MVC last season and ended up winning the MVC Tournament. There's still so many twists and turns to navigate.
As of now, the standings don't help sort anyone out. Every team has lost at least one game and every team but turmoil-plagued Evansville has won at least one game. Five teams are at 2-2, including ISU.
There's not much to make heads or tails of. The Sycamores have beaten two perceived strugglers - Southern Illinois and Illinois State - at home. That's to be expected. The Sycamores lost on the road at perceived contenders Drake and Northern Iowa. Also to be expected. There hasn't been much unexpected, good or bad.
So where do we stand?
DEFINITELY GOOD
The one and only member of this club is Northern Iowa, who thrashed Missouri State 80-57 in Springfield, Mo. on Saturday to move to 3-1 in the league. Having seen the Panthers in the flesh last Tuesday (without shooter Spencer Haldeman, who returned on Saturday), they pass the eye test in terms of having guard-post balance, excellent defense, and a star (A.J. Green) who can throw the team on his back if need be. UNI also has the chops in terms of resume, with a MVC-best NET of 48, and Power 5 wins over South Carolina and Colorado. They're the only team, I think, that has proven themselves beyond a shadow of a doubt.
PROBABLY GOOD
Loyola leads this group. The Ramblers haven't been as convincing as UNI. Until a 78-44 dump-trucking of Evansville at Gentile Center, Loyola's other three MVC games were all decided by four points or less. Still, the Ramblers have the most accomplished big man in the league - Cameron Krutwig - who is still just a junior. Guards Tate Hall and Marquise Kennedy have also shown signs of growth. The one thing I think might hurt the Ramblers is they haven't been great in 3-point defense, currently ranked 317th in the nation.
I think Bradley belongs here too, though with provisos both in their favor and against them. In their favor is the fact that the Braves are 3-1 in the MVC having been (mostly) without forward Elijah Childs. Of course, the Braves have plenty of guard depth and improved play in the post from Koch Bar. The only "knock" isn't really their fault - two wins have come against Evansville and Southern Illinois. However, Bradley also beat Drake at home and pushed UNI before losing by five in Cedar Falls.
Speaking of Drake ...
LEANING TOWARDS GOOD
Drake would be in the above category, but for one demerit we'll mention in a moment. However, it's mostly positive at Knapp Center. As I wrote last week, Drake coach Darian DeVries has the Bulldogs on solid footing for the first time in ages and he continues to develop talent from within or has found it outside the program. Liam Robbins is transformed and point guard Roman Penn is savvy. But can Drake take its game on the road? Drake is 0-2 in the MVC away from Des Moines, including a 66-61 loss at Valparaiso on Saturday.
Although results have been inconsistent to downright bizarre, I'm not about to fall into the trap many got snared in last year when most gave up on Bradley too early, so count Missouri State - remember when they were the MVC preseason favorites? - in this group ... for now. The Bears are a very disappointing 8-8 overall and 2-2 so far in the MVC, but I can't count out a team that features talents like Keandre Cook, Tulio Da Silva, Lamont West and Gaige Prim. Still, this is a leap of faith. After all, MSU's only MVC wins are over turmoil-shredded Evansville and young Illinois State. The Bears also just got hammered at home by UNI. I'll give Dana Ford the benefit of the doubt as the Bears try to recover their mojo.
ON THE FENCE, BUT COULD BE GOOD
Here we find Indiana State. Now, for those of us who watch the Sycamores every game? We know they're improved. The addition of Tre Williams and Jake LaRavia alone make that so, but improved doesn't mean good, in the sense of upper-half-of-The Valley, necessarily. Other MVC teams have improved too. Have the Sycamores improved enough?
The jury is still out, because as mentioned, ISU has been right down the middle in terms of expected wins and losses. ISU was closer to unexpected wins (close shaves at both Drake and UNI), than unexpected losses (neither SIU nor Illinois State really threatened at Hulman Center), so that's a good sign, but also very anecdotal. I really like the way ISU's offense has evolved, I'm concerned about defensive inconsistency and I'm downright terrified of ISU's free throw shooting in a close game. ISU's season might turn on whether it can get a couple more surprise victories than defeats.
Valparaiso is also better than expected. A post-2019 exodus seemed to spell doom for the Crusaders, but they're 9-8 overall and at .500 in the Valley. Unlike the Sycamores, they have a quality league win over Drake. But also unlike the Sycamores, they have a worse loss at Southern Illinois. Javon Freeman-Liberty has been outstanding, averaging 20.8 ppg, but the Crusaders don't defend well at all.
The ISU-Valparaiso series, round one is in Da Region next Saturday, may be pivotal in the race of MVC haves and have nots, because if you've been counting? We're up to seven teams mentioned and one of these seven will be playing on Thursday night.
GOING TO BE GOOD, BUT NOT YET
Southern Illinois hasn't been healthy - veteran guard Aaron Cook still isn't back from a hand injury - and they're young, but they've been scrappy. Freshman swingman Marcus Domask looks like a foundation to build around and center Barret Benson is more than just a senior transfer stopgap, but the Salukis are too unproven to take a big leap just yet. I guarantee, though, that SIU will take down a few contenders, especially down in Carbondale. Watch this space late in the year and in the future. Coach Bryan Mullins will get it going.
TOO YOUNG TO CONTEND
Recency bias alert! Illinois State looked pretty ragged against ISU on Saturday. You saw what you typically see out of young teams - forced shots, mistakes on defense, losing physical battles. I like some of Dan Muller's players, especially DJ Horne, who has a super-smooth jumper, but the Redbirds are going to be playing on Thursday. They're just too young and they're going to get beat up by the physical teams in the league. Of course, I say that, and Illinois State's lone win was against one of those physical teams - Northern Iowa.
MELTDOWN
Walter McCarty's administrative leave had the worst-case scenario effect on Evansville that many Purple Aces fans feared. Evansville is 0-4 in the league, fans are starting to turn away again, and the players are left with turmoil that isn't of their own making. Adding to the woes? All-everything De'Andre Williams has missed two games with a back issue.
A shame as Evansville was lined up to contend for the top half, but this team in particular could ill afford the loss of their coach. Every team is built on the promises of their head coach, but McCarty built a team full of transfers that you suspect were loyal to him more so than the Evansville on their jersey, not a good recipe when it goes pear-shaped. The Aces will likely rise up and beat a few teams, ISU should be on-watch on Wednesday, but this is a meltdown that any program would find hard to prevent from being a mortal blow.
So, if you're keeping score at home, we have seven teams that are either good or potentially good. That means there's going to be a lot of carnage between now and March Madness. It also means that the league is just good enough to beat itself up, but not good enough to get an at-large team in the field. Injuries will play their usual role too.
The Sycamores still have plenty of room to improve. If they do so? They'll mix it up in the top half, but this team can't get complacent or they won't reach their potential.
Players
Note: In this space, we'll discuss some, but not all, players who played.
• Tyreke Key (17 points, 8 rebounds) — Key is in a bit of a pickle with the emergence of Williams and LaRavia, as well as the potency of Jordan Barnes and Cooper Neese. Should he become a distributor first and play off of that to get his own offense in gear? Or should he come out blazing and set his own tone?
On Saturday, Key used the latter method and ISU never looked back. Key scored 11 of his points in the first 10 minutes of the game, helping ISU build a lead Illinois State never seriously threatened.
An assertive Key is the best Key. Last Tuesday at Northern Iowa, he wasn't as assertive (partly due to defender par excellence Isaiah Brown) and ISU suffered for it.
I know ISU wants to play inside-out, and it often works just fine, but my preference is to let Key do his thing and let the rest of the Sycamores play off of that, especially given Key's smarts to dish if he's double-teamed or well-guarded.
• Cooper Neese (10 points) — Very early in the game, I saw Neese standing in the corner while ISU ran its offense and I was worried. Is Neese not going to be active, make some cuts, and get himself involved in the offense?
Happily for Neese and the Sycamores, he eventually did. Illinois State left him open one too many times and Neese's teammates found him on the perimeter.
Good for Neese to get involved, because in the first three MVC games, he wasn't much of a factor scoring-wise.
• Bronson Kessinger (5 points, 3 rebounds) — I love the blue collar role Kessinger has taken off the bench. It's nothing different from the way he's always played, but Kessinger is giving a burst of energy at a time when the opposition is tiring or has an inexperienced player on the floor. So Kessinger's contributions are more impactful.
Williams and LaRavia eventually got on-track in the second half, but Kessinger was probably better in the first half. Nothing spectacular, but he settled ISU down after both freshmen had forced some shots in the lane.
Kessinger is also getting pretty consistent with that 3-point shot he whips out on occasion. He's 2-for-3 this season.
Observations
— ISU has been a poor free throw shooting team all season. Even with the excellence of Key in the equation — his free throw percentage fell from 91.2 percent to 87.8 percent after Saturday's 4-for-8 performance — ISU is at 69.5 percent. Take Key out of the equation. Yikes. ISU falls to 59.3 percent.
That's completely unacceptable.
Saturday's performance was almost mind-boggling in its hideousness. Apart from Key, ISU was 3-for-11 at the line. It wasn't just that ISU missed free throws - hey, even someone like Key is going to have one swirl out on occasion - but some of the free throws were missed very badly. I can't remember which Sycamore did it, but one free throw bricked off the backboard and back of the rim. This was YMCA rec league-type of free throw shooting.
Greg Lansing said the players have to have the confidence of feeling like their free throw is going to go in, but I don't see that kind of body language out of many players at all. Lansing also said the players shoot free throws during practice. I've seen it, but something needs to be tweaked in the approach regardless because the numbers speak for themselves. Whether that means confidence-building, mechanical adjustments, whatever.
There's no way any team escapes its season unscathed with a 59.3 free throw percentage. And ISU can't be messing around with such a small margin for error in most MVC games.
The poor free throw shooting has a knockdown effect too. Teams are going to start fouling ISU a lot earlier in games than they might otherwise. This will be especially true of ISU's young bigs, Williams and LaRavia, who have both struggled at the line, but especially Williams, who is a shocking 5 of 22 at the charity stripe this season.
At a 22.7 percent clip? You can bet you're going to see some Hack-A-Tre in the future. So is ISU going to have to take him out while protecting a lead? Can ISU afford to? He does everything else well. It's going to be a conundrum for Lansing and the coaching staff when the time comes.
— During the game, Illinois State beat writer Jim Benson and I were discussing our impression that fouls have been lenient in the first halves of the games we'd seen, but that officials tend to try and play catch-up in the second half.
It's one of those things you think might be true, but might not be. Plus, it's hard to track without pouring through play-by-play because there's almost always more fouls in the second half due to late-game fouling.
So I looked at my own notes to see if I was crazy. Here's the lowdown on ISU's first four MVC games. I will only count team fouls to the five-minute mark of the second half, since foul numbers are skewed after that point.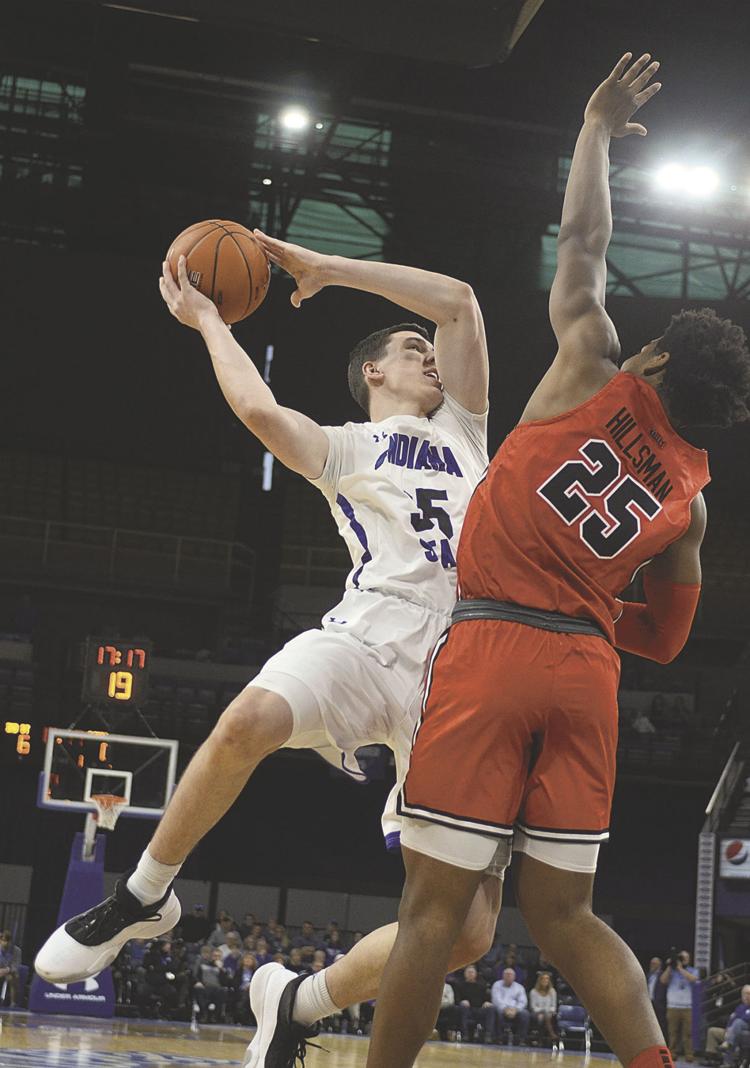 • SIU: ISU had six team fouls in the first half, but only five in the second half. The Salukis had nine team fouls in the first half and only six in the second. So my perception isn't off to a good start ...
• Drake: ISU also had six team fouls in the first half at the Knapp Center. ISU had six team fouls by the 9:33 mark of the second half and had eight with five minutes left. However, Drake had five team fouls in the first half, but hit the five-foul mark before the 16-minute mark in the second half. Drake put ISU in the double-bonus before the 10-minute mark. Now we're on to something ...
• UNI: There was a total of six combined team fouls at halftime. In the second half? UNI had four team fouls by the 16:57 mark. ISU was less whistled, but still had reached eight team fouls by the five-minute mark.
• Illinois State: Another low-foul first half as Illinois State had six team fouls and the Sycamores had three. By the five-minute mark of the second half? Illinois State had nine and the Sycamores had eight team fouls.
So, anecdotally, the impression Benson and I had was mostly correct. Why would officials call more fouls in the second half? I'm sure part of it is adjusting to the players they've seen, influence from both benches, and the fact the stakes are raised in the second half.
Still, it shouldn't be that way. First halves have had more flow than second halves have had. No one wants the second half to be weighed down with whistles. It's an age-old lament, but the preferred option is consistency.
— I was sad to hear that ISU center Chris Agbo was away from the team to deal with personal issues. Here's the quote I used in the game story from Lansing that addressed the situation.
"Chris is taking a break to get some things situated in his life, some personal reasons. Nothing's bad. He hasn't done anything wrong with us and we haven't done anything wrong with him. We hope to get him back soon and we're taking care of him right now the best we can," Lansing explained.
Lansing can be hard to quote verbatim, and I left a couple of things out in what he said, words I felt traipsed into diagnosis over explanation. 
Anyway, Agbo is going through a hard time, but that's OK. We forget sometimes that these players are human and they're entitled to the same emotions the rest of us are.
Just because they're in the public eye doesn't mean we should expect them to be bullet-proof, or worse, think they owe us something just because they're a Division I athlete. Frankly, they don't owe us squat.
It's also easy to forget that 99.9 percent of the fans out there are completely supportive of Agbo and want him to feel better about himself.
Count me among them. Agbo is a great guy, jovial and fun, and I hope he's back soon. But more importantly, I hope he comes back on his own timeline. When he's ready, he should be welcomed back with open arms.
— ISU is currently 87th in the NET rankings. Will that mean anything come Selection Sunday? Not at all, but it's still nice to be in the top 100, no?
— I've already done the usual MVC spiel, but I do think there's some interesting mid-week games that might separate some wheat from chaff.
Evansville at ISU, Valparaiso at UNI, Bradley at Missouri State (all Wednesday), Illinois State at Drake and Southern Illinois-Loyola (both Thursday) all have intriguing possibilities as far as separation or a tightening.
Illinois State-Drake, by the way, was moved to Thursday due to the Democratic Party presidential debate at Drake on Tuesday.
I wonder how Ben Jacobson and Darian DeVries would do in an Iowa coaching caucus against in-state Division I colleagues Fran McCaffery (Iowa) and Steve Prohm (Iowa State)? That would be a helluva race. Some quality coaches at all four Iowa schools.