It was fun while it lasted, but the honeymoon period and optimism that Indiana State's football team had created from its five-game win streak to end the 2018 season came to an abrupt end on Saturday in the wake of a 42-35 loss to Dayton.
The championship assumptions and aspirations that fans, experts inside and outside of ISU, and the Sycamores themselves had about this team entering the season now have to be questioned. Too panicky? Well, that's too bad. When you have, and welcome, expectations this team has had in the offseason, it has to shoulder criticism and skepticism when they don't live up to those expectations.
It was one thing to let an opportunity to beat a Power Five team go by the boards at Kansas on Aug. 31. Missouri Valley Football Conference teams lose to Power Five teams more often than not, good and bad Power Five programs, so that loss can be flushed.
It's quite another to get beaten at home by a non-scholarship football team, even a good one, as Dayton demonstrated it was on Saturday.
Certainly, ISU coach Curt Mallory made it clear he wasn't going to tolerate whatever ailed the Sycamores on Saturday to happen again.
"I know we've got a great team. We're going to get back on-track. The main message I had to the team was we had to have a great week. Everyone has seven days in the week, 24 hours in a day, 60 minutes in an hour, 60 seconds in a minute, no person's time is more valuable than others, but yet, we still had some guys come up short. That's on me. I handle the discipline of the football team. We're not going to have that," Mallory said.
Mallory is a stand-up coach who engenders a stand-up attitude among his players, so it's surprising to hear him mention discipline. There didn't seem any obvious issues in the run-up to the game.
That's part of what made this a shock to the system. The looks on the players I saw on Saturday showed me they were just as waylaid as anyone else was and were still trying to come to grips with it. This team has given off the vibe of quiet confidence since the middle of the 2018 season. The 14th-ranked Sycamores have never struck me as over-confident, rather, they seemed to strike the right balance between confidence and understanding what they needed to do to get better.
When a team that seems to have its mind right falls short? It is, indeed, hard to figure.
That's part of what makes this loss so hard to digest. The Flyers forced a fundamentally solid team to play erratically. That's not a look anyone expected to see on Saturday.
It's the first real bump in the road this group of players or Mallory himself has faced and it will be interesting to see how it goes from here. Yes, there was the slow start to the MVFC season a year ago, but there was no weight of expectation at that time beyond winning a few games.
The five-game win streak at the end of 2018 not only gave ISU a winning record inside the MVFC and what should-have-been-a-playoff-bid, but the most important thing it did was galvanize the Sycamores behind a mutual cause.
Everyone, the players, the fans, the coaches, etc., had tangible proof that real progress was being made. With so many players back, why would anyone believe ISU would be shaken from that foundation they built a year ago.
And, yet, here we are trying to explain a loss against a team from a conference ISU had never lost to since Division I non-scholarship programs became a reality in the early 1990s.
(ISU has lost to current Pioneer Football League teams before the 1990s, including Dayton, but the scholarship situation was different when those matchups occurred.)
There's a few things that struck out to me about the loss that concern me.
- I thought ISU's sense of urgency was inconsistent. The Sycamores broke some big plays throughout the game, but to sustain drives, ISU seemed to be over-dependent on big plays over the nuts-and-bolts five-yard gains and quick-hitters that keep the chains moving. While ISU moved the ball fine on its final drive, there was a few times where players should have gotten out of bounds, etc., that ticked extra seconds off the clock.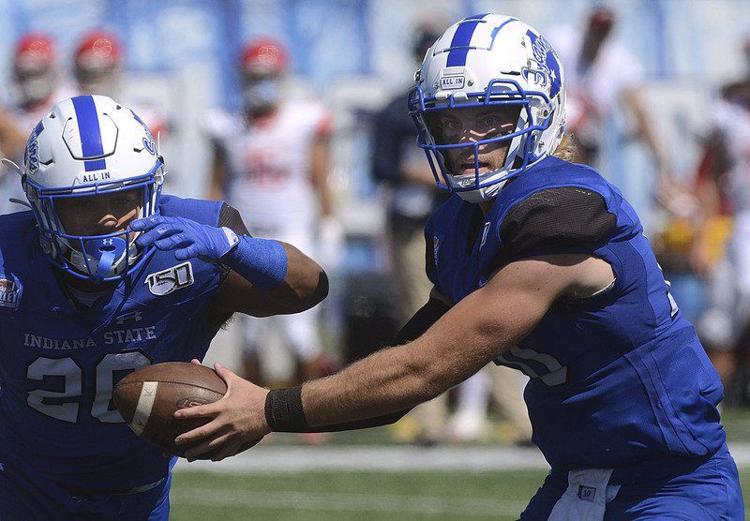 - Quarterback Ryan Boyle tried to force the issue too often. The pair of interceptions were both under-thrown balls on sideline routes, but there was a few times Boyle got away with trying to force the ball into double or triple-coverage.
- ISU made silly mistakes they typically haven't made under Mallory. The penalty tally was nine for 104 yards, the first time the Sycamores have gone over the century-mark in penalty yards in the Mallory era.
The penalties came in multiple forms - targeting, pass interference, holding (particularly on kick returns), even sideline interference. ISU put bullets in its feet far too often. This game had the look of the Mike Sanford era more so than the more disciplined play that has exemplified Mallory's tenure.
But it wasn't just penalties. There were dropped passes. There was an interception, a play that could have been a game-changer, but it was immediately fumbled back to Dayton for what amounted to a big Flyers gain.
- The area I'm most concerned with is the secondary. Dayton threw for 251 yards, and while many of the passes were short-to-medium variety to excellent tight end Adam Trautman, when the Flyers tested the corners and safeties, they made hay. Just like Kansas did a week earlier on its final scoring drive.
I'm concerned about the more downfield pass-happy teams ISU will see down the line. This secondary has a lot to prove that it hasn't proven yet.
These are just my concerns. I'm sure fans have others and I know the coaches will find more when they look at film.
The season is not over by any means, not even close, but players and coaches alike who are going through a trying time should know that - fair or unfair - they're also fighting long-established perceptions about football and ISU athletics in general. The negativity that pervades in certain pockets of ISU's fanbase are never far below the surface.
ISU fans have been haunted by multiple sports setting them up and letting them down, so the minute an ISU team falls short of expectation, it can get ugly.
Unfortunately, some ISU fans tend to express their dissatisfaction by not expressing anything at all. There will be a vocal few who will take shots - some fair, some cheap (I heard a few both ways after Saturday's loss) - but many will just quietly abandon ship. Sadly, the baseline attitude among  many ISU fans is that its programs will find a way to fall short. And while you'd like to take the fans to task for that, they have plenty of history to back their belief up.
Honeymoons never last forever and ISU football's is over after the loss to Dayton. It's not too late to get the ship righted, but the benefit of the doubt and the breezy, unquestioning optimist phase is done. No one wants these Sycamores to bear the same cross that past ISU teams with expectations have had to endure when they fell short. Victories over Eastern Kentucky and Eastern Illinois to finish nonconference play are imperative to restore the good feelings that Saturday's loss eroded. 
A look at the game
Passing game – This wasn't Boyle's finest hour. He has four interceptions this season, two on Saturday, but that wasn't the only issue. As mentioned above, there were some forced throws and there were a couple of times he bailed out of the pocket a tad too early. Boyle was 13 of 28 for 147 yards.
It wasn't just Boyle, though. None of ISU's receivers showed they could consistenly separate themselves from Dayton coverage. ISU is throwing to its running backs a good amount, but ISU only has one catch at the tight end spot all season ... and that was an improvised shovel pass by Boyle to Henry Woodcock against Kansas.
Also, consider that defense was not considered Dayton's strong point entering the game. Imagine when ISU starts to face MVFC-level defenses?
Boyle will be fine, but ISU's pass game needs to get better.
Running game – The running game was really good and often spectacular as the Sycamores averaged 8.3 yards per carry. Based on what he showed last year, I had no fear Peterson Kerlegrand would do fine in Titus McCoy's absence, and sure enough, he dropped a 194-yard, two-touchdown performance.
Boyle ran the ball a lot, perhaps a bit too much for those who worry about the wear-and-tear, but he gained 103 yards on 17 carries, the same amount of carries Kerlegrand had. Chris Childers averaged 8.7 yards per carry spelling Kerlegrand and had two touchdowns.
ISU fans got their first look at Toledo transfer Nick Sims and he showed some nice burst when he got in the clear.
Blocking – I thought the line did fine. The rushing numbers speak for themselves and Boyle was never sacked and hurried only once. Boyle sometimes escaped the pocket on his own, but it had less to do with protection than a sense he had to make a play with his feet.
Pass rush – One week after ISU had 11 tackles for loss, it was quieter day in the trenches. ISU had one sack, by linebacker Jonas Griffith, and had two quarterback hurries. Dayton quarterback Jack Cook was hard to account for given his mobility and desire to throw out of the pocket. That's a credit to Cook, but also a demerit for ISU in not making him feel uncomfortable.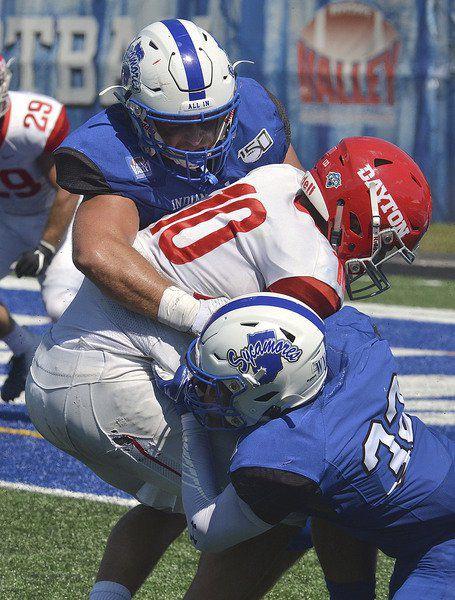 Run defense – My impression was that it got better as the game went along - Dayton's compact backs Sean Prophit and Jake Chisholm were tough and elusive - but then I look at the final series and see that the Flyers rushed for gains of 14 and 13 yards and had 37 yards on the ground on a key drive.
Overall, Dayton rushed for 176 yards and averaged 4.6 yards per carry. Not good enough.
Pass coverage – As I mentioned above, I have concerns about the secondary. They need to prove they can provide stopping power when ISU needs it on a key drive. We'll see if it can happen in the coming games.
Special teams – Dakota Caton was his usual impactful self with a 35-yard punt return and a 26-yard kick return. Michael Haupert made his debut on the kick team.
Past that? ISU's special teams were non-descript. As mentioned above, there were too many penalties by the blockers on returns. Punter Travis Reiner was so-so with a 38-yard average. Kicker Jerry Nunez never had to attempt a field goal.
Observations
— Clayton Glasco is quickly developing into that second linebacker ISU needs to allow Jonas Griffith to play freer. Glasco had 13 tackles, leading the Sycamores in the category. Glasco is fast and fills his gaps well. He's been a bright spot so far.
— I have some sympathy for safety Michael Thomas, who was ejected in the first half for a targeting penalty. It was the right call, but it was close, and since Thomas is still learning how to play defense, I chalk that penalty up to inexperience. Thomas is a pretty even-keeled guy, so I doubt there was any malicious intent.
— Attendance was 4,950. Not bad, not great. ISU blocked off the far east and west sections of the stadium with banners of ISU players. That had the effect of bring the crowd closer together and there were a few times when it got loud. I even heard a "De-fense" chant at one point. Understand, though, that there was a decent amount of Dayton fans too.
— I believe Dayton was the only team that did it, but I will never understand why any team takes the kickoff out of the end zone. With the ball spotted at the 25 on a touchback, it just so unlikely you're going to get more than 25 coming out of the end zone. If memory serves, Dayton did get to the 26 when it came out, but too often you see returners get nailed around the 15 or so. It's like taking a free 10-yard loss.
— I'll be following Dayton's progress the rest of the way because I'd like to see whether they're a baseline for a non-scholarship school or a Pioneer League title contender. I thought quarterback Cook and tight end Trautman were both fantastic, worthy of playing in the MVFC. A pro scout was there, I believe, to see Cook. Dayton's offensive line was also very good, and like ISU, very old.
Cook kind of out-Ryan Boyle'd Ryan Boyle. His read-option runs were brilliantly executed. He had ISU flummoxed.
If Dayton wins the Pioneer League title? We'll know that ISU faced a difficult foe regardless of scholarships offered. If Dayton finishes middle of the Pioneer pack? We'll know that maybe non-scholarship football has come a long ways and perhaps they're closing the gap.
— I was told ISU paid Dayton $80,000 to come to Terre Haute. That will buy a lot of Skyline Chili and UDF ice cream. I'll have to ask ISU men's basketball coach Greg Lansing what their guarantee from Dayton is for opening the season there in November. Perhaps hoops will get some revenge for football?
— Patty Viverito is commissioner of the Pioneer League as well as the MVFC. Are MVFC-vs.-Pioneer days awkward for her? A wash? It's potentially a huge win for Dayton, and if ISU rights the ship, would be a quality win for the FCS playoff committee. On the other hand, it could be a loss that is very damaging for ISU down the line. 
— Elsewhere in the MVFC, the big result was Southern Illinois' 45-20 win at FBS UMass. First, give the Salukis credit because they have been struggling for a few years now. Any win for SIU is a big one. However, it would also be dishonest to fail to point out that the Minutemen aren't exactly FBS royalty. But let's keep this positive. The Salukis have something to build on.
Illinois State took care of its Pioneer League competition with a 42-14 victory over Morehead State. Youngstown State struggled for a while against Howard, but pulled away for a 45-20 triumph.
Shocker of shockers ... North Dakota State won easily. The Bison beat future MVFC member North Dakota 38-7 in Fargo, N.D. New NDSU QB Trey Lance completed 11 of 15 for 162 yards and two touchdowns. South Dakota State routed FCS newbies Long Island 38-3 in Brookings, S.D. Northern Iowa bounced back after a tough overtime loss at Iowa State with a 34-14 win over Southern Utah.
The MVFC's other two losses besides ISU on Saturday were to FBS teams. No. 4 Oklahoma clocked South Dakota 70-14 in Norman, Okla. Western Illinois was dropped 38-13 by Colorado State in Fort Collins, Colo.