Sister Barbara Battista knew she risked arrest by participating in an act of civil disobedience at the Russell Senate Office Building in the nation's capitol Thursday.
Battista, a Sister of Providence at Saint Mary-of-the-Woods and the congregation's "justice promoter," believed it was something she had to do to bring attention to inhumane conditions, especially for children, in migrant detention centers, she said in an interview.
The Catholic Day of Action for Immigrant Children brought together more than 200 Catholic sisters, priests, brothers and advocates representing several national organizations who sang, prayed, and chanted "as they demanded an end to the immoral and inhumane practice of detaining immigrant children," according to a news release from the Franciscan Action Network.
Battista was one of five demonstrators who laid on the floor of the Russell building rotunda to make the shape of the cross. About 70 who had gathered in the rotunda were arrested by Capitol Police for alleged "crowding, obstructing or incommoding," according to the Washington Post.
The protesters, who first gathered in prayer on the U.S. Capitol lawn before entering the Russell Building, carried photographs of migrant children who have died in federal custody. As Battista and other demonstrators lay on the floor of the Russell building, the group recited the children's names:
"Darlyn," the group chanted in unison. "Jakelin. Felipe. Juan. Wilmer. Carlos."
The 70 who participated in the act of civil disobedience knew they risked arrest, she said. "We had a plan. It was well thought out. It was not something I decided spur of the moment," Battista said.
The current government policies toward those seeking refuge here must change, she said.
"Our nation seems to have lost its moral compass and we seem to not recognize these persons fleeing persecution, violence, hunger and all kinds of terrible situations," she said. "These are human beings. They are part of our family and we, for some reason, think we can treat them poorly. We treat them worse than we treat our pets in our own homes."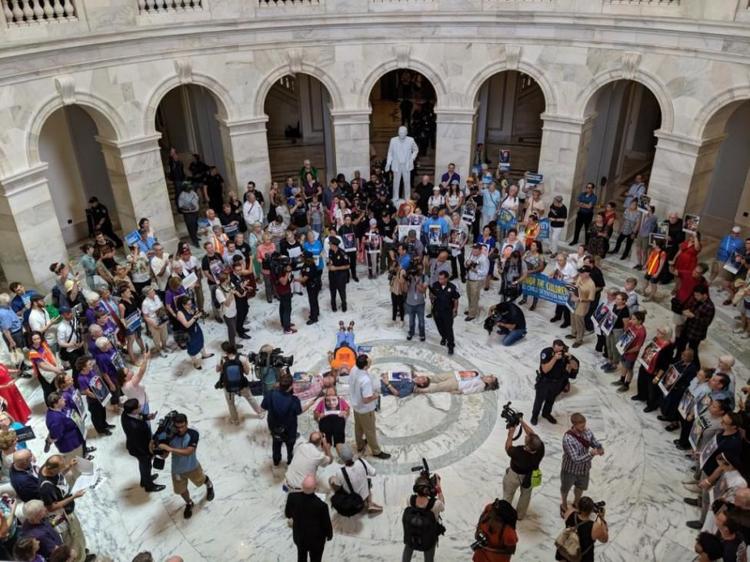 The protest in the Russell building was peaceful and "we didn't resist" when arrested, she said. While other Sisters or Providence and associates participated in the Catholic Day of Action, she was the only one who took part in the civil disobedience.
It is illegal to protest inside the Russell Senate Office building, she said. Police gave three warnings for them to vacate the area, but they remained.
She had others were handcuffed and transported to a holding area, where she remained for several hours. "They treated us kindly," she said. Battista and others paid a fine, while others chose to go in front of a judge and plead their case, she said.
Battista said she feels "privileged to be one of many who stood up to say we have to find another way ... We are all family and we need to speak up for each other."
In conjunction with the protest in Washington, the Sisters of Providence had their own prayer service here at Saint Mary-of-the-Woods.
The Sisters of Providence, on their Facebook page, posted earlier Thursday:
"The plight of children and families forced from their homelands, risking death in the desert and imprisonment in horrific conditions upon entry to the United States seeking refuge, demands action."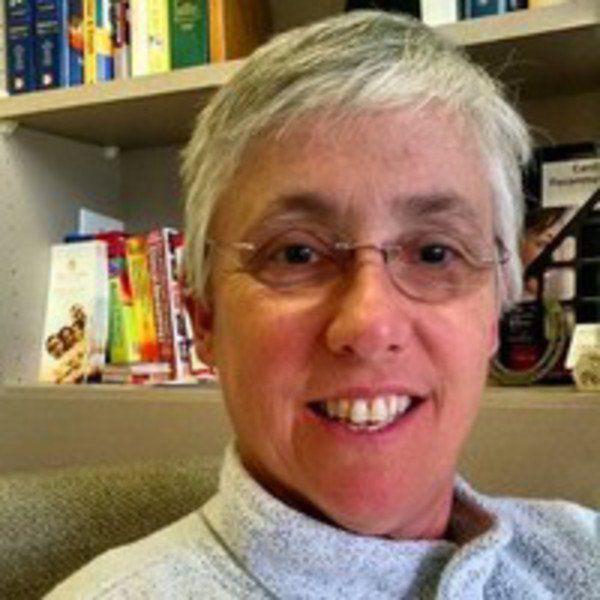 Battista is quoted on the Facebook page saying, "I can't just sit by and watch such cruel and inhumane treatment of children at our border. They cry out for justice, and here's my part to try to make a difference."
The Sisters of Providence Facebook statement also says, "In her ministry as justice promoter, Sister Barbara is supported by the other members of the congregation, who are with her in DC as part of her support team, working on the border with people caught in the migration system, and hosting prayer vigils at St. Mary-of-the-Woods and in other local communities. "
Sue Loughlin can be reached at 812-231-4235 or at sue.loughlin@tribstar.com Follow Sue on Twitter @TribStarSue.