Five people have been arrested on misdemeanor drug charges in connection with the fatal shooting of an Indiana State University student early Friday in the 300 block of South Sixth Street.
Terre Haute Police announced the five arrests Friday afternoon, even as they continued to investigate the gunfire that killed 18-year-old Valentina Delva of Indianapolis as she rode in the front passenger seat of a car leaving the party.
Indiana State University freshman Valentina Delva, 18, of Indianapolis, died of a gunshot wound after attending a large house party off campus. Police hope those attending party will cooperate with investigation.

— TribStarLisa (@TribStarLisa) September 18, 2020
THPD Chief Shawn Keen said Friday afternoon police continue to interview people who were at the party at 321 S. Sixth St. when gunfire erupted around 1:55 a.m. Two other people also sustained non-life-threatening gunshot wounds.
Police who responded to a 911 call from the corner of Sixth and Ohio streets found Delva in a Kia passenger car with friends.
Keen said police soon learned one of the male shooting victims had walked into the Union Hospital emergency room with a non-life-threatening injury.
Witnesses told police as many as 100 people were at the party at an apartment house when the gunfire occurred. When police arrived, however, only about 20 people remained at the scene. Among those 20 people, police found the other male with a gunshot wound.
Keen said it is important for people who were at the party to contact police to give statements about the shooting.
"It's tragic. She is a young person who lost her life. We are hoping for help from the people. More importantly, we are hoping for help from people who were there," Keen said. "Unfortunately, we have not had a lot of cooperation from a lot of the witnesses who were there. We would appeal to those people that this is a tragedy and we believe she deserves justice in this case, and we would ask people to think about that and hope they would come forward."
Working a shooting that occurred between 130-2:00 this morning. It appears to have stemmed from a college house party. Unfortunately 1 victim is deceased and 2 others are being treated at a local hospital for non-life threatening injuries. Anyone with info...please call pd

— Sgt. Ryan Adamson (@THPDPIO) September 18, 2020
Keen said little information about the shooting will be made public due to the number of people who remain to be interviewed.
"All she did was be a passenger in a car. That's all she did, and she lost her life. That's what I want people to think about," Keen said.
ISU President Deborah Curtis said she reached out to Delva's mother to express condolences and offer the support of the university.
"Tina was a freshman at ISU with college and her entire life ahead of her," Curtis said. "This is a very tragic situation that every university president prays never happens. Our entire community must come together to care for one another as we remember her life. Please join me in sharing your thoughts and prayers for Tina's family and friends as we grieve and honor her life."
Police continued to collect evidence at the site most of the day Friday.
More than 50 evidence markers could be seen on the ground in front of the house and in an adjacent parking lot. At least one car in the parking lot had a bullet hole visible.
Keen declined to comment on the amount of gunfire or the possible number of shooters, citing confidentiality of the investigation. The location of the house party was about six blocks south of the ISU campus.
Police were frustrated by the lack of cooperation from people who had attended the party, he said.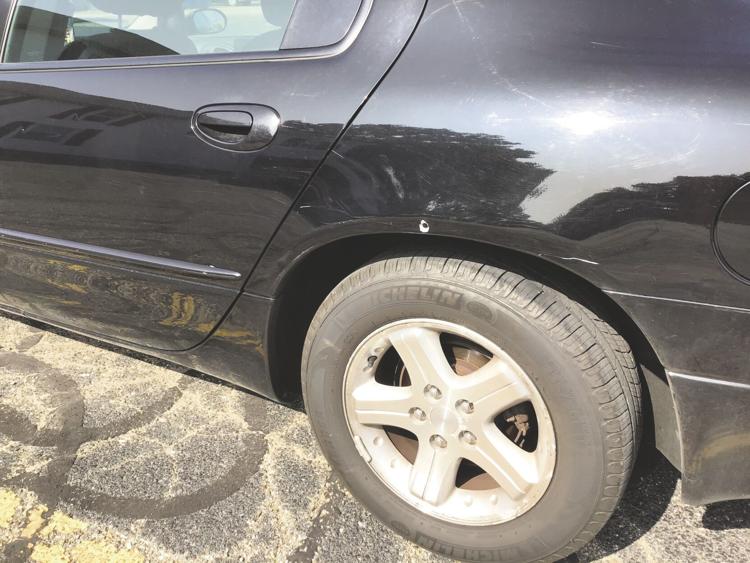 "When you know you have people who will flat out tell you they know who was there, but they refuse to tell you, that is pretty upsetting," he said.
Meanwhile, the investigation branched into other items found at the party. Those items led to the five arrests late Friday afternoon.
Arrested on charges of possession of marijuana and maintaining a common nuisance are Duane Cobb, 21; Monquel Bates, 20; Markia McCutchen, 19; Eudrice Leflore, and Carlton Gray, all of Indianapolis.
Cobb, Leflore and Gray each also face a charge of dealing marijuana.
Anyone with information about the shooting is asked to call police at 812-244-2634.
Lisa Trigg can be reached at 812-231-4254 or at lisa.trigg@tribstar.com. Follow her on Twitter at TribStarLisa.