Interstate 70 between Brazil and Terre Haute was near impassible for much of Saturday as a pair of fatal accidents closed the Valley's main thoroughfare for nearly 12 hours, reopening just after 9 p.m.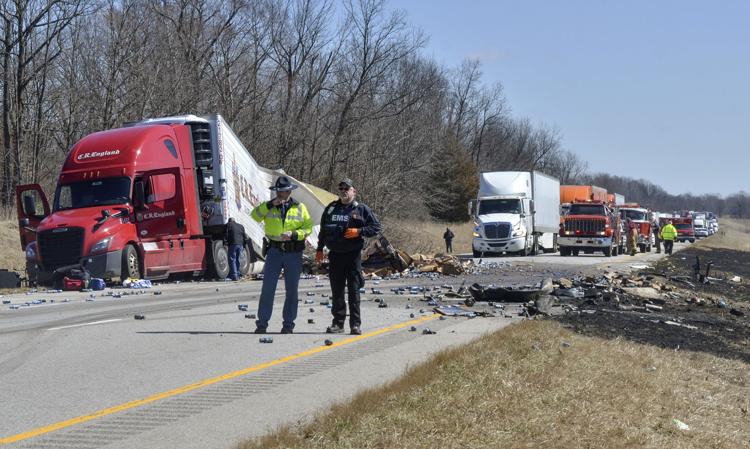 Indiana State Police Sgt. Matt Ames has released the name of one of the individuals killed in Saturday's crashes.
April L. Robinson, 45, of Indianapolis, was killed in the second of two accidents on I-70 after the semi she was passenger in struck the rear of another tractor trailer and caught fire.
In that same wreck, Charles T. Tolbert, 52 of Yuma, Arizona, received severe neck and back injuries and was flown to a hospital in Indianapolis. His injuries were non-life threatening, police said.
Ames said traffic was slowing or stopped when semi driver Joe L. Robinson Jr., 49, of Indianapolis, dropped his sandwich. Robinson bent to pick up the sandwich and failed to recognize the backup.
He tried to avoid a collision by swerving into the left lane. By that point it was too late, Ames said, and the semi struck the rear of another semitrailer driven by Michael A. Workman, 30, of Glendale, Arizona.
The fuel lines of Robinson's semi ruptured, causing the cab of that truck to become engulfed in flames. April Robinson, was in the sleeper berth of Robinson's tractor-trailer during the accident and was pronounced dead at the scene by the Clay County Coroner's Office.
Tolbert was located in the sleeper berth of Workman's tractor-trailer and received serious neck and back injuries from the impact of the accident.
The drivers of both semi tractor-trailers were not injured, as both were wearing a seatbelt at the time of the accident, Ames said. Police do not believe drugs or alcohol to be a contributing factor of the accident.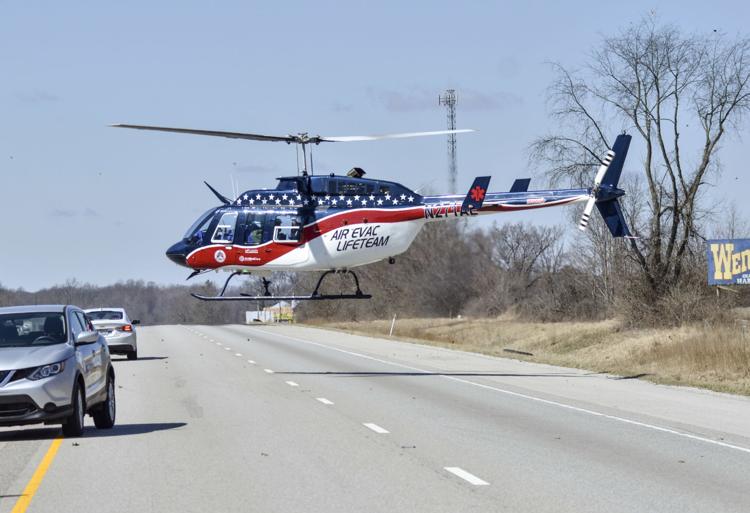 The wreck at mile-marker 17 was the result of an earlier crash at the 10-mile marker, Ames said.
Just after 9 a.m. a tractor-trailer was driving in the left lane of westbound I-70 near mile-marker 10 when a drive tire blew on his rig. The truck veered into the median, becoming tangled in guide wire.
Indiana State Police and an area wrecker service was working to pull the semi from the median when another tractor-trailer failed to recognize the slowed/stopped traffic and barreled into the rear of an RV.
Lifeline has left the 17 mm wreck with one person.
still working on another semi.
Road will be completely closed for at least another hour or more. I-70 EB is down to one lane due to one semi in the median

— Austen Leake (@TribStarAusten) March 16, 2019
That semi then continued past the RV and struck another passenger vehicle and another tractor-trailer.
In all, two semis and five passenger vehicles were involved in the accident.
Ames said two people were taken to area hospitals and one person died.
Pending notification of family, the name of the deceased from that accident has not yet been released.
Ames said both crashes Saturday were the result of distracted driving and that too many people lose their lives in avoidable crashes.
"All we ask people to do is put down your sandwiches, like we saw here today, and put down your phones and be looking through your windshield while you're driving," Ames said.
"And be sure to Check your side and rear-view mirrors to know what's happening all around you."
Assisting Indiana Sate Police were Posey Township Fire Department, Indiana Department of Transportation, Clay County Coroner's Office and Eddington's Wrecker Service.
Reporter Alex Modesitt can be reached at 812-231-4232 or at alex.modesitt@tribstar.com. Follow him on Twitter @TribStarAlex.