Veteran Health Indiana on Thursday announced a new $40 million, 46,000-square-foot veterans health care center will be built off U.S. 40/Indiana 46 on Terre Haute's east side.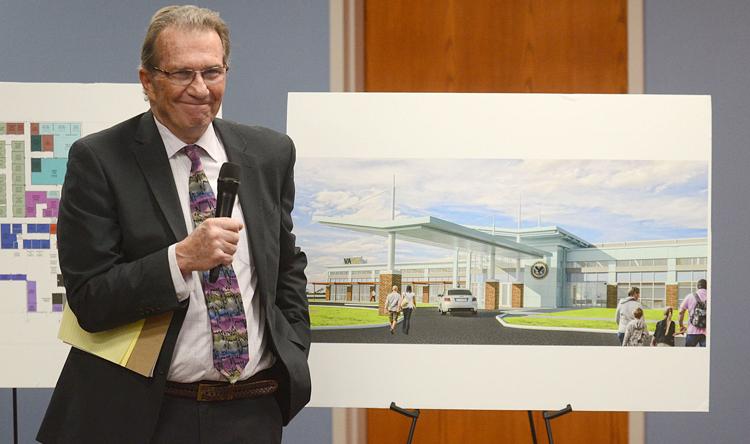 The facility will be on 12.8 acres behind Walmart, have 250 parking spaces and be equipped to serve 10,000 veterans.
The new Terre Haute VA Clinic will combine the currently separate primary care and mental health offerings in Terre Haute.
Groundbreaking for the project is expected in May or June of 2020, said Boyd Zoccola, executive vice president of Hokanson Companies Inc of Indianapolis, lead developer on the project.
He said the clinic is projected to open summer 2021.
The facility marks one of the largest projects and expansions of service Veteran Health Indiana has undertaken.
"Today is significant for both Terre Haute and Veteran Health Indiana," said Richard Griffith, chief strategy officer of Veteran Health Indiana. "This $40 million project marks a significant investment in the Terre Haute community and is the largest construction project for us here at Veteran Health Indiana at such a distance from [Roudebush VA] Medical Center.
"This clinic marks another step in our organizational effort to meet the needs of the communities we serve and provide significant evidence of our commitment to provide care where veterans live and when veterans chose to receive that care."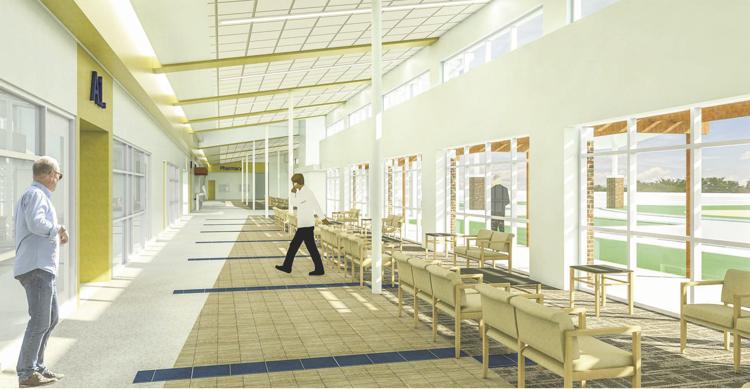 The new center will include space for physical therapy, optometry, audiology, cardiology, substance abuse services and others planned for the future, said Laura Ruzick, acting director Roudebush VA Medical Center.
"This clinic expands our space and functionality far beyond what was imagined a few years ago," Ruzick said. "It will allow us to combine what is now two separate clinics, our primary care space and mental health space, into one, making life simpler for our veterans."
The project has been years in the making, kicking off in earnest in early 2017. Congress approved funding for the Terre Haute facility, along with a host of others, later that year.
It was then a process of soliciting bids and getting approval from the various government entities involved in a project of this scale.
Hokanson Companies Inc., an investment and corporate real estate developer, was chosen Dec. 7 to lead the project.
Zoccola said he's excited to bring the facility to Terre Haute and be a part of the continued buildup of the city's east side.
"I've watched the east side continue to grow, as my wife's family is from Terre Haute, and watched it take off in the last five to seven years," Zoccola said. "So when we started looking at Terre Haute for this, Terre Haute's east side is where all the growth is happening and there was available ground.
"It ticked all the things we were looking for: bus service to the area; it has amenities for the staff and visitors; utilities [and] ingress/ egress. It was an easy choice for us and one that made the most sense."
The land being developed was owned by Terre Haute businessman Greg Gibson.
Overall, Griffin said serving the veterans of Terre Haute and the Wabash Valley is in keeping with the Veteran Affairs mission.
"For us to fully meet the needs of this veteran community, whose roots of military service predate the founding of our nation, we must be committed to looking hopefully and firmly as an organization into this new future.
"For at the end of the day, it is not truly about us as individuals or about us as professionals, it is about the care we deliver in the communities where our veterans live — in a way that honors the taxpayers investment and an approach that values the health and well being of our patients."
Reporter Alex Modesitt can be reached at 812-231-4232 or at Alex.modesitt@tribstar.com. Follow him on Twitter @TribStarAlex.
The facility will be 46,000 square feet with 250 surface parking spaces. The new clinic will combine the bifurcated medical and mental health clinics in Terre Haute. pic.twitter.com/gBGXg5zfxw

— Alex Modesitt (@TribstarAlex) December 11, 2019