Honey Creek Mall has a new name — it's now Haute City Center.
Mall owner Out of the Box Ventures on Monday announced the new name and a new logo, which came from a naming contest that more than 1,000 entries.
The new name will be phased into signage, internet sites and publications over a six month period, starting in January.
"Having the opportunity to work alongside members of this community, allowed us to create a brand around what the community values. The sheer number of submissions indicates that citizens are bought in to the Wabash Valley and the future of this facility," said Trevor Barran, chief operating officer for Out of the Box Venures and Lionheart Captial, owner of the mall.
Barran described the Haute City Center as a regionally dominate enclosed mall "really is a privatized community center," saying the southside mall's success goes hand in hand with the community.
While the Honey Creek Mall lost big box stores, Barran said the plan is remake the Haute City Center mall with various new businesses, ranging from entertainment to medical uses.
"We are looking to bring a combination of local businesses and national businesses, but I think what people have thought of as flagship stores is changing," Barran said.
"We expect across the country more big box closures as these larger department store retailers adjust and find out what their new business model is going to be," Barran said. "However, here in particular, we are looking at both local and national tenant types, but more in the entertainment, food and beverage types of sectors, as opposed to department stores and apparel."
"Some of the things we see doing very well over the next decade or hopefully a couple of decades in retail is health care and medical. We have a center where there is a full on hospital with 200 overnight hospital beds and helipads on the roof," Barran said. "That has become a regionally dominate hospital that brings a whole bunch of energy and almost built in traffic for stores within that mall."
Rachel Scott of Quincy, Indiana, was the renaming winner. Sherrie Hall of Terre Haute was the logo winner.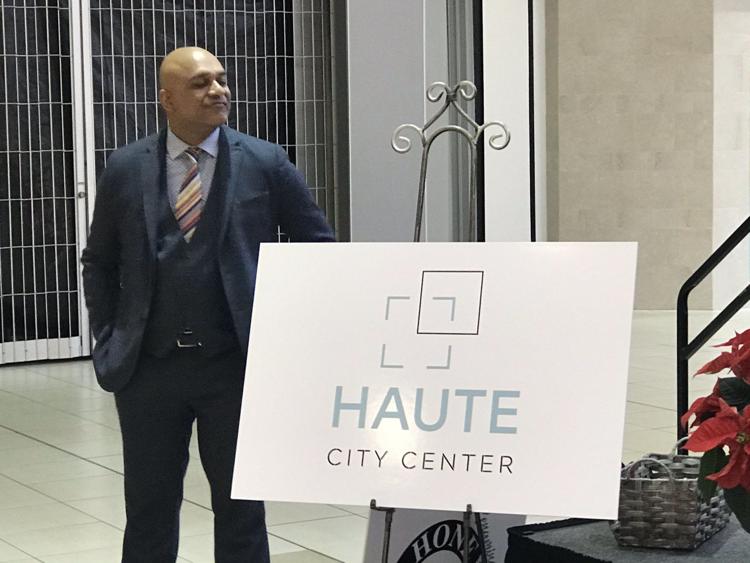 Scott said she got the inspiration for the new mall name from a childhood name for Terre Haute, when she was 8 or 9.
"We used to call it Haute City and anytime we wanted to go the mall, we would say, 'Well do we want to go to Indy or rather go to Haute City.' It was always fun to come here because there was less traffic and hustle and bustle," Scott said.
"One of favorite memories is my aunt used to bring me here for my birthday every year, which started probably when I was 8 or 9, but I know I came here many times before that," Scott said of the mall. "Helping to rebuild and revamp this mall is an amazing opportunity."
Scott said she learned of the mall's renaming contest while traveling "to a wedding and saw [the mall naming contest] on Facebook and thought, why not? It would be cool to be a part of growing Terre Haute back up," she said.
Due to her "exceptional submissions," Hall was chosen to work on a logo design team to craft a logo that catered to the chosen name. The final logo was chosen for its "modern and progressive representation of the growth and momentum of Terre Haute and the Wabash Valley. The result is a sleek design with fresh, lively and vibrant colors," a news release said.
U.S. Rep. Larry Bucshon, R-Terre Haute, was at the naming event.
"Places like the Honey Creek Mall, now the Haute City Center, are community gathering places. It is not only about shopping, but interacting and how people come together and interact with each other in the community. It is not only the retail places, but other things like medical facilities, to rejuvenate the traditional mall space, so I think this is a big deal for Terre Haute," Bucshon said.
The mall has 677,322 square feet of gross leasing area. The mall has been owned by Out of the Box Ventures, a subsidiary of Lionheart Capital, since May of this year. The mall opened in 1968 as Honey Creek Square. The mall is located on about 55 acres.
Honey Creek Mall offers 81 specialty stores including JC Penney, Vendors Village, American Eagle Outfitters, Auntie Anne's, Bath & Body Works, Christopher & Banks, Hollister Co., Finish Line, Justice, Maurices, ULTA Beauty, and Victoria's Secret.
In May, CBL Properties reported the sale of the Honey Creek Mall in its first quarter report for 2019, which was released April 30. It said Honey Creek Mall sold at $14.6 million to Out of the Box Ventures, a subsidiary of Miami-based Lionheart Capital.
CBL continues to provide third party leasing and management services for Honey Creek Mall.
The mall is located at the crossroads of Interstate 70 and U.S. 41. on Terre Haute's south side.
Reporter Howard Greninger can be reached 812-231-4204 or howard.greninger@tribstar.com. Follow on Twitter@TribStarHoward.