Frank Hamblen, 1965 Garfield High School graduate and former National Basketball Association head coach and assistant coach, died of a heart attack Saturday morning in the Del Mar, California, community near San Diego, family members have reported to the Tribune-Star. He was 70.
A sophomore reserve guard on Garfield's last IHSAA State Tournament Final Four basketball team in 1963, Hamblen went on to play two more seasons with the Purple Eagles and was the school's third all-time leading scorer behind future NBA players Terry Dischinger and Clyde Lovellette and is a member of the Indiana Basketball Hall of Fame.
NBA Coach Frank Hamblen slideshow
He than played at Syracuse University, where was later named a Letterwinner of Distinction.
Ray Goddard was Hamblen's coach in Babe Ruth League baseball in Terre Haute nearly 60 years ago, and said Saturday he and co-coach Charlie Hall had spotted the flaw that may have kept Hamblen from playing in the NBA.
"[Hall and I] were 19; he was 13," Goddard said. "We told him he ran like a dry creek, and that followed him all the way to the NBA."
Even at 13, Hamblen was exhibiting some of the traits that eventually made him a successful coach, Goddard continued.
"He was a very astute guy," Goddard said. "He picked up everything.
"Great guy. Great player — a real good shooter — and a great teammate ... and a hell of a coach," Goddard concluded.
Although he had brief stints as head coach with the Milwaukee Bucks and Los Angeles Lakers, Hamblen was probably best known for his work as Phil Jackson's top assistant with the Lakers. He was also an assistant with the Bucks, the Chicago Bulls (during Michael Jordan's second string of championships in 1997 and 1998) and the Sacramento Kings. In all he helped coach teams to 7 NBA championships.
"Frank Hamblen was a great coach and a good friend," Lakers coach Luke Walton, who was a rookie player in the organization when Hamblen coached, said in a statement by the Lakers. "He was not only beloved by everyone in the Lakers organization but by those in the NBA community as well."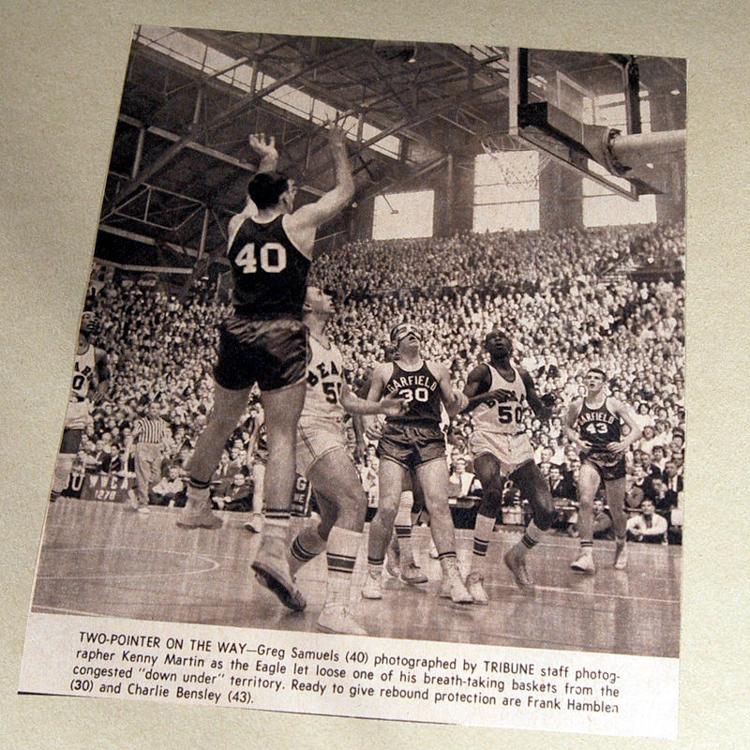 "He was my assistant coach in Chicago, a good friend and great coach. He will be missed," Warriors coach Steve Kerr said before Golden State's first preseason game in Oakland. "He was just a good coach, good guy. I would see him in San Diego summertime. ... He was funny, he was a great basketball mind. I still remember when Frank came to the Bulls we had basically the whole team back and the first day of camp Michael Jordan said, 'Our motivation this year is to get a ring for Frank.' He was new that year. He said, 'Everybody else in this room has a ring but Frank doesn't have one so we're going to get you one this year' and we did — thanks to me and Michael."
In a 42-year coaching career in the NBA and ABA, Hamblen served as Milwaukee's top assistant from 1987-96 and worked as assistant coach for the Kansas City/Sacramento Kings (1977-87), Denver Rockets (1972-1977) and San Diego/Houston Rockets (1969-72).
As news spread of Hamblen's death, some of his former players reached out via Twitter, including a Hall of Famer and a future Hall of Famer.
"Just learned of Frank Hamblen's passing and it's tough to find the words. He was a great man, one of my favorites," Tweeted former Bull Scottie Pippen.
"Thank u Coach Frank for your deep understanding of the game, your patience and for challenging me to defend at the highest level. I will miss u," noted Kobe Bryant.
The Associated Press contributed to this report.