The Vigo County casino project is at least on hold after the Indiana Gaming Commission on Friday announced an investigation into Spectacle Entertainment — which is the lone license applicant — or into individuals within Spectacle.
The state agency posted an item on its website announcing its Feb. 7 commission meeting in Terre Haute would not take place as it begins its review.
The information that gave rise to the Gaming Commission's probe became public Thursday in federal court in the Eastern District of Virginia.
There, Charles O'Neill of Strategic Campaign Group Inc. pleaded guilty to conspiring in a 2015 scheme to illegally funnel more than $15,000 from an Indianapolis-based gaming company to a campaign for a candidate for the U.S. House from Indiana's Ninth Congressional District.
Involved in the scheme, the government says, were "Person A ... the vice president and general counsel of Company A, a gaming corporation formed in Delaware and based in Indianapolis, IN."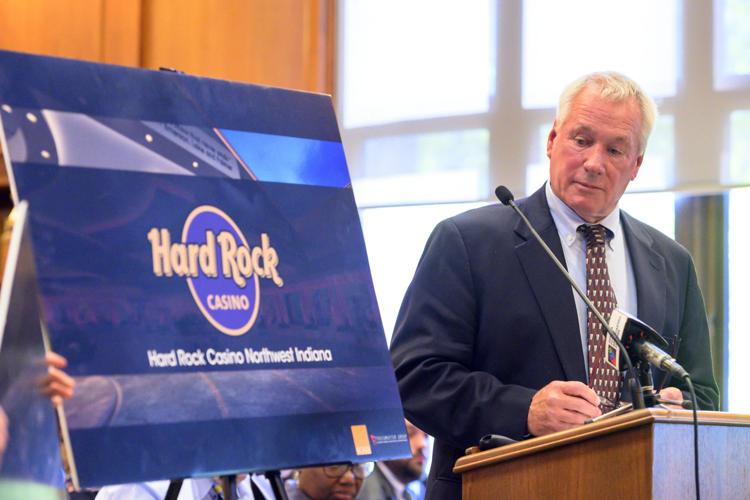 The company and individual were not named in court documents, but the Indiana Gaming Commission on Friday said it understood the company in question to be "Centaur Gaming. Certain key people in that company now own and operate Spectacle Gaming, the holder of the Majestic Star Casino license in Gary. Spectacle is also currently undertaking a land-based casino project in Gary and pursuing the new casino license in Vigo County," the commission said.
The commission's statement called the information "concerning" and said it "has begun a review pursuant to its statutory responsibilities into this matter."
Spectacle on Friday pledged full cooperation with the Gaming Commission.
Neither the congressional candidate nor his campaign was accused of wrongdoing, with U.S. prosecutors noting inaccurate campaign finance reports appeared to have been filed "unwittingly."
The candidate was not named in court documents, but media outlets including the Indiana Business Journal and the Indianapolis Star matched campaign contributions with the numbers in the federal documents and identified the candidate as Brent Waltz.
Waltz is a former Republican state senator who was among several candidates to take a run at the seat in the U.S. House being vacated by Republican U.S. Rep. Todd Young as Young ran for the U.S. Senate. (Republican Trey Hollingsworth eventually won the Ninth District seat in Congress, and Young went on to take the U.S. Senate seat.)
There are four conspirators mentioned to date in the U.S. District Court case in Virginia: O'Neill, two other political operatives and the unnamed gaming executive.
Back in Indiana
The developments appear to place the status of a Vigo County casino in limbo.
Spectacle Jack, an offshoot of Spectacle Entertainment LLC, is the lone applicant for a Vigo County casino license. Spectacle was founded by Rod Radcliff, the former chairman and CEO of Centaur gaming, and Terre Haute businessman Greg Gibson.
Spectacle's vice president and general counsel is John Keeler, who held the same positions with Centaur gaming. He's been out front for Spectacle in presentations to local and state officials and in taking questions from the media.
The Tribune-Star sought comment from Spectacle, through Keeler, and from Greg Gibson. On Friday afternoon, Spectacle issued the following statement through the Asher Agency, a marketing, advertising and public relations firm:
"Spectacle Entertainment has been made aware that a paid consulting firm, who once contracted with Centaur Gaming, has been implicated in charges related to campaign finance violations in Virginia. Spectacle pledges to fully cooperate with the Indiana Gaming Commission as it investigates this matter. We take such matters very seriously and we will share more information should additional details become available."
Spectacle also owns two Gary casinos along Lake Michigan. With state legislative approval gained last year, it will close those in favor of building a new $400 million casino along Interstate 80/94 in Gary. Ground for the new casino has been broken, and the Majestic Star operations will continue as the new site is being readied.
"We are working to ascertain the immediate impacts of this information upon the new casino construction project in Gary," the gaming commission said in its Friday statement. "Majestic Star Casino will continue normal operations at this time."
In Vigo County, Spectacle plans a 100,000-square-foot, $125 million enterprise to be operated under the Hard Rock International brand and called the Rocksino. It could potentially employ 600.
According to its license application, Spectacle's 1,200-game casino would include four restaurants, four bars, an enclosed, temperature-controlled walkway to the adjacent Home2Suites by Hilton hotel and a provision for a future on-site hotel.
The Rocksino would be built on more than 25 acres at the southwest side of the intersection of Bill Farr Drive and Joe Fox Street, immediately south of the Walmart super center along U.S. 40/Indiana 46 on the east side of Terre Haute.
A construction timeline had not been announced, although a possible spring start had been mentioned by both Spectacle and government officials.
After years of efforts, Terre Haute got its crack at a casino license in 2019.
The same law that allowed Spectacle to move its Gary operations from Lake Michigan closer to the interstate also opened a path for a casino license in Vigo County, to which county residents gave approval in the November 2019 general election.
The state deadline for applications for a license Vigo County closed in December, with Spectacle Jack the lone applicant filing.
With very few exceptions, local government officials and the Terre Haute Chamber of Commerce have heartily supported a casino for Vigo County.
Mark Fitton can be reached at 812-231-4333 or at mark.fitton@tribstar.com