Four Indiana Department of Transportation workers were injured Tuesday afternoon on Interstate 70 when their work truck was hit by a pickup truck.
All four workers were taken to a hospital with non-life threatening injuries — three to Regional Hospital in Terre Haute and one to IU Health Methodist Hospital in Indianapolis, said Debbie Calder, INDOT spokeswoman.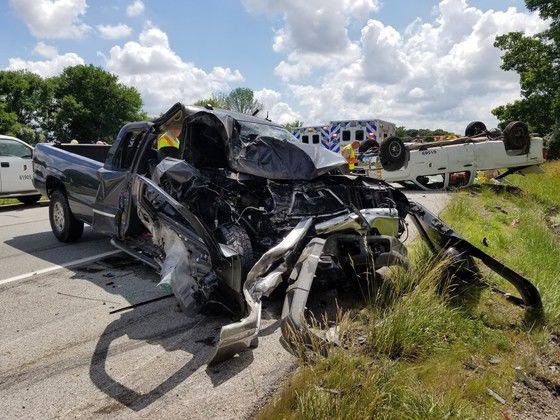 Both occupants of the truck were flown via helicopter to Methodist Hospital.
Calder said the crew was working near mile-marker 48 on westbound I-70 in Putnam County to clear large pieces of debris from the side of the road just east of the U.S. 231 exit.
The driver of the INDOT truck, John Sadler, 39, of Reelsville, told police he saw a pickup truck leave the driving lane and onto the shoulder.
Police said they don't yet know why, Aaron L. Cass, 40, of Bowling Green, drove onto the shoulder. Police said Cass was driving fast enough that the collision between his truck and INDOT's was hard enough to flip the work truck onto its top.
Cass was cited for unsafe lane movement.
Calder said INDOT's safety team will review Indiana State Police's crash reports. But, she said, it's imperative for passenger vehicles to always exercise caution when law enforcement or highway crews are working roadside.
"If you see any vehicle on the side of the road with emergency lights on, it's the law to move over and slow down," Calder said.
Indiana State Police Sgt. Matt Ames echoed Calder's sentiment, saying passenger vehicles are required to move to the furthest lane from roadside law enforcement, state highway workers and tow trucks. If the far lane isn't available, Ames said, drivers are to slow considerably and proceed through the area with caution.