If an answering machine message can sound urgent, I had one blinking red-alert when I got home last Saturday afternoon. Suzanne Rukes, a friend who belongs to a cadre of caring folks that is trying to keep our local township civic center afloat, needed someone to help judge their annual chili cook-off. She wanted to know if I'd be willing to lend a taste bud or two to the cause.
Joanie and I had already planned to go to the supper, so we'd have a nice Saturday night without dishes to wash or a kitchen table to clear off. Although I had planned to work outside until dark, I cooled my leaf blower an hour early and headed into town, hopeful that a strong west wind wouldn't blast away the work I already had waiting to tarp and haul to the hillside.
I can hardly be considered a man of refined culinary tastes, and despite knowing absolutely nothing about what makes quality chili, I simply planned to reward the entry that tasted the best to me, regardless of its looks or ingredients. I was hungry, and I figured that most of the chili would taste pretty much the same.
But, I soon discovered that judging and enjoying a meal are two very different things. First, I worked with another judge — one who will remain nameless here and who had previous experience — so we needed to come to a consensus.
For all I knew, he may have thought chili needed to come with its own fire extinguisher or had to hearken back to his peanut butter-and-jelly days in the school cafeteria; yet, I knew almost immediately that I was outclassed when he said he noted a "hint of cilantro" in one of the samples we first tried. I told him I agreed, although I could have had a bowl of cilantro in front of me and not been sure of what it was. Judges, I thought, must appear confident…
As it turned out, we also were given a list of judging criteria to use as we eyed, slurped, and sniffed our way through the entries. We were to determine a single winner from 12 samples based on characteristics such as aroma and aftertaste, consistency and appearance. That menu of items was helpful, but the most complicating factor to our task was that we liked all of the chili we were given. It took us about an hour to finally agree on one winner.
Had I known that I was going to get Suzanne's call that day, I might have done a little reading before I judged. I've eaten chili my whole life; my mom used to make it in a big cast iron pot, so my first remembrances of the stuff came from her kitchen and her recipe. She included beans in her soup, but she didn't include noodles, which for some reason seems to have become an international social media concern over the past few years. I don't think that any of the entries that night included pasta either, so to me, that question seems rather moot now.
My wife makes good chili too; she actually likes it a little less spicy than I do, so the extra chili powder and onions and fresh salsa are sides on our table; we both enjoy saltine crackers, a bit of sour cream, and a generous helping of grated cheese with our chili too. It somehow makes a cold night better to walk into the backdoor of the house and smell the scent of chili simmering on the stove.
I had no idea that chili actually has a rather complicated and controversial past until I read a wonderful online article at "What's Cooking America?" Through it, I learned that one misconception most chili eaters have is that it originated in Mexico, which it apparently didn't. Some believe a 17th century Southwestern American Indian legend that Sister Mary Agreda — "The Lady in Blue" — who never left Spain, first recorded a recipe for the dish that included venison or antelope, onions, tomatoes and chili peppers.
Others have come to support an early 18th century account that claims 16 families arrived in Bexar (San Antonio) from the Canary Islands in 1731 under the orders of King Philip V of Spain. It was said they enjoyed a "spicy Spanish stew," that today we call chili.
It is also said that by the 19th century, some priests were calling on their flocks to avoid chili, particularly since hotter peppers were being used as an ingredient. According to the legends described on the site, there were sermons describing chili as "The Soup of the Devil," and being as "…hot as hell's brimstone."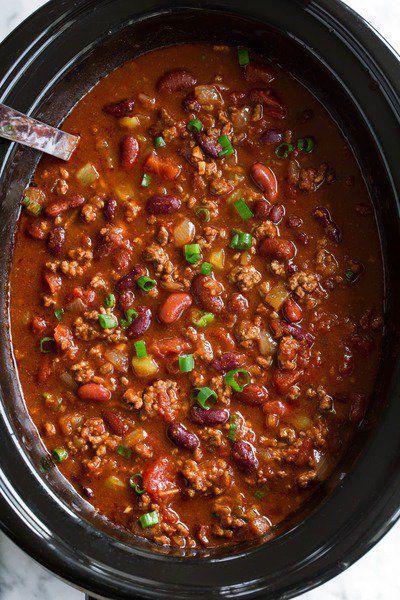 Although my palate was challenged last week by a wide array of chili samples, I have to believe that if I were to do it again, I might come up with a different winner, although the unusually sweet recipe our champion followed still beckons me for a second helping. I remember that I was particularly smitten with a blonde chicken chili that included corn it its recipe, and then there was also a vegan chili, a woodsman chili with venison, spicy chili, mild chili, and one I might refer to as nuclear chili, which led me to beg through blistered lips for an additional bottle of water.
A cold rain is falling as I write this; we are to get an inch or two of early snow tonight too, and temperatures are to dip into the teens and set new record lows. I don't like the weather trends I'm seeing at all.
So, when Joanie asked me what I'd like to have for supper, I told her that chili sounded good to me, and I would be happy to eat her homemade specialty even though I left my grading criteria on the cook-off table.
She told me there was canned chili in the cabinet and I could rate that. Boy, judges can let power go to their heads sometimes.
You can contact Mike Lunsford at hickory913@gmail.com; his website is at www.mikelunsford.com. He will be signing his books at the Vigo County Public Library on Saturday, Dec. 7 from 9 a.m. to 1 p.m.