As a frequent wanderer of cemeteries, I know that the ground I walk is undoubtedly dotted with unmarked graves. For instance, my great-grandfather and great-grandmother lie in a Parke County churchyard not far from my house, yet, because they have no gravestone, we have no idea exactly where they are.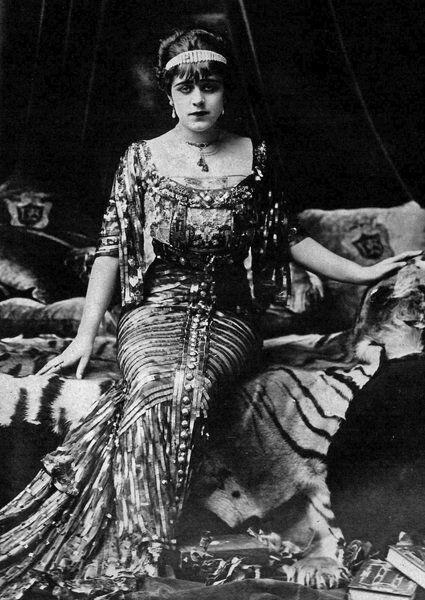 Determined that silent film and stage actress Valeska Suratt and blues guitarist and singer Johnny "Rolling Stone" Wright no longer suffer similar fates, two fundraisers are underway to place headstones on their grassy gravesites in Terre Haute's Highland Lawn Cemetery. Suratt died at 80 in 1962 in a Washington, D.C. nursing home and was interred in a family plot next to her mother, Anna; Wright, in and out of music and financially struggling, died at just 58 in 1988; he is buried on a hillside alongside his wife, Dorothy.
Born in 1882 in the Gibson County town of Owensville, Suratt moved to Terre Haute when she was just five. She eventually dropped out of school to work for a local photographer, moved on to Indianapolis in the employ of a hat maker.
She then began to climb the ladder of acting success, first in Chicago and other stops in the Midwest — including Terre Haute's Grand Opera House — then on the New York stage. Eventually appearing on Broadway five times and starring in 11 silent features, including one with Charlie Chaplin, Suratt returned to the vaudeville stage after her film career waned, fought a bitter plagiarism lawsuit with director Cecil B. DeMille that got her blacklisted in movies, then fell out of sight for most of the last 30 years of her life.
Local arts enthusiast, Dot Lewis, and her husband, Dennis W. Hamann, have helped organize an online fundraiser with Suratt superfan Bill Piper; they hope to raise at least $1,000 so the actress, once referred to as the "Empress of Fashions" for her lavish clothes, will have a headstone.
Lewis says, "We, as a community, should step up and pay tribute to those who came before us and honor their memory and legacy. Valeska's life needs to be celebrated and her grave recognized with a marker that future generations can visit and view."
Piper, who maintains a remarkable website about Suratt, says that studying the actress was like falling down a rabbit hole. "I am a silent film fan, and the personalities during that era greatly fascinate me, especially the big stars. I am a fan of Theda Bara's work, and while reading of her, I noticed how other actresses went after the 'vamp' persona during the time. Valeska stood out because she was from Indiana, so you have that local tie. ... When I found out none of her films survive, that led me to create the current website, on which I am attempting to re-create her films using whatever photos and information I can find."
Piper adds, "I know it'll be a battle getting money raised for such a project. As far as I know, we don't have a firm deadline, but we'd like to get something done this summer."
Dr. Allen Shotwell, a history instructor at Terre Haute's Ivy Tech campus  — he penned a wonderful piece for the Vigo County Historical Museum about Suratt in April of last year  — has researched Suratt's life and added, "I think the great thing about her is how she took the world by storm more than once. She was a 'Gibson Girl.' She was a 'Vamp.' She was a movie star. She took on Cecil B. DeMille. It's hard to imagine today just how famous she was."
Wright was born in Tennessee in 1930 and moved to Richmond, Indiana, at 20 after his father's death, but he didn't stay long. He journeyed to St. Louis to pursue music, filling Chuck Berry's spot at the Cosmopolitan nightclub in East St. Louis in 1955. He came to Terre Haute in 1960 to be near family, but soon left again for California where he found some success recording and performing, including with Ike Turner. By the late 60's, he was back in town, found a job in a foundry and recorded a few more songs before his death.
Along the way, Wright met two men who have been instrumental in getting him recognition and, hopefully now, a gravestone: Dave Kyle and Steve Rusin. Kyle, a retired guitarist and writer who lives in southern California, has organized the "GoFundMe" page for the monument, and first met Wright when Rusin asked him to play the guitar on a few tracks he was recording with the singer.
"I think it's interesting that Johnny was found by Ike Turner, whose record, "Rocket 88" is often cited as one of the first rock-and-roll records," Kyle says.
"Thanks to Steve, I learned that Johnny had a really promising career. After he passed, Steve and I went to his visitation, but I never realized he had been buried without a marker. I felt he had made a mark, breaking into the record business back then, so when Steve brought up the prospect of getting a stone for 'Rolling Stone,' I said, I'm in! What can I do?" They are hoping to raise $3,000 for the black marble monument.
Rusin, a highly successful blues harmonica player who continues to perform, first met Wright in the mid-1970s after a friend, Frank Hensley, who also worked at the foundry, told him Wright claimed he had recorded with Turner. Not long after, Rusin recorded Wright singing "I Was in St. Louis," struck up a friendship, and eventually backed Wright in their "Highway Blues Band." Wright continued to work at the foundry, performed at local clubs, and even recorded a few more songs before his death
Underplaying his role in helping Wright when he most needed it, Rusin adds, "Our motivation was that a legendary authentic blues musician like 'Rolling Stone' shouldn't go without a headstone. It's been 33 years…"
He added: "Johnny is still remembered in the blues world and in blues history. He was a bona fide blues man, the real deal, and we hope to have a headstone fitting for a blues man."
Perhaps soon, we'll have even more of a reason to take notice of the remarkable lives of Valeska Suratt and Johnny Wright.
You can contact Mike Lunsford at hickory913@gmail.com; his website is at www.mikelunsford.com. The GoFundMe page for Valeska Suratt is at https://www.gofundme.com/f/valeska-surratt-grave-marker; Bill Piper's Suratt webpage can be found at www.valeskasuratt.com. The GoFundMe page for Johnny Wright is at https://www.gofundme.com/f/headstone-for-johnny-rolling-stone-wright.