Rural Bowling Green
Unique festivals abound around the Wabash Valley each September, but only one could possibly involve the following scenario:
A world renowned sword swallower spent a weekend at the Smock family's castle and decided to return and perform at the medieval faire. He'll be joined by jousters on horseback, knights in heavy armor engaged in combat, ax throwers, archers, falconers, puppeteers, jesters, blacksmiths, beer vendors dressed as monks, fire-breathers, a team of fairies and a popular medieval-rock band from Belarus.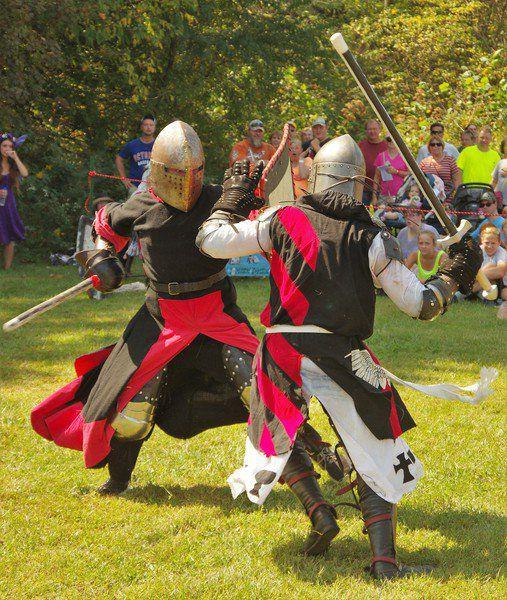 Along with 2,500 or so festival-goers, many of whom will be dressed in period clothes from England in the late 1400s.
"It's just a chance to celebrate and dress up," Mary Jo Smock quipped Thursday morning.
She's referring to the sixth annual Clayshire Castle Medieval Faire, scheduled for 11 a.m. to 5 p.m. Sept. 28 and 29 in rural Clay County near Bowling Green.
Take the word "rural" seriously. For folks from Terre Haute, drive east on Indiana 46 through Bowling Green and look for the castle signs. And follow them. The country roads lead to a breathtaking destination, Clayshire Castle, a 10,000-square-foot bed and breakfast, perched atop a hill and surrounded by 120 acres of rolling lawn, woods and water. 
Every September, the castle transforms into a festive re-creation of England's "War of the Roses" period from 1455 to 1485. Think the Hatfields and McCoys in fancy garb. Two families — the royal houses of Lancaster (known by a red rose) and York (white rose) — battled and schemed over the English crown for three decades. Kings and heirs to the throne were killed or disappeared, and rule of the country changed hands. Finally, a marriage between the two warring parties ended the feud.
"So it all comes full circle," Smock said of the story.
Five-hundred and 34 years later, historic elements of the War of the Roses will come alive at Clayshire Castle's Medieval Faire.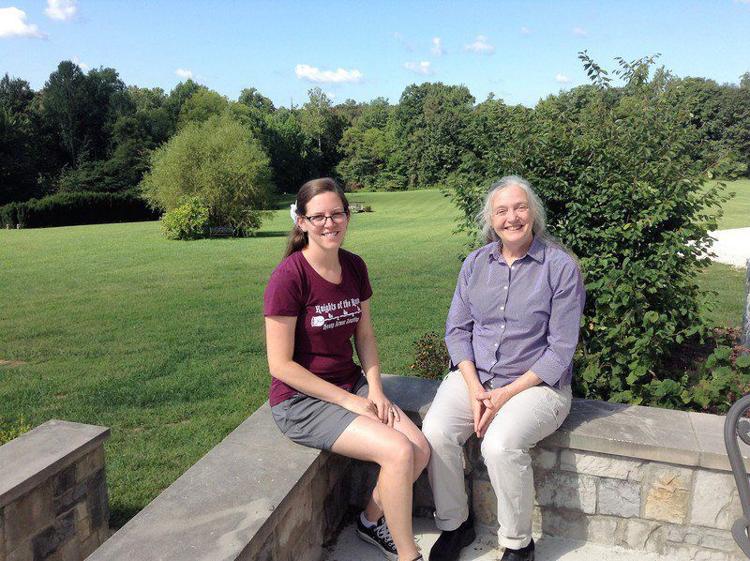 Smock and her daughter, Katie Voges, organize the faire when they're not working as pediatricians. Their family members play assorted roles as the event unfolds. Mary Jo and her husband, Doug Smock, live in the castle. During the faire, they become Lady Josephine and Lord Douglas. Voges and her sister, Janie Brennan, become the White and Red queens, respectively, representing the dueling War of the Roses families.
"We go around and heckle each other," Voges said with a grin, as her kids played on the castle's porch.
Voges lives in Monrovia and practices medicine in Indianapolis. Voges got introduced to medieval history as a middle schooler through Doug Smock, her stepfather. "He's the one who kind of dragged us to the renaissance faires," Voges joked. Now 34, she works avidly on staging the Clayshire faire, one of Indiana's largest medieval festivals.
"As soon as the last one ends, I start planning the next," Voges said.
Folks (like me) whose knowledge of the War of the Roses runs no deeper than the 1989 film of the same name starring Michael Dougas and Kathleen Turner (it has nothing to do with the actual medieval England events), fear not. Many of the hundreds of people who show up for the Clayshire festival aren't familiar with what they'll see there.
"A lot of people that come to ours have never been to a [medieval] festival before," Voges said.
They learn quickly. As visitors arrive, they're urged by representatives of the houses of Lancaster and York to choose a side by taking a red or white wristband. "Most are like, 'I don't know what you mean,'" Voges said. And that's OK.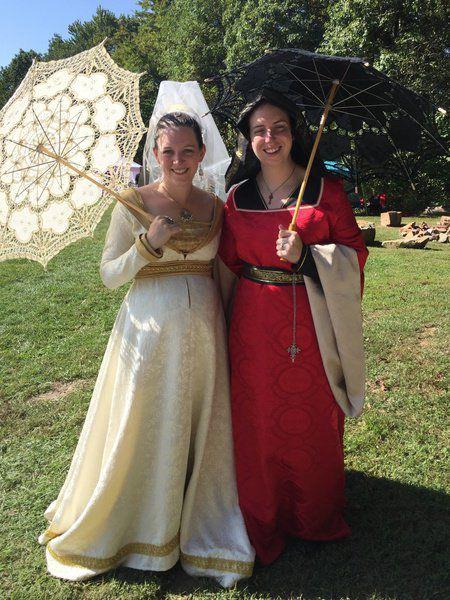 They'll receive a festival flyer with a short summary of the War of the Roses, "history's worst family feud." They'll mingle with regulars on the renaissance faire/medieval festival circuit, who often show up in costume. Newcomers inspired by the festivities can check out costume attire and a gamut of other items from more than 40 vendors, offering accessories like leather armor, herbal remedies and live-action role-playing weaponry.
They can watch real-life people, wearing such clothing, will perform feats of daring. A team of touring female jousters will duel on the lawn right outside the castle's back doors. First-time ax-throwers get tutored by "a big, gruff Scottish guy who shows you how to do it," Voges said. Dan Meyer, a sword swallower whose exploits have been displayed in the pages of the Guinness Book of World Records and on "America's Got Talent," will do just what his job title describes. And, Stary Olsa, a band from the Eastern Europe nation of Belarus, will play classic rock songs and 15th-century English hits on medieval instruments as part of a nationwide tour. 
And, "a lot of people just come to the faire to see the castle," Smock said. Hourly tours will be given at the faire.
The castle was built in 2011 and 2012 as designed years earlier by Voges, with five guest rooms for the bed-and-breakfast as a future retirement gig for Doug and Mary Jo. Hosting a medieval festival seemed like a natural next step soon after it was finished.
Crowds have grown from 800 the first year to more than 2,500 last year. It's gotten bigger than the family expected, but that's not the goal.
"We just want it to be unique, and let people learn about the castle and get excited about the Middle Ages," Smock said.
Mark Bennett can be reached at 812-231-4377 or mark.bennett@tribstar.com.