Twenty-nine years ago, Dustin Hitt walked the hallways of his western Indiana school, with no hint of the career awaiting him.
College seemed out of reach. So, the idea of becoming an educator hadn't entered Hitt's mind.
Yet, that's what happened.
In 1991, Hitt enrolled in Indiana's brand new 21st Century Scholars program, designed to give low-income Hoosier kids four years of paid college tuition, if they maintain good grades and stay out of trouble. He did just that. And after graduating from Vincennes Rivet High School in 1995, Hitt put his scholarship to use. He studied education for two years at Vincennes University, and finished his bachelor's degree at Indiana State University in 1999. Later, Hitt added a master's degree and superintendent's license, also earned at ISU.
Today, the 43-year-old walks the halls of Sullivan Middle School as its principal, a role he's served in for the past 13 years. Such a destiny was once unimaginable.
"Back then, if you'd have told me that 25 years later I was going to be a principal, with a superintendent's license, I wouldn't have believed you," Hitt said last week.
His classmates would've been equally disbelieving. Hit says friends still tell him, "I can't believe you're a principal."
Indiana's 21st Century Scholars program marks its 30th anniversary this year. When the Indiana Commission for Higher Education announced plans to observe the milestone, the commission issued a statement from former Gov. Evan Bayh, who signed the innovative program into law in 1990. "When we championed this program more than 30 years ago, the results we see today are exactly what we were working toward at the time," Bayh said.
And Hitt exemplifies those results.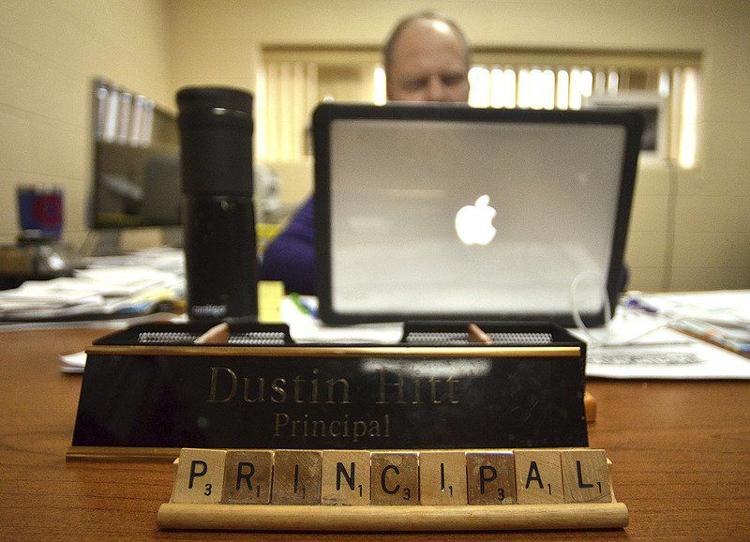 Hitt, one of the earliest 21st Century Scholars, said the program "gave me a chance to go to college." He had other funding that helped, too, but the scholarship "allowed me to focus on school and not on work all the time."
Now, he's in the role of encouraging his Sullivan Middle School students to enroll in the program. "I try to tell them that from my experience, this is a program that can benefit them," Hitt said.
The late Stan Jones co-authored the legislation to create the 21st Century Scholars program during his days as a state representative in the Indiana General Assembly. Jones later served as an adviser to Gov. Bayh and then as Indiana's commissioner for higher education. The law Jones shaped was meant to remove a financial barrier for capable, young Hoosiers from low-income families aspiring to earn a college degree.
Kids in the program must abide by their 21st Century Scholars Pledge to remain free of alcohol while minors and illegal drugs, and commit no crimes or delinquent acts. They must participate in specific activities to prepare them for college and a career, earn at least a Core 40 high school diploma while maintaining at least a 2.5 grade-point average. At the college level, they must complete 30 credit hours each year to finish in four years. In return, they received tuition funds. Books, room and board, parking and lab fees aren't covered.
The program works for students who follow those rules. More than 40,000 Hoosiers have earned college degrees as 21st Century Scholars, according to the Commission for Higher Ed. Currently, nearly 100,000 young people, from seventh through 12th grades, are enrolled in the program. Most important, they're sticking with their commitments. The commission's 2019 College Equity Report found that 86% of 21st Century Scholars enroll in college, exceeding the 63% college-going rate of the general population.
Plus, their attendance at Indiana colleges means 21st Century Scholar graduates often stay in the state to live, work and raise families. That helps stem the persistent "brain drain" problem faced by Indiana and other Midwestern states losing their college grads to the Southwest and large metropolitan areas of the country.
"There are so many positives to this program, and that is certainly one of them," Teresa Lubbers, Indiana's commissioner for higher ed, said by phone Wednesday.
Indeed, there are other positives. Thirty-five percent of Scholars graduate on time at four-year colleges and universities (a higher rate than low-income, non-Scholar peers), and 19% finish on time at two-year colleges (exceeding low-income peers, and middle-income and wealthy peers). Forty-nine percent of 21st Century Scholars graduate from four-year and two-year colleges within an extra two years, also topping rates for low-income, non-Scholar peers.
A total of 21,184 Hoosier college students received 21st Century Scholars funding in 2018, according to the commission. State funding for the program that year totaled $163 million.
Commission numbers from 2018 also show ISU with the heaviest concentration of 21st Century Scholars among the state's largest four-year campuses. Thirty-one percent of ISU's in-state undergraduate students were in the program, topping numbers from Ball State, IUPUI, Indiana University in Bloomington, and Purdue University in West Lafayette.
A total of 1,832 of ISU's overall student body of 13,405 students were 21st Century Scholars in 2018. "That's a significant number," Lubbers said of that total from two years ago, "and [ISU leaders] have clearly taken that on as a part of their mission."
Future plans for the program include an effort to make sure 21st Century Scholars' fields of college study align with their career plans, Lubbers said. Also, activities during this year's 30th anniversary will involve alumni of the program. That includes a 21st Century Scholars Day on Tuesday afternoon at the Indiana Statehouse, and a panel discussion and historical review on June 4.
Highlighting the success of 21st Century Scholars alumni can benefit young Hoosiers enrolled in the program now. "We've tried to attach a degree of pride to being a Scholar," Lubbers said.
At Sullivan Middle School, Principal Hitt and his staff remind his students and eligible families to enroll in the program, and that they must do so online. (Go to https://bit.ly/3bhHIEk.)
"We plug the program pretty heavily, because we're in a pretty poverty-stricken county here," Hitt said. About half of his students could be eligible, he estimates.
When he does discuss the program with youngsters, Hitt dwells on the kids' situations and its potential in their lives. "I try to make it more about them than about me," he said.
And, the potential that lies ahead just might surprise them someday.
Mark Bennett can be reached at 812-231-4377 or mark.bennett@tribstar.com.