Imagine two old college buddies running into each other at an airport, waiting on flights to opposite ends of the country.
They might grab a quick drink, ask about classmates or assess the alma mater's football program. They're probably not going to use those few minutes to talk about infrastructure, though.
It matters, nonetheless.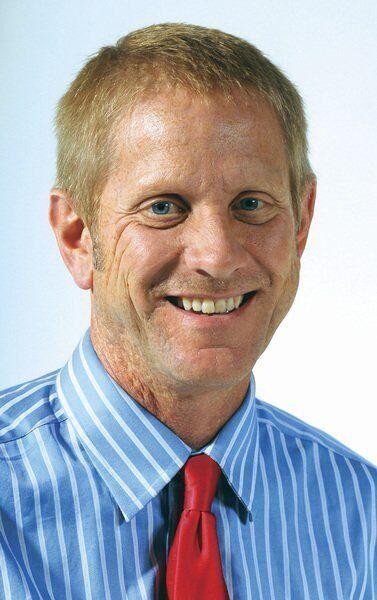 Roads, bridges, river and sea ports, airports, broadband internet service, a grid for electric vehicles, and sewer and water systems all affect the lives of those two friends about to board airliners, and everyone else in America. Those structures and systems might not make entertaining conversation, but they're crucial to vital communities.
Consider the problems with Interstate 70 during the past decade. Twice in that period, the Vigo County School Corp. pulled its buses off Interstate 70 because of a rash of accidents involving semis at construction zones between the Illinois state line and Clay County. The VCSC guided its bus drivers to use alternate routes, instead of this region's main thoroughfare.
In 2016, crumbling concrete in the deck of the I-70 bridge over U.S. 41 in Terre Haute created a hole in the driving lane, leaving visible the other busy highway below.
Those are infrastructure problems. Some of I-70's issues have been addressed through repairs and state highway projects like the Next Level Roads initiative.
Still, an increase in semi traffic nationwide indicates that unless two more lanes are added to I-70, the big trucks then will comprise 55% of all general traffic on I-70 by 2040, according to a study by the independent Reason Foundation. An expansion of I-70 to six lanes, instead of its present four, has been studied by the U.S. Department of Transportation and is a "strategic goal" of the Indiana Department of Transportation. A 2007 USDOT study concluded that adding designated trucks-only lanes on I-70 from Missouri to Ohio would reduce car-truck crashes by 90% and cut crashes in the general-purpose lanes by half.
So, again, infrastructure matters.
If the $1.2-trillion Infrastructure Investment and Jobs Act just passed by Congress and signed into law by President Biden brings Indiana closer to widening I-70 to six lanes, as well as upgrading other physical systems and structures, it's necessary, overdue and worth the cost.
Of course, the potential of the new federal infrastructure law to remedy the nation's needs — like a six-lane I-70 — stirs debate.
Robert Poole, director of transportation policy for the Reason Foundation and a former transportation adviser to four U.S. presidents, said the federal infrastructure law's allocation for highways — $110 billion — "is a surprisingly small fraction" of the total expenditures. "While I would love to see I-70 in Indiana widened, I'm dubious about the bipartisan infrastructure bill being a good vehicle for this," Poole said Tuesday.
Nearly $9 billion will go to Indiana, which ranks 32nd nationally in the cost-effectiveness and condition of its highway system, the Reason Foundation's 2021 annual Highway Report says. Of the state's portion of the federal funds, $6.6 billion goes for highways, along with $401 million for bridges, $680 million for public transportation, $100 million for the electric vehicle charging grid, $100 million or more for broadband internet expansion, $170 million for upgrades to airports, and $751 million to modernize Indiana's antiquated water systems.
The federal infrastructure bill passed the U.S. House and Senate with decent two-party support. None of Indiana's Republican members of Congress voted in favor of it, reflexively deriding it as "socialism."
Brian Gould sees the infusion of funds making a "significant" impact in the Terre Haute region and Indiana. Gould serves as executive director of the Build Indiana Council, an organization of 500 construction-related businesses and groups that advocates for adequate funding for roads, bridges, streets and public transportation systems. He believes the federal infrastructure law will lead to "thousands of jobs for Hoosiers."
The results should be apparent, Gould said.
"Most regions of the state are going to see some very significant projects over the next several years," he said. Twenty-five percent of the federal funds to each state goes to local governments, under the law.
It also could prompt INDOT "to probably refocus their efforts on making [an expansion of I-70] a higher priority," Gould said.
He acknowledges the federal law's five-year funding package alone won't be enough on its own to complete an I-70 expansion. After all, the cost of widening an interstate from four to six lanes is between $14 million and $18 million per mile, Gould said. Still, the funding could speed up the timing of such an undertaking.
Indeed, the widening of I-70 is on state transportation officials' to-do list. Scott Manning, INDOT's deputy chief of staff, said Tuesday that the federal infrastructure bill funds, the existing $1 billion inflow of federal road-and-bridge funds, and new or expanded grant programs through the USDOT could move up the timing of projects on the state's seven-year capital construction plan.
"In addition to taking care of our existing roads and bridges and improving safety, adding mobility where needed — including adding travel lanes on I-70 and I-65 — is a strategic goal for INDOT," Manning said.
INDOT estimates the statewide portion of federal infrastructure law funds going to Hoosier cities and counties for roads and bridges will increase over the five-year package from $52 million in fiscal year 2022 to $77.5 million in 2026, Manning explained. INDOT will distribute that local portion to the cities' metropolitan planning organizations (MPOs) or rural areas' local public agency (LPAs) for selected proposals.
Two possible uses for the federal infrastructure law funds in Terre Haute could be completing the Margaret Avenue expansion eastward, and continuing the enhancements on Lafayette Avenue south of Fort Harrison Road, Terre Haute Mayor Duke Bennett said Thursday. "Those will be two targets, and we'll see if they qualify," Bennett said.
Brendan Kearns, a Vigo County commissioner, said community officials are still studying incoming funds from the federal American Rescue Plan, and he hasn't yet assessed the possibilities from the new infrastructure law. Those could bolster the county's ongoing road-paving efforts, upgrade rural communities' sewer systems to reduce wastewater flowing into streams, replace 75-year-old culverts, or further expand broadband internet to the county's small towns, Kearns said.
Such improvements could draw new residents to countryside communities that have seen their populations dwindle in the 21st century. Vigo County doesn't need ghost towns.
"I think it's important to invest in these areas to bring people back," Kearns said.
Who knows, maybe the idea of coming back home to Vigo County might come up when those old college buddies cross paths in an airport.
Mark Bennett can be reached at 812-231-4377 or mark.bennett@tribstar.com.