I've got a massive stack of firewood — rock-solid hickory, no less — piled on a single, over-loaded pallet in my backyard.
It's like Max the dog pulling that massive bag of presents in "The Grinch Who Stole Christmas."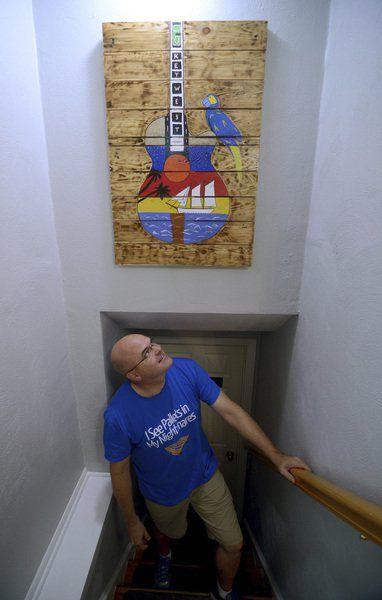 Or maybe not. The standard pallet holds up to 4,600 pounds. Those utilitarian rectangles are commonly made of pine or oak wood slats, measuring 40 inches wide, 48 inches long and 61/2 inches tall. Pallets are designed to hold goods and be hoisted into storage bins and warehouses by forklifts. And they work. More than 2 billion pallets are in use right now in the U.S., according to industry figures. That's six pallets for every man, woman and child in America. Pallets have almost outsold Elvis and The Beatles combined.
Once those pallets have done their job, they get recycled into new pallets or go into landfills.
Unless Troy Fears spots them first.
"We'll be driving somewhere, and my wife will be talking and I'll get distracted and turn my head and see a batch of pallets," Fears said, with a chuckle.
He looks for "the perfect pallet" and turns them into pieces of art. Fears' pallet art makes its public debut 6 to 8:30 p.m. tonight in Clabber Girl Community Art Gallery, where it remains on exhibit through the end of the month. A smaller exhibit of Fears' work appears Sept. 8 to Oct. 10 in B3 Bussert Gallery at Nashville — a haven of Hoosier artists. That's ironic. The longtime educator has never considered himself an artist or a woodworker.
Yet, his wooden creations fill the "man cave" of the east-side Terre Haute house where Fears, his wife Sara and their two boys live. Images of his interests are painted or cut into pallets — all neatly sanded and coated in a transformation of the storage devices' typically rugged exterior. Some pallets remain rectangular. Others bear the shape of their artistic subject, like a pair of matching Coke-Cola-shaped bottles, "Terre" and "Haute," a homage to the container born in his hometown.
There's a Clabber Girl insignia with a can of the famed baking powder notched into the pallet boards. Another features a pair of pickleball paddles, a sport popular at Brittlebank Park on the city's south side. He's profiled a crow, a bird that often outnumbers humans during Terre Haute winters. Slices of Indiana State University's symbols and history adorn other pallets. The Indianapolis 500, President Abraham Lincoln, poet Edgar Allan Poe, sports scenes and a variety of American flag designs.
Of course, roadside pallet flags, spray-painted red, white and blue, are rural USA icons. So Fears carefully gives his pallet Old Glory replicas a twist, such as Lincoln's bust surrounded by an 1860s flag with 33 stars.
"It's kind of whatever is topical at the moment or catches my eye," Fears said.
He sketches some freehand. On others, Fears uses an overhead projector to shine the image onto a pallet, and then traces it. Paints bring the drawings to life on boards that once kept reams of paper or boxes of canned produce from touching the ground or floors. "It's kind of one man's trash is another man's art supplies."
Art wasn't part of Fears' daily life until three years ago. He was driving through his neighborhood and saw a pallet leaning against a trash container on the curb. "It was clean, and I thought, 'I can do something with that,'" he recalled. Soon, Fears was hunting unwanted pallets and giving them a second life as a recognizable likeness. His pallet portfolio now totals more than 30.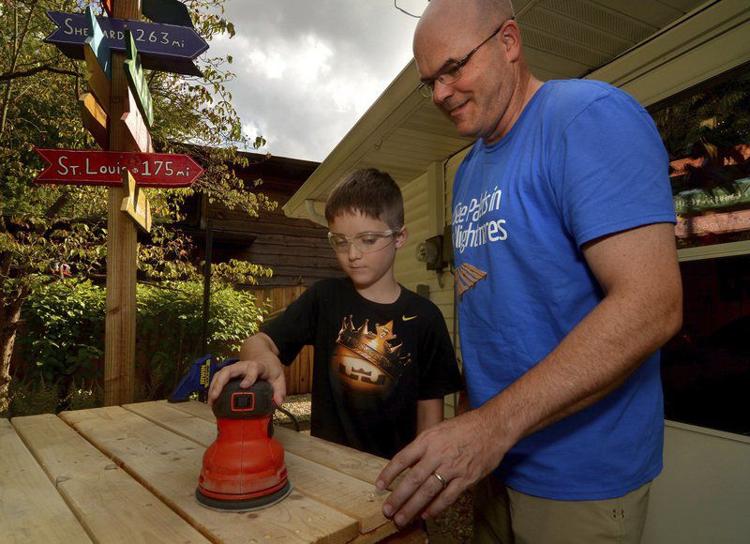 It marks Fears first artistic venture at age 46. The Terre Haute native earned degrees from Terre Haute South Vigo High School, Purdue University and ISU, with only one art class (as a Purdue undergrad) to his credit. He worked as a teacher, athletic director and principal in the Vigo County schools, served as United Way of the Wabash Valley executive director for seven and then returned to teaching at McLean Education Center in Terre Haute three years ago.
None of those roles involved art, but all required creativity, especially in trying to connect with his high school English students. "This [art] helps get those creative juices flowing," Fears said. "It's kind of an outlet, and I'm kind of a left-brain guy."
With his newfound artistic side, Fears has also become "picky about my pallets." He searches for the "close-board" version, or those without the traditional one-board gap between each wooden slat or "stringer." And if Fears finds a close-board, heat-treated pallet, it's a pallet artist's holy grail. "It's kind of like an Easter egg hunt," he said.
When Fears crafts a pallet piece, his sons critically review the results. "They're the ones that aren't afraid to hold back," he said. Fears realizes that publicly exhibiting his artwork — a prospect that's "exciting and scary at the same time" — also will elicit frank critiques from art patrons.
"If they feel an emotion when they see it," Fears said, "that's what it's all about."
As for the pallets, life on a gallery wall sure beats shouldering three dozen hickory logs.
Mark Bennett can be reached at 812-231-4377 or mark.bennett@tribstar.com.