Susan Tingley glanced at Wabash Avenue through the tall windows of the Coca-Cola soda shop inside the new Historical Center of Vigo County.
Yes, maps and way-finding signs will help visitors find points of interest in Terre Haute's Arts and Cultural District. Many of its sights are so neatly concentrated, though, they can be seen by strolling along the 'Bash.
In the near future, a diverse set of eight museums will be within walking distance of downtown. By 2021, the new Terre Haute convention center will open between Seventh and Ninth streets downtown, capable of accommodating up to 1,000 visitors. A third downtown hotel also is planned. The museums, as well as other Cultural District elements could become prime destinations.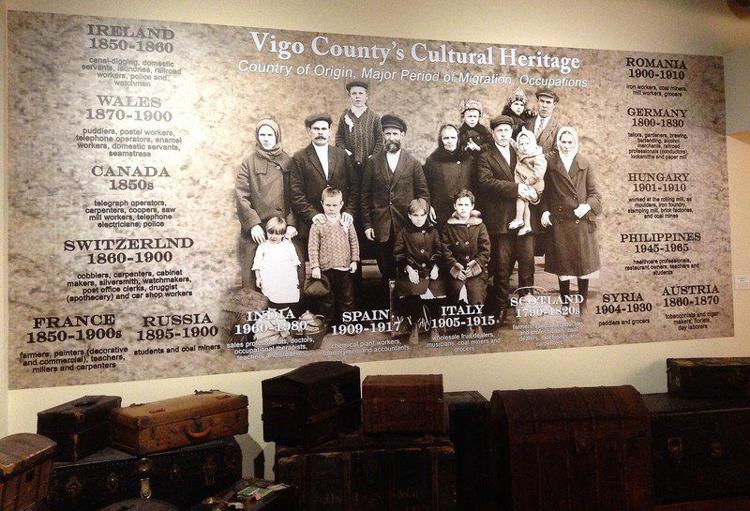 The new Historical Center at 929 Wabash Ave. would be a worthwhile starting point. Even newcomers to Terre Haute will find fascinating elements in that structure, built in 1895 by the family of "Desiderata" poet Max Ehrmann. 
The Vigo County Historical Society — a 97-year-old nonprofit organization — and its crew of three full-timers, two part-timers and avid volunteers spent the past 18 months painstakingly moving from the museum from its previous location on the city's south side to the historic Ehrmann building downtown.
Plans to shift operations to Wabash Avenue brewed years before the convention center project was launched. That news further energized the Historical Society team.
"We've been excited about the convention center coming in, and we've already talked with the other museums about partnering" on various activities, said Tingley, currently the Historical Museum's development director. Hints of the museums' collaboration is evident inside the 34,000-square-foot History Center. Brian Mundell, founder of the Veterans Memorial Museum of Terre Haute — two blocks east on Wabash — built customized display cases for the History Center's military memorabilia exhibits.
The cluster of museums in the heart of the city was one of several persuasive amenities that helped Terre Haute receive official designation for its Cultural District by the Indiana Arts Commission 11 months ago. Five downtown museums were already in place then — Swope Art Museum, Clabber Girl Museum, Terre Haute Children's Museum, Eugene V. Debs Home and Museum, and the Veterans Memorial Museum.
The History Center joined the roster Tuesday. A new Larry Bird Museum, filled with mementos from the basketball legend's career, will open inside the new convention center in 2021. And, the CANDLES Holocaust Museum and Education Center hopes to move from its longtime home on South Third Street to the 1903-era former First Financial Bank headquarters at 643 Wabash Ave.
"People certainly would have plenty to entertain themselves with, museum-wise," said Marylee Hagan, executive director of the Vigo County Historical Society and Museum for the past quarter-century.
Hagan will see a lot of those visitors, but in a different capacity. Today is her finale as executive director. With her longtime mission to bring the museum downtown complete — thanks to a multitude of staff, contributors and volunteers, she emphasized Thursday morning — she's retiring. Tingley will step into the executive director's role, and Hagan will serve a bit more casually as a volunteer.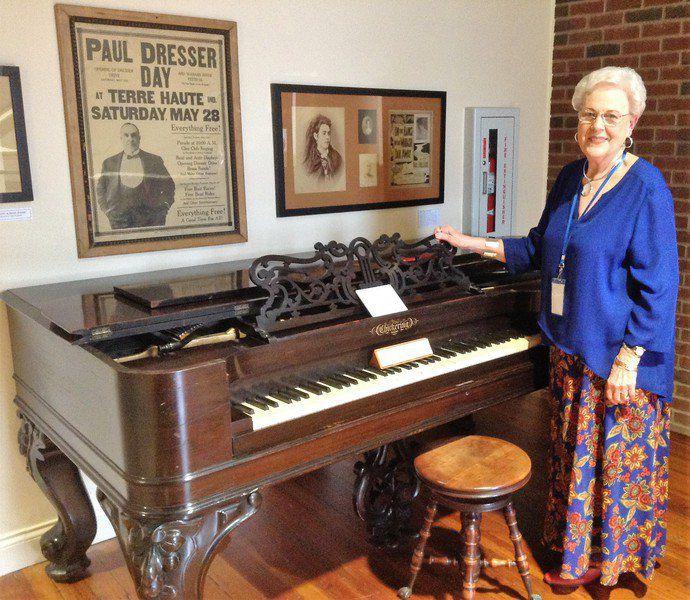 Both colleagues are anxious to experience what's ahead for the History Center, other components of the Arts and Cultural District, downtown and the city itself.
"There's something in the air," Hagan said, leading this columnist through the vast basement storage area, before touring the upper three floors.
We weaved through aisles of historic items. The statue of a Native American brave, which stood in Terre Haute South Vigo High School for years, stood next to a stuffed catfish and a buggy from 1900 in the middle of one aisle. "We've got a little bit of everything," Hagan said, walking ahead.
Floors 1, 2 and 3 — all modernized within a historic structure through an impressive $3-million fundraising effort, which continues — feature even more pieces that will pique the curiosity of lifelong Hauteans and first-time visitors. A piano on which "On the Banks of the Wabash, Far Away" composer Paul Dresser wrote songs. A table on which Ehrmann composed poetry. A life-size figure of basketball Hall of Famer Clyde Lovellette, next to a photo of Terre Haute's 1955 Babe Ruth World Series championship team, which included another local basketball great Terry Dischinger and other memorable names, such as pitcher Bobby Kerht, who passed away this week.
Of course, the Arts and Cultural District encompasses more than its museums. The district extends from Third to 10th streets, and from Poplar to Tippecanoe streets. Once the Turn to the River project is completed, with an arts-lined walkway connecting downtown to the Wabash River, the district's west boundary will extend to the riverfront. 
The area includes arts galleries, festival sites, cultural events that include the Indiana State University campus, shops, historic churches and Wabash Valley Art Spaces outdoor sculptures, including those from its Cultural Trail.
Hagan first saw downtown Terre Haute as a youngster, making weekly ventures to "the big city" from their home in Robinson, Ill., in the 1940s. The sometimes shoulder-to-shoulder crowds of pedestrians and shoppers on Wabash amazed her. Two decades later, she moved her young family to Terre Haute. The downtown crowds thinned after Interstate 70 opened, and the commercial district moved south.
The 21st century has brought a revival of downtowns in many cities. The focus has shifted from large-scale retail to niche shops, cultural offerings, eateries, pubs and restored historical structures. Terre Haute's new History Center, with a plan to be a "living" and evolving destination, fits that criteria perfectly. It's part of a city with intriguing characters, events and landmarks.
"This is such a cool place," Hagan said of Terre Haute. She's chagrined by those who "badmouth" it. A trip to the History Center could change their minds.
Mark Bennett can be reached at 812-231-4377 or mark.bennett@tribstar.com.