A wooden track leads from the doorway of a relic freight elevator to the middle of a long second-floor room. June sunlight beams through the casement windows along the south wall.
More than a century ago, buggies were converted into motorized horseless carriages inside the brick building at 119-121 S. Seventh St. The structure housed several automobile related businesses since its construction in 1904. Terre Haute's first auto dealer, John S. Cox, operated the Terre Haute Automobile Company there. The storied Terre Haute House hotel once used it as a parking garage, before other occupants such as the city water works filled the space.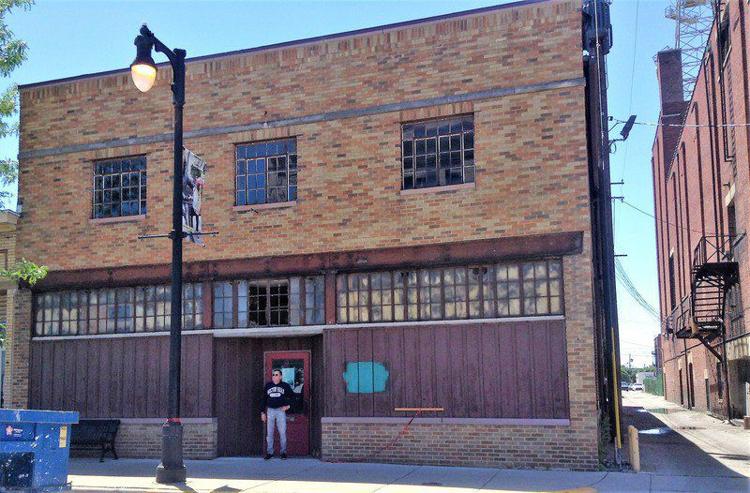 Now, Terre Haute businessmen Al Ruckriegel and David Adams are converting it into first-floor retail and office space and upstairs apartments. They bought the two-story building a year and a half ago. This isn't the first time Ruckriegel and Adams have given a second life to a historic local edifice by investing in its restoration and reuse. Their revival projects include the Ohio Building Meeting Center (a former hotel and eatery) and Lofts of Haute Maison (a three-story office building).
Their latest effort on South Seventh is less than a minute's walk from the other two.
"We just wanted to make sure the whole area gets done nicely," Ruckriegel said as he walked around dumpster-bound broken ceiling tiles on the first floor.
When asked why they would endure the difficulties of adapting a turn-of-the-20th-century garage for residential and retail use, Adams answered quickly. "We appreciate historic buildings, old buildings," he said. "We like to save and repurpose the buildings that are here."
Ruckriegel added, "And, we're excited about downtown and what's happening."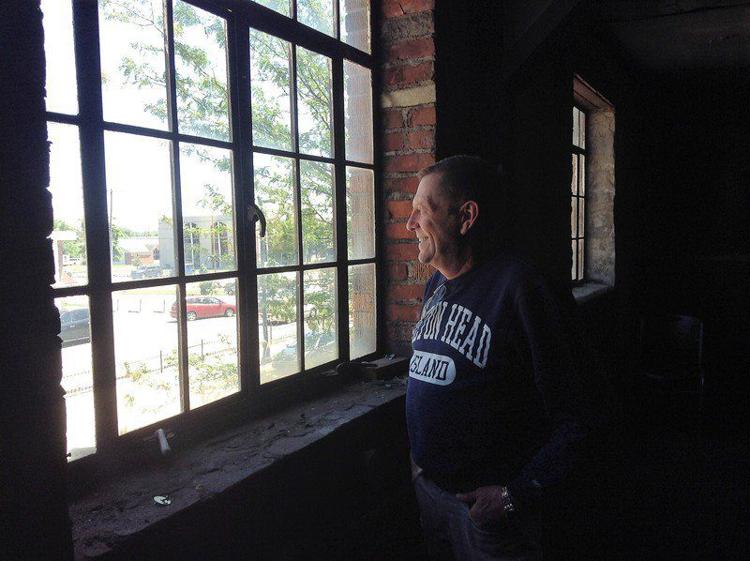 If the downtown is gaining economic and cultural activity that appeals to a 21st-century population, Ruckriegel and Adams are significant contributors to that progress. Idled downtown spaces — which impede Terre Haute's growth — are once again being used, in new ways, by real people through the projects Ruckriegel and Adams have financed.
"Dave and Al have a track record of this," said Tommy Kleckner, director of Indiana Landmarks' western regional office in Terre Haute. "They've invested in historic structures."
They renovated the Ohio Building (a $2-million-plus venture) in 2004, and the Lofts of Haute Maison (a $2.5-million-plus project) in 2017. They also purchased the city's parking garage in 2010 for $501,000, and now operate it as the Skygarden Downtown Terre Haute Parking Garage. Ruckriegel and Adams don't have an estimated cost for the makeover of the Terre Haute House parking garage, because the architectural plans aren't yet completed. Still, they expect the "Haute House Lofts" — the working name for the project — to open in 14 months.
For now, the building draws little attention from passersby on the 100 block of South Seventh. That's not surprising. It sits among the colorful signs and sculptures on the Seventh Street Arts Corridor. It's adjacent to the south side of the eye-catching Indiana Theatre, and directly across the street from the distinctive Lofts of Haute Maison.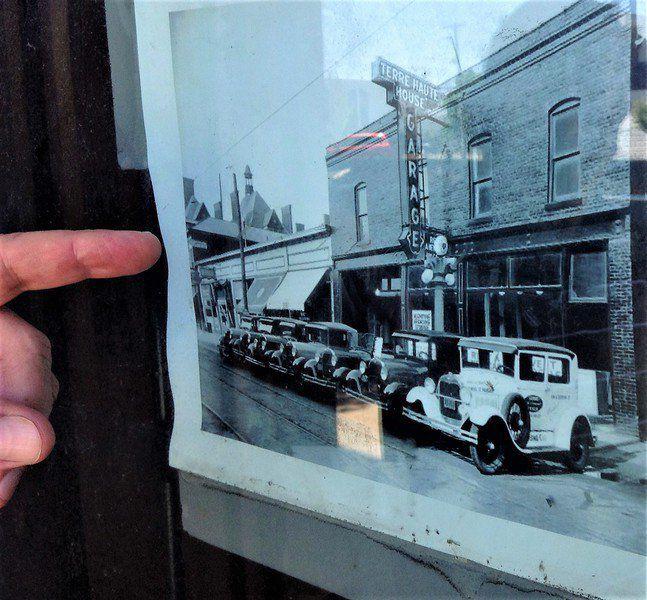 Nonetheless, the old garage drew some second glances last week when crews removed a framed awning — perhaps from the 1970s — from its street-front. That revealed hints of the building's grittier, workaday legacy. Transom and casement windows stretch from one end to the other, just beneath a hefty Carnegie Steel beam.
Inside, a series of similar beams — made by that iconic Pittsburgh-based manufacturer — line the first-floor ceiling. Those beams were strong enough to support the second floor, where automobiles were built, serviced or stored. No additional, vertical center supports were necessary.
"Our biggest surprise were the Carnegie Steel beams," Adams said.
The freight elevator lifted carriages and later autos to the second floor, which also contained a paint shop. Its origins fascinated its new owners, as well as the building's years as a Terre Haute House parking garage.
It spent its earliest years as the Terre Haute Automobile Company, run by John S. Cox, who became the town's first automobile dealer, archives of the Terre Haute newspapers indicate. Along with another Terre Haute firm, the Standard Wheel Company, Cox's business built automobiles, apparently by motorizing horse carriages. Later, the garage focused on servicing and selling vehicles. Cox's influence on automobiles' popularity here was noted in the 1905 Motor Age publication.
Sixty horseless carriages roamed the streets of Terre Haute in 1905, "more cars per population than any other city in the country," the Terre Haute Tribune reported. And Cox's garage on South Seventh was the largest in the Midwest.
By the 1930s, it had become a Terre Haute House parking garage. A old photograph shows the building's facade in that era, and Ruckriegel and Adams hope to recapture that look. Once the work is done, the 12,000-square-foot structure will feature storefront retail space on the first floor, along with the owners' offices and tenant parking. The second floor will include five or six loft apartments (between 800 and 1,200 square feet), with an open concept, exposed brick and elevator access.
The owners also intend to beautify the city alley between the old garage and the theater.
Likely tenants could range from young professionals to retirees, they said, and rental prices will be "high-end, but not as high-end" as their Lofts of Haute Maison. And they expect plenty of interest. All eight units in Haute Maison across the street are rented, "which is nice," Ruckriegel said.
Optimism and economic activity are good to see here these days.
Mark Bennett can be reached at 812-231-4377 or mark.bennett@tribstar.com.