Family and friends of students at Saint Mary-of-the-Woods College gathered in the Sunken Gardens at Le Fer Hall on Saturday for the institution's belated 98th annual Ring Day ceremony.
Celebrating academic achievement and bond to the Woods community, 60 undergraduate, graduate and online students were given the single most recognizable symbol of the college, a Woods Ring.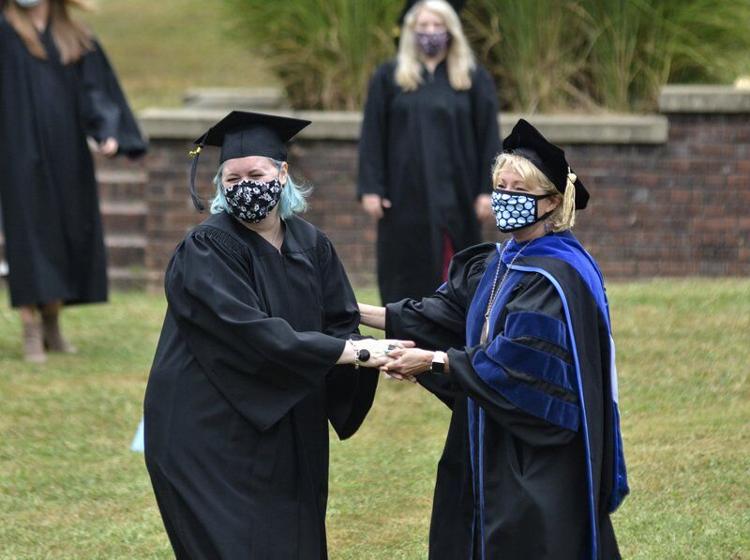 The ring features an onyx stone, in it carved an SMW emblem. Along its side is an oak leaf base and six acorns representing the college's founders and the class year.
The oak represents strength, knowledge and durability of character.
It also represents, said SMWC President Dottie King, the roots students put down, grow and nourish during their time at the college.
"The virtue and knowledge that are developing in you will enable you to withstand the storms of life and provide avenues for growth, prosperity and living a life of meaning," King said.
"Your ring will also provide opportunities — now and in the future — for connection and enjoyment of a commonly shared heritage."
Saturday's ceremony was originally scheduled for March 21, but COVID-19 precautions forced the event's delay and a venue change from the typical Church of the Immaculate Conception.
Anywyn Payonk said once the ceremony started, the waiting several additional months to receive her Woods ring was all made worth it.
"It's really awesome that we were able to have a ring day even with all the safety precautions," Payonk said. "But it's still just such a happy ceremony you kind of forget about all the other stuff going on.
"It's such a big tradition here at the Woods. So being able to still have it means a lot."
It means a lot too, Payonk said, to join the several family members of hers who've also received Woods rings.
"I'm the fifth person in my family to go here and I'm just carrying on that legacy," Payonk said. "... And I really feel a part of the Woods community now because everyone who goes through this gets a ring."
Emma Taylor, senior class president, said much the same in her address to fellow ring recipients Saturday.
"When I became junior class president I knew we had to make this a ring day our graduating class would never forget," Taylor said. "And I think we can all say this ring day is one for the books."
Reporter Alex Modesitt can be reached at 812-231-4232 or at alex.modesitt@trisbtar.com. Follow him on Twitter @TribStarAlex.