From near and far, friends and family of Walter Sommers gathered at Westminster Village in Terre Haute on Saturday to celebrate 99 well-lived years.
Complete with cake, birthday pins and all manner of decorations, dozens celebrated Sommers' life as a World War II veteran, father, grandfather and friend always ready with an open heart and warm words.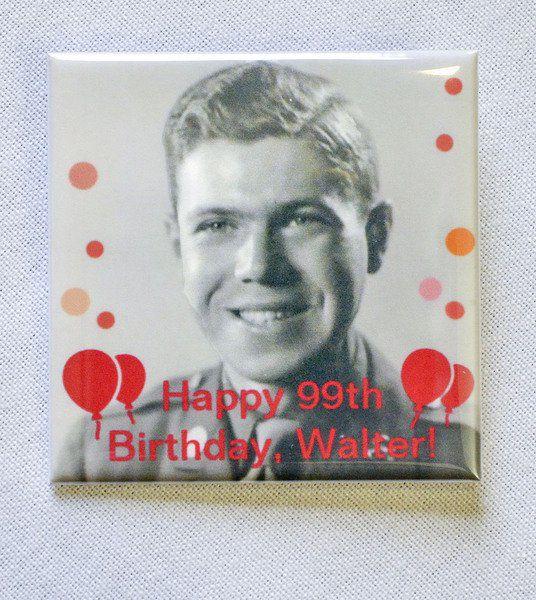 He's also celebrated as a Holocaust survivor, or witness as he prefers, and his willingness to share his story of bearing witness to the beginning of the world's darkest chapter of history.
Born in Frankfurt, Germany, in December 1920, Sommers and his family fled Germany weeks after the Kristallnacht, or the Night of Broken Glass.
Near a year after the U.S. entered World War II following the attack on Pearl Harbor, Sommers joined the U.S. Army with field artillery Company A of the 306th Field Artillery Battalion, 77th Infantry Division.
Sommers served for the duration of the war in the Pacific theater's island-hopping campaign, seeing combat in Guam, Philippines and Okinawa.
And while Sommers is proud of his service to the country, he hesitates to delve into his experiences with much detail, as is common with veterans of the era.
What he will describe in great detail, is his experience living in Nazi Germany and the horrors of the Holocaust.
Spending much of his latter years volunteering time and telling his story at the CANDLES Holocaust Museum and Education Center, Sommers said keeping busy is part of his secret to longevity.
"Keep busy. Stay involved. Do volunteer work," Sommers said. "If you can be with other people and not sit at home and watch the television, you will do yourself a great favor."
Sommers' granddaughter, Rachel Chunnha, visited from Boston and said it's been a privilege to learn from her grandfather. She said that while the birthday party is to honor him, the honor has been the family's for knowing him.
"We come from Boston and his other great grandchildren come from Austin,[Texas]," Chunnha said. "But it's our honor to be here and celebrate him and his life."
Sommers' daughter, Nancy Sommers, said she is in awe of her father and the great spirit with which he has approached life and given so much of himself.
"He wakes up every morning with a sense of purpose," Nancy Sommers said. "There is Jewish commandant called tikkum olam, one about repairing the world and making it a better place. He feels very strongly about that and his work at the museum and elsewhere reflect that."
"I try," said Walter Sommers. "But really that's all the best you can do."
Reporter Alex Modesitt can be reached at 812-231-4232 or at alex.modesitt@tribstar.com. Follow him on Twitter @TribStarAlex.