Jane Hunt was home caring for her grandchildren Sunday when she received a phone call she found difficult to believe.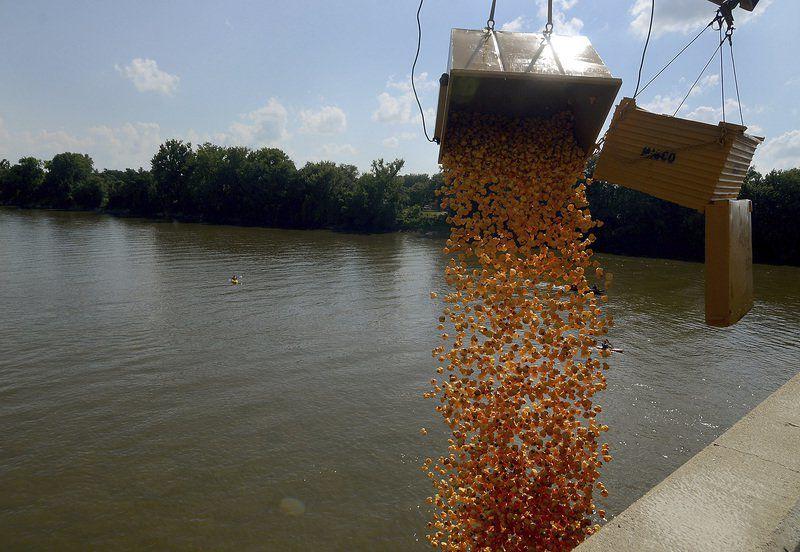 A rubber duck she sponsored in the inaugural Wabash Valley Rubber Duck Regatta crossed the finish line first, making her the winner of $10,000.
"She can't believe it. She's screaming and telling everyone else in her family," Teri Lorenz, a Catholic Charities council member said as she waited for Hunt to regain her composure.
When contacted by the Tribune-Star a few minutes later, Hunt still thought it was all in jest.
"I'm speechless; I've never won anything – ever. That's amazing," she said.
After being re-assured both phone calls were legitimate, Hunt said, "I think it's fabulous. It's a great charitable cause and I'm thrilled there was so much participation."
Hunt said she had not yet contemplated what to do with the $10,000, but the longtime Catholic Charities supporter suggested more charitable giving was in her future.
Hunt's duck made it from the Theodore Dreiser Bridge to the fishing pier in Fairbanks Park in about 25 minutes. It was one of 11,073 ducks that were "adopted" by Wabash Valley residents, netting Catholic Charities about $39,000.
"I'd say it's a great success for our first year," said John Etling, agency director.
Etling said proceeds will benefit the agency's service programs: a food bank, Bethany House emergency shelter program and Ryves Youth Center, which serves more than 1,200 young people who face challenges at home and in school and often need "a strong mentor in their lives."
As dozens of people who had adopted ducks anxiously awaited the outcome, Chelsea Bays said that, for her at least, the event was every bit as exciting as the annual Independence Day NASCAR race at Daytona.
"Even better than the Cubs game," said Bays, a Cubs fan who adopted 12 ducks in Wednesday's regatta.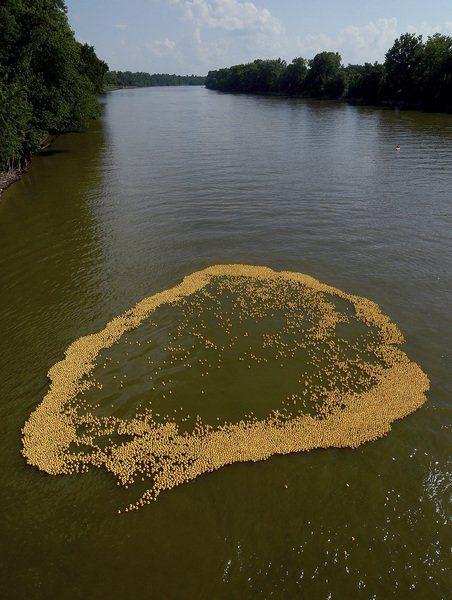 "I thought it might be a little quicker than this," Anna O'Daire said about 12 minutes into the race.
Unlike Hunt, O'Daire had already decided what to do with the winnings had her duck won. She was going to give each of her children $200 to spend and invest $1,000 in each child's college savings fund.
And with the remaining amount?
"Fixing up cars and paying bills," she said.
Bonnie Warn sponsored six ducks and contributed to the sponsorship of 120 ducks by St. Mary's Village Church.
"It's a great fundraiser and it couldn't go for a better cause than Catholic Charities that supports people in this community that are in need," she said. "We didn't do it to win, although that would be a nice byproduct."
Sister Joan Slobig, parish life coordinator at the church, said the event was a "win win" because "Catholic Charities will feed a lot of people and hunger is the biggest need in our community."
Those who didn't win this year will likely have another chance in 2019.
All indications are Catholic Charities will sponsor another duck regatta next year, Etling said.
Dave Taylor can be reached at 812-231-4299 or dave.taylor@tribstar.com. Follow him on Twitter @TribstarDave.