While a proposed Vigo County casino has been touted as bringing 400 to 600 new jobs, health advocates hope to ensure those jobs remain protected under local workplace and public-place smoking ordinances.
American Nonsmokers' Rights Foundation, a non-profit California-based public interest group formed in 1976, sponsored a bus trip to a smokefree casino in Cincinnati, Ohio, last week that included, among others, members of Chances and Services for Youth, American Lung Association in Indiana, Tobacco Free Blue (a program at Indiana State University) and Minority Health Coalition of Vigo County.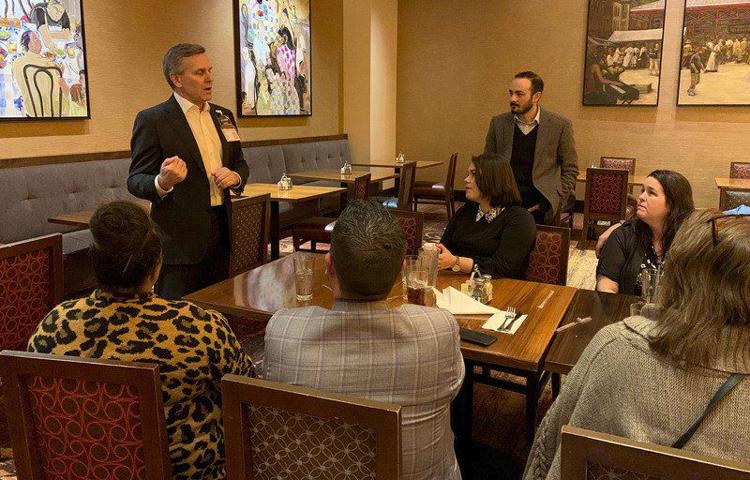 "It really comes down to what do we want our community to look like in 20 years," said Brandon Halleck, chief operating officer of Chances and Services for Youth in Terre Haute, which advocates for local work and public place non-smoking ordinances.
"We have been a completely, comprehensive smokefree community for almost a decade, as it will be eight years in July," Halleck said.
"The state of Indiana exempts casinos and bars, but we have home rule that allows us to be stricter than the state" to implement more comprehensive smoking prohibitions to protect workers, Halleck said.
"We are really looking at the positive impact. We have a smokefree air ordinance that includes all work places. I think there will be great benefits of having a smokefree casino that will employ 400 to 600 individuals, and the ordinance is there to protect those workers," Halleck said.
The group on Feb. 21 visited Jack Cincinnati Casino, bought in September by VICI Properties for about $745 million.
VICI Properties announced it entered into a lease with Hard Rock International to convert the Cincinnati property into a Hard Rock Casino. Hard Rock and investors are also proposing a new smokefree casino in Illinois, submitting plans in October to the Illinois Gaming Commission as the Hard Rock Casino Rockford.
"After visiting a smokefree casino in Cincinnati, I think there will be a lot of great benefits that come from that. Smokefree casinos have allowed for smoking heated patios [with a roof] with slot machines," Halleck said. A new Terre Haute casino could be designed the same way, Halleck said.
The Tribune-Star sought comment from Spectacle Entertainment and from Terre Haute businessman Greg Gibson, a Spectacle vice president. The company did not provide a response and Gibson said he thought it best not to comment at this point given Spectacle does not yet have a gaming license for the Terre Haute location.
Spectacle Entertainment made a statement on the issue in November, through its lead attorney John Keeler.
"Spectacle is aware of the Terre Haute and Vigo County ordinances regarding smoking in public places. At the present time, Spectacle and our branding partner, Hard Rock, are laser focused on successfully competing for the Vigo County License. To address operational issues at this time, before Spectacle is awarded the license, assuming we are so fortunate, is putting the cart before the horse," Keeler said.
"If successful, we are committed to working with the local community, not only bringing a first-class gaming and entertainment venue to West Central Indiana, but also providing the many economic benefits, hundreds of jobs and substantial new tax revenues that will flow from Vigo County's inland casino," Keeler said.
The Indiana Gaming Commission canceled a February meeting to award a casino license in Terre Haute.
The Gaming Commission stated it is following a federal investigation that appears to involve a former Centaur Gaming executive now with Spectacle.
Spectacle Entertainment owns two casinos along Lake Michigan and is seeking to open a Terre Haute casino.
The Indiana Gaming Commission has stated it does not plan to address a gaming license for a Terre Haute casino in March, but might address the license in May or June.
In January, Spectacle Entertainment released this statement:
"Spectacle Entertainment has been made aware that a paid consulting firm, who once contracted with Centaur Gaming, has been implicated in charges related to campaign finance violations in Virginia. Spectacle pledges to fully cooperate with the Indiana Gaming Commission as it investigates this matter. We take such matters very seriously and we will share more information should additional details become available."
Ordinances require smokefree casino
While a gaming license has not been issued, local ordinances would require a smokefree casino, said Joni Wise, administrator of the Vigo County Health Department.
The local ordinances "have a broad definition of workplace. It would encompass anything that wasn't specifically defined, so as long as it is a work place, it is still defined," Wise said.
Wise said the ordinances cover indoor spaces, while smoking is allowed outdoors.
"Right now we don't regulate outdoor areas, except for 8 feet from a door, which is a state law," Wise said. "Of course a business can make that distance from any door greater than that."
For example, the Vigo County Annex has posted signs stating smoking must be 50 feet from the county building.
Wise said while the state exempts casinos, local ordinances do not.
"Even if someone were to try to lobby the majority of the county commissioners now, that could be overturned come January with a new make up of county commissioners," Wise said of the county.
Vigo County passed a countywide smoking ordinance in 2006, and it took effect on July 1, 2007. It was revised in 2012 to match sections of Terre Haute's ordinance that took effect in 2011.
Indiana is surrounded with states that require casinos to be smokefree. State-regulated gaming in Illinois and Ohio require casinos be smokefree. Michigan also requires a smokefree facility for any casino after 2010, however, three casinos in the Detroit area were grandfathered in as smoking facilities.
Kentucky's gambling laws only allow some betting on horse racing. There are no full-fledged casinos in Kentucky. There are three racetrack casinos in Kentucky that offer some form of casino gambling, but not traditional slot machines. Instead, they all offer instant racing betting machines.
There are 20 states that require all state-regulated gaming to be smokefree. At least 783 state-regulated gambling facilities are required to be 100% smokefree indoors, according to the American Nonsmokers' Rights Foundation. State-regulated gambling facilities are not permitted in American Samoa, Hawaii, North Carolina, South Carolina, Tennessee, and Utah, although some permit bingo and/or lottery, according to the ANRF.
Nationally, 87 percent of U.S. adults are non smokers, according to the U.S. Centers for Disease Control and Prevention. Smoking is highest among people aged 25 to 44 years and 45 to 64 years old, while cigarette smoking was lowest among people aged 18 to 24 years, according to the CDC.
The Midwest has the highest percentage of smokers in the country, with about 16 of every 100 adults (16.2 percent) who smoke cigarettes, according to the CDC.
Those stats hold true in Vigo County.
Even with smokefree spaces in restaurants and bars and other public places, Vigo County has more adults who smoke than the national and Indiana average, said Sarah Knoblock, CASY's Tobacco Prevention and Cessation program coordinator.
In 2018, 24 percent of Vigo County adults smoke, "compared to 21.8 percent statewide and 17.1 percent nationally," Knoblock said.
That translates into concerns for newborns, Knoblock said.
"The percentage of pregnant women who smoke is higher in Vigo County, as 21.3 percent smoke compared to 13. 5 percent in Indiana," Knoblock said. "Vigo County had 261 births affected by smoking with low birth weight, reduced lung function and SIDS (Sudden Infant Death Syndrome)," she said.
Tobacco-free college campuses
Reflective of those numbers, Indiana State University in Terre Haute is moving to be not only smokefree, but tobacco free.
"It is for a tobacco, smoke, e-cigarette free campus and that goes to the university's board of trustees in May," said Katie Lugar, assistant director of student programming and leadership for ISU's Honor College, who serves as staff adviser to Tobacco Free Blue, founded in the fall of 2015 to advocate for a comprehensive tobacco policy.
"The proposed implementation date would be July 1," Lugar said.
"Tobacco Free Blue has been working for five years on grassroots efforts, gaining signatures, participating in a lot of health and wellness groups, our student leaders are going to training and learn from our state and national leaders and other tobacco free campuses on what works and doesn't work," Lugar said.
"The point of this is we recognize that people are exposed to second-hand smoke," Lugar said. "Research tells us that places with tobacco-free environments do help people who want to quit...as it can be a large motivator in quitting their tobacco use."
Rose-Hulman Institute of Technology and St. Mary-of-the-Woods College are each tobacco-free campuses. Ivy Tech Community College Terre Haute is also tobacco-free, but does permit tobacco use in a personal vehicle on campus.
Lugar was also on the trip to Cincinnati last week. She said the outdoor spaces were more enclosed than she had anticipated, with grated walls to allow smoke to pass through.
"I think that trip helped provide general information on a smokefree casino and that (Cincinnati) casino was not just a place to gamble, but engages in entertainment, buffets and restaurants and different amenities you can use if you do not want to play the different games," Lugar said.
"I think it was a great opportunity to see what we can have in Terre Haute and have in a smokefree environment," Lugar said.
Reporter Howard Greninger can be reached 812-231-4204 or howard.greninger@tribstar.com. Follow on Twitter@TribStarHoward.