A regular performer in West Vigo High School's musicals and plays, Robbie Killebrew is described by those who knew him as creative, fun-loving, hard-working and caring.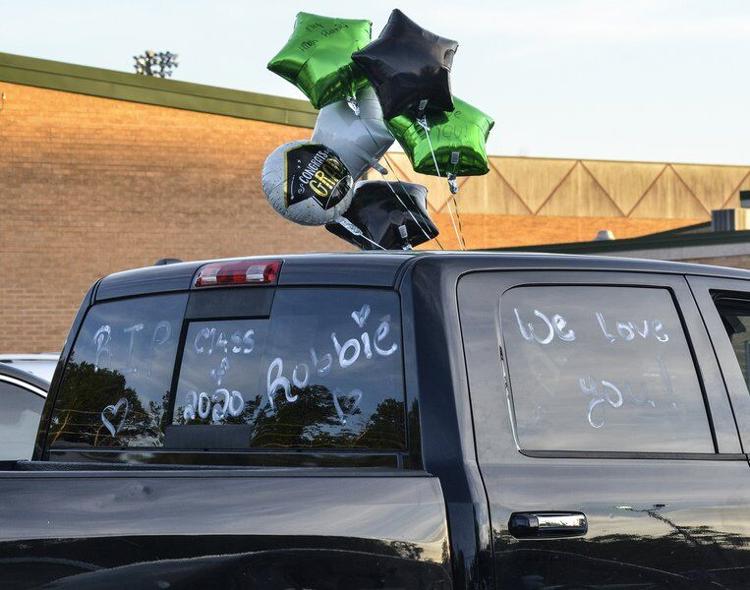 On Sunday evening, classmates, staff and other community members gathered in the high school parking lot for a vigil to honor the life of the 2020 graduate, whose life was cut short early Sunday morning in a one-car crash in western Vigo County.
West Vigo's Facebook drama page posted pictures and the following message: "Words cannot express how sad we are. Robbie was always a star on our stage."
Killebrew participated in every school production beginning his freshman year, said Karen Crispin, who directs the school's plays and musicals. He also participated in the summer VCSC Performing Arts Workshop, which she directs.
She had Killebrew in her French class and encouraged him to audition for the play his freshman year.
"I can spot a theater rat," she said in an email. "Robbie was always the one I knew I could cast in a challenging character role. He showed from the start that he was willing to take risks as an actor and also work hard to create a unique character. He was one of the most unique and endearing people I have had the privilege to know. I always enjoyed and appreciated his enthusiasm, his joy and his passion for life."
He also was in Crispin's homeroom, and she looked forward to seeing him every day. "Robbie made the world a better place and I will miss him terribly," she said.
Alusta Tapy, West Vigo math teacher and assistant director of plays and musicals, had Killebrew in math class and also worked with him on productions.
"He was very conscious about getting better, working hard and putting in his best in everything that he did — even in something he didn't feel comfortable with," including math class, Tapy said.
In the theater department, he always helped out and encouraged younger students and supported them in achieving their goals, she said.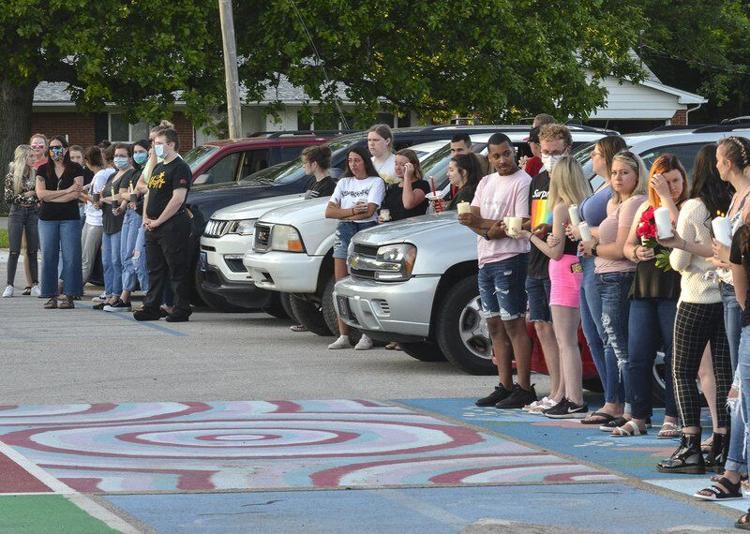 But he was also fun-loving and not afraid to be different — whether that be having purple hair or wearing a frilly shirt.
"He was quirky — a very fun loving kid. He made sure everyone had a good laugh — not at others' expense — but in general he tried to make people have a little bit better day and spread some sunshine," Tapy said. "If you needed someone to talk to, he was always there to listen."
What's difficult, Tapy said, is knowing how hard Killebrew worked in school to reach graduation; he achieved that goal and was ready for the next step in his life.
"I know he had grown so much in high school, and not being able to see where he goes from here … to know that's the end of his road and not the beginning of it," is hard to accept,Tapy said.
At Sunday's vigil, high school principal Ryan Easton along with other staff members and classmates all spoke to how kind, caring and unique Robbie was.
A moment of silence was held after the song "Believe" by Cher, one of his favorite songs, was played.
"Those of you who knew Robbie could all imagine him dancing to that," said Easton.
He later described the accident that took Killebrew's life as "horrific and crushing to students, staff and myself." The school made counseling available to students and staff on Monday.
Melanie Beaver, now with South Vermillion School Corp., had Killebrew as a student at West Vigo Middle School.
"I loved being Robert's seventh-grade English teacher, because this young man could express himself like no other in writing, in speeches and on the stage," she wrote on social media Sunday. "More than once, I passed the teacher baton to him, and he ran with it. It was hard to keep up with his literary expectations. … I just couldn't get through a book quickly enough for his liking so we could discuss it. I'm still a sloth reader, Robert."
She also wrote, "The loss of a student is not normal. It's not supposed to happen. The challenge now is supporting his family, his classmates, and our community as they grieve. This small town knows how to do this … we are no strangers to loss, no strangers to unity under pressure."
In an interview, Beaver described him as well-read and a talented writer. He might say to her in class, "You didn't go deep enough into the author's motive and you didn't talk enough about the symbolism between those two characters," she recalled.
"What Robert was ready for on a literary level not all seventh-graders are ready for," she said. "I loved it."
According to the Vigo County Sheriff's Office, deputies responded to a single-vehicle crash shortly before 1 a.m. Sunday in the 10000 block of north Sherburne Place; they found a 2003 Dodge Neon that had left the roadway for unknown reasons and crashed head-on into a tree.
Killebrew, the driver, was pronounced dead at the scene by the Vigo County Coroner's Office. Drugs and alcohol are not suspected in the crash.
Sue Loughlin can be reached at 812-231-4235 or at sue.loughlin@tribstar.com Follow Sue on Twitter @TribStarSue.